Mary Maryland
Veteran clinician, scholar, administrator, educator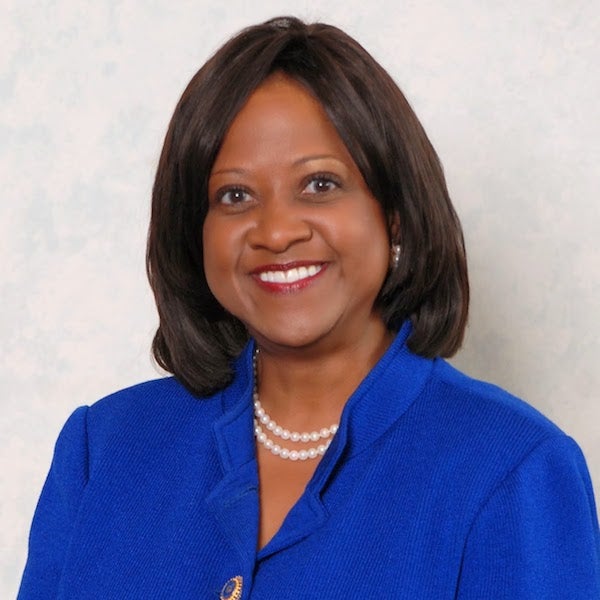 When Mary Maryland, PhD '94, MSN, APRN, RN, FAAN, landed a consulting contract on diversity issues at NASA in the 1990s, she credited both her previous diversity work and the shoot-for-the-moon mentality that she gained at the College of Nursing.
"Definitely the notion of 'taking it to the next level' and considering possibilities—that for sure was cultivated within the College of Nursing doctoral program," she says.
Maryland has been pushing boundaries her entire career.
In 1994, she became the seventh African-American student to earn a PhD at the College of Nursing. While at UIC, she co-authored the "I'M READY" grant, a $380,000 program funded by the Robert Wood Johnson Foundation to introduce health careers to minority elementary school students. She spent a year in Rwanda working on the Human Resources for Health Partnership. She has testified before a U.S. congressional committee on the need for healthcare reform and was a captain in the U.S. Air Force Reserve Nurse Corps.
Through it all, she's also made patient care a priority, becoming a nurse practitioner after earning her PhD.
"My nursing career has given me many, many opportunities," she says. Her leadership experiences in nursing include serving as president of the Illinois Nurses Association and on the boards of directors of the American Nurses Association, the American Nurses Credentialing Center and the American Nurses Foundation.
Maryland also started a scholarship for UIC Nursing doctoral students in honor of her mentor, Marguerite Dixon, PhD '82, MS '72, BSN '59, the first African-American student to complete a PhD at the college.
Her strong desire to contribute has its roots with her parents, she says, and she got her "nursing gene" from her mom, a retired licensed practical nurse.
"Mary is a tireless optimist," wrote Patricia Lewis, PhD '93, in a letter nominating Maryland for the college's Outstanding Alumni Achievement Award, which she won in 2018. "For Mary, a 'no' simply implies some delay. She never gives up on her efforts to improve things for nurses, for nursing students and for her patients."
Modified on July 25, 2019