Michael Patterson
President and CEO, Mississippi Valley Health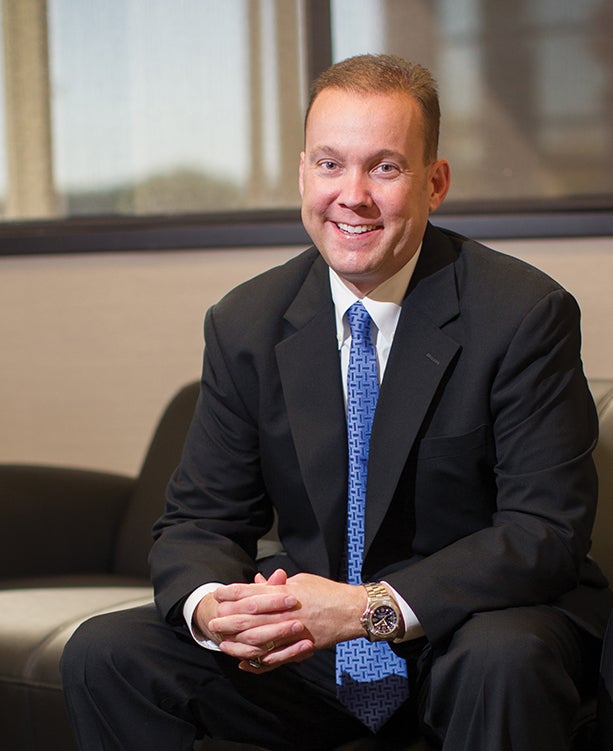 Over the course of his career, Michael Patterson, MS '05, RN, FACHE, has gone from enlisted member of the Navy, to trauma nurse, to president and CEO of Mississippi Valley Health in Davenport, Iowa.
Q: How did you go from the Navy to nursing?
A: I was fortunate enough to have two influences steering me toward nursing: my mother, Marsha L. Roman, BSN '89, and the military. I was selected for a program developed by the Navy to encourage currently enlisted military members to pursue college degrees. The ability to combine a degree that would lead to a commission as a naval officer and allow me to help people while serving my country really struck me as unique and something I should pursue.
Q: What led you down a leadership path?
A: In the Navy, I had opportunities to see the impact of nursing across the globe – both the clinical side and leadership aspects. At UIC, the diversity of the curriculum allowed me to learn about several different aspects of nursing leadership and prepared me for the various executive roles I have held over the last 15 years. The most rewarding aspect of my role is working with the other leaders within our system and watching them continually improve the care we provide for patients.
Q: What are some of your fondest memories from getting your degree at UIC-Quad Cities?
A: The professors at the UIC Quad Cities campus, along with my other student colleagues, really created an environment that championed the nursing profession as a whole and allowed us to cultivate relationships within our community.
Modified on July 25, 2019