UIC Nursing Alumni–Paul Kuehnert
Associate vice president, Robert Wood Johnson Foundation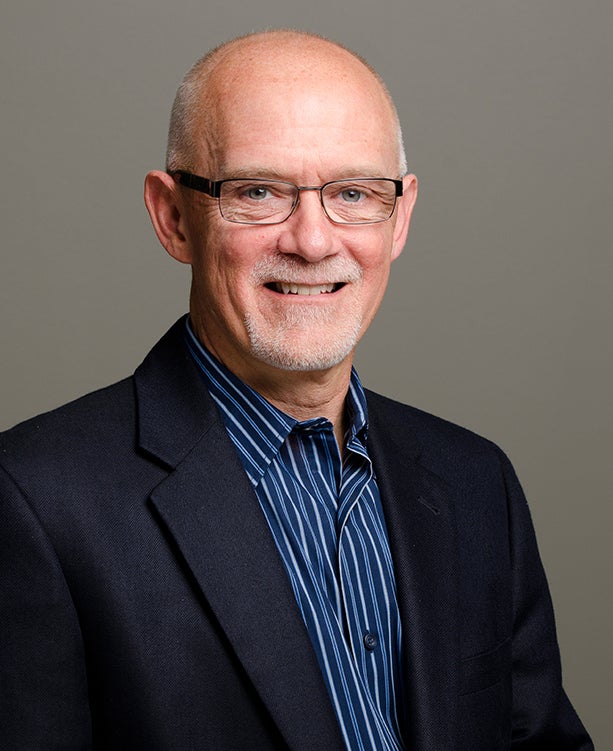 Paul Kuehnert, DNP '12, MS '91, RN, jokes that he decided to become a nurse on a dare.
It was 1972 and unusual for men to go into nursing. Kuehnert's older sister, who was a nurse, challenged him to consider the gender-bending role, he says.
Kuehnert admits he was drawn to the idea of choosing a nonconforming career. But he also was responding to the moment: The Civil Rights and anti-war movements of the late 1960s.
"The thing that really intrigued me about nursing was the opportunity to be in caring and healing relationships with people," he says. "Doing something meaningful, something that had to do with engaging people around what I saw as all the hurt that was happening in society; that was really important."
That commitment to fostering healing and change across communities has been the cornerstone of Kuehnert's wide-ranging career.
Kuehnert, an associate vice president at the Robert Wood Johnson Foundation, the nation's biggest health philanthropy, was chosen to receive the 2018 UIC College of Nursing Distinguished Alumni Award, the college's highest honor for alumni.
"Throughout his career, Paul has based his success on the firm ethical and caring foundation of nursing," wrote John R. Lumpkin, MD, MPH, senior vice president–program at RWJF, in a letter of support for Kuehnert's nomination for the award.  "He has passion and compassion that is reflected in his work, rooted in his education at UIC, and honed through work experience."
Kuehnert got his introduction to community-focused nursing as a nurse for the Head Start program, where he worked with preschool-aged children in his native St. Louis. One of the most successful interventions at stopping the cycle of poverty, Head Start taught him the importance of reaching children and families preventatively, before they are sick.
"That's when I really fell in love with the idea of working more with populations further 'upstream,' trying to work on disease prevention and health education," he says.
While working as a public health nurse for the Village of Oak Park, IL, in 1987, he was given the assignment of communicable disease follow-ups, which included working with a growing number of patients diagnosed with HIV/AIDS. The epidemic was beginning to hit hard in the Chicago area.
Wanting better tools for working on that issue specifically—and public health more generally—Kuehnert enrolled in the UIC College of Nursing master's degree program, with concentrations in public health nursing.
"[The program] really seemed to put together all the things that I was most interested in and passionate about," he says, adding that he learned about epidemiology, working with population health data, doing community assessments, and program planning. "It gave me that opportunity to understand how best to work with populations and work within a communitywide, populationwide approach to health."
During that same time, Kuehnert was one of the co-founders and eventually CEO of Community Response, an HIV/AIDS social service organization that served the West Side of Chicago and the western suburbs.
Kuehnert's next move took him to Atlanta for a consulting job, where he "re-connected" with his wife, Judith, who had earned her master's and doctoral degrees at UIC's School of Public Health. (They knew each other at UIC but didn't strike up a romantic relationship until they met again in Georgia). Then he was on to Maine, where he worked for the Maine Bureau of Health, first as division director of disease control, then deputy director.
Later still, back in the Chicago area as county health officer and executive director for health in Kane County, Illinois, Kuehnert knew he wanted to come back to UIC to get his DNP with a focus on nursing leadership.
"It was just a tremendous experience," he says. "I valued the fact that we had great faculty with practical experience leading us through academically rigorous, evidence-based curriculum and that we had peer colleagues to really share and learn from."
Kuehnert took a leap to the national level with his job at the Robert Wood Johnson Foundation, which awards $450 million in grants each year. As RWJF's associate vice president–program, he oversees two of the organization's goals: leadership and transforming health and healthcare systems.
Kuehnert says his mission is to develop a "compelling vision of change and improvement"—to try to solve for the "big macro problem," which is that, among its roughly 35 peer countries, the U.S. spends the most on healthcare and has the worst population health outcomes.
Reflecting on his second degree at UIC Nursing, he says, "I think what the DNP program did for me was give me the grounding in science, the framework for looking at this problem at the systems-level, and the opportunity to really be in conversation with other nursing leaders in a structured way about how we transform healthcare."
Modified on August 15, 2023