Research is like "soul work:" Phoenix Matthews awarded distinguished researcher prize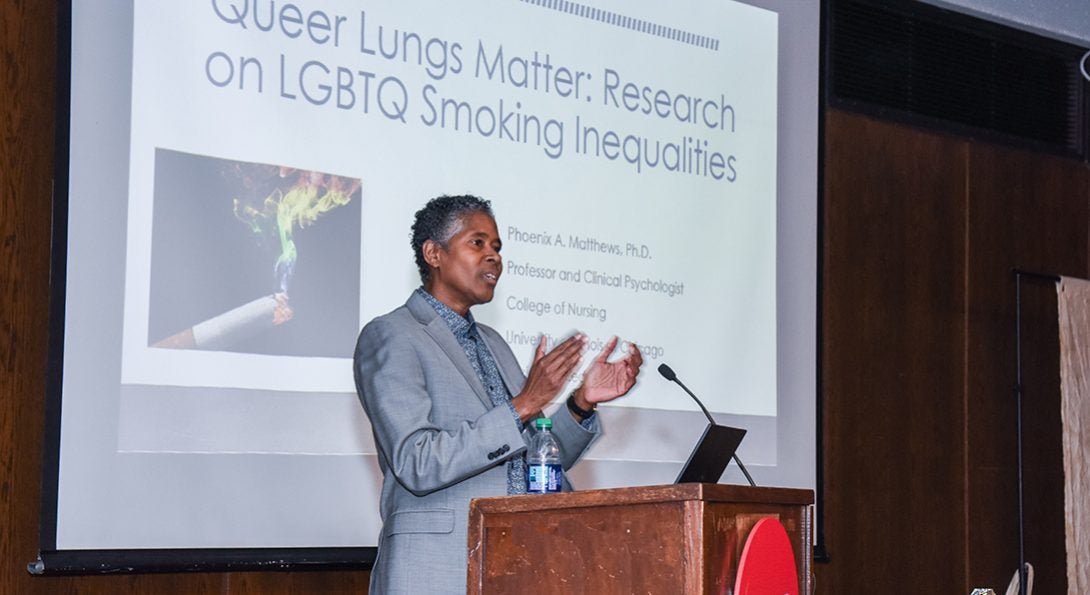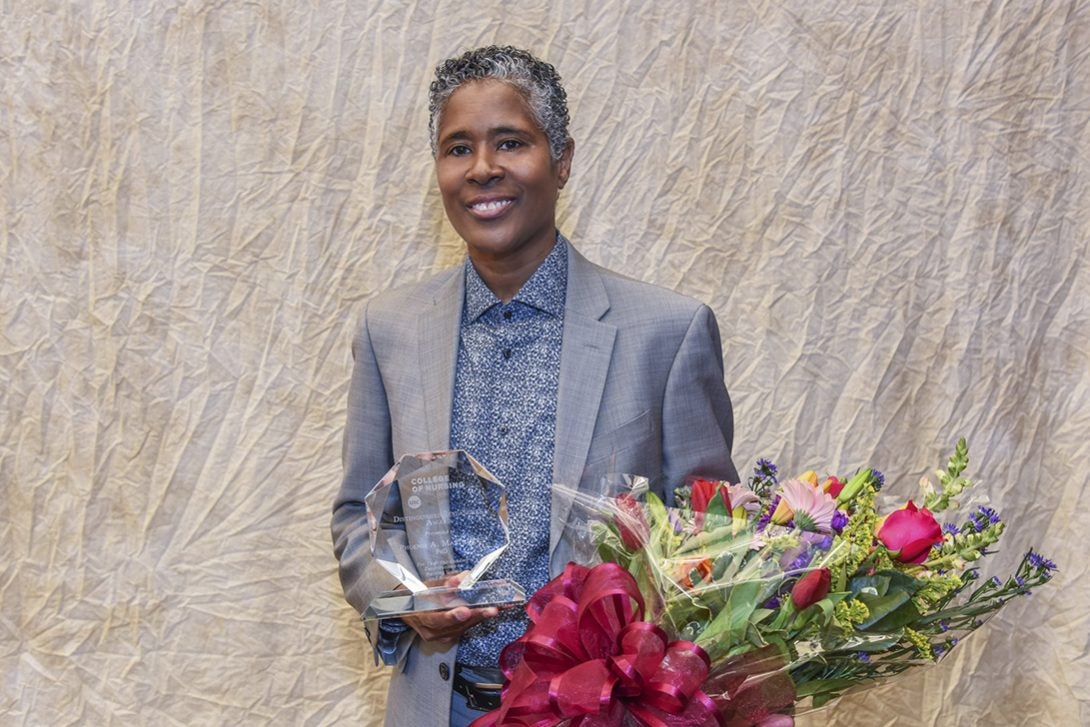 Speaking before a crowd of nursing students, faculty and staff, Phoenix Matthews, PhD, winner of the UIC Nursing Distinguished Researcher award, made an admission.
"As an undergraduate and as a doctoral student, I thought I hated research," said the College of Nursing Helen K. Grace Diversity Scholar at the Distinguished Researcher award presentation on March 8 at UIC Student Center West. "I wanted to be a clinical psychologist; I wanted to do direct patient care."
It took only two weeks into Matthews' first internship to realize that was a mistake.
"On a day-to-day basis, I saw so many black, brown, and low-income patients on that oncology ward, dying of diseases that were completely preventable, and if not preventable, completely treatable with early detection," Matthews said. "It was at that moment I knew I was too far downstream from the problem. I needed to better understand what is possible for us to stop this flood of cancer disparities that are impacting our loved ones."
That spawned Matthews' industrious and influential research career aimed at reducing cancer-related health disparities among vulnerable populations. This work has included identifying that LGBTQ populations are at higher risk for smoking, developing evidence-based and targeted interventions, and working with stakeholders to change public policy on tobacco use.
Matthews helped pass Chicago's first-ever restrictions on menthol-flavored tobacco sales after speaking at a series town hall meetings and sharing research that showed that among African-American smokers, 80 percent of youth and 82 percent of adults smoked menthol cigarettes. It was later reversed, but activists mimicked the same strategies to get menthol public policy changes passed in Minnesota and San Diego.
"That's why policy is so tremendously important for us to take on as nurses, psychologists and as scholar activists," Matthews said. "Public policy is where true change happens."
Public policy has had a tremendous impact on smoking behavior over time, Matthews said. As a young child, Matthews (who uses the pronoun "they") recalls going to the gas station with their sister to buy their mother cigarettes. At the time, there was no age restriction on cigarette sales. Matthews' mother died of lung cancer in July of 2012.
Matthews' research is now focused on understanding attitudes about early detection screening — both within LGBT and also Chinese American immigrant populations — developing educational materials and screening decision aids and evaluating approaches for getting high-risk smokers to come in for a CT scan.
"[Research] is a very humbling experience," Matthews said. "Regardless of that, I love it. It feels like soul work at this point. It feels like the thing that connects me to what is most important in life, and that is taking care of community — taking care of the most vulnerable among us."
Modified on June 03, 2021