REUNION 2020 exceeds expectations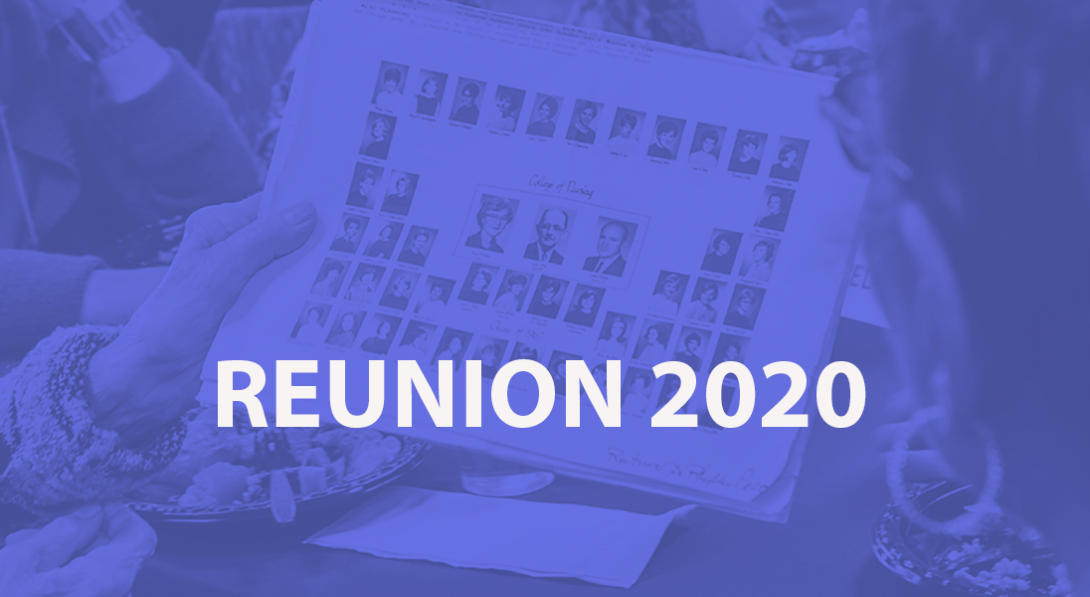 It was an unexpected thrill for the UIC College of Nursing to welcome nearly 120 attendees to its fourth annual All-Alumni REUNION, held via Zoom on Saturday, Oct. 10. The number of alumni attendees for the college's first-ever virtual REUNION surpassed any of the previous three years.
"We knew months ago that the only responsible way to host REUNION in 2020 would be to do it virtually," says Sara Almassian, UIC Nursing's associate director of alumni engagement and participation. "But the interest in this event exceeded our expectations."
"Perhaps the convenience of attending from wherever you are made it easy to say yes [to the invitation]," said Dean Terri Weaver in remarks to guests, "Perhaps the chance to indulge in memories of your days as a student had a little extra appeal during this difficult year. Whatever brought you to us today, we are so pleased."
From 9 a.m. to nearly 3 p.m., guests enjoyed hearing from experts, celebrating peers and chatting with one another. In attendance were 54 graduates representing every "milestone" class year—those ending in 0 or 5—from 1960 to 2015. And as REUNION is always open to all alumni and friends of the college, additional guests represented faculty, staff and alumni from non-milestone years.
The format enabled guests to interact both live and via the Zoom chat feature, which many alumni used to identify themselves and find their classmates. As Patricia Lewis, PhD '93, observed, the day was "a demonstration that UIC prepared us for change and adaption… . Many of us are not exactly 'young' but are fine with participation via Zoom."
The all-day event began with a panel about emergency preparedness featuring three alumni nurse leaders: Brenda Burke, DNP '15, associate director for patient care service/nurse executive at Jesse Brown VA Medical Center; Lynn F. Lenker, MS '95, system/chief nursing information officer at SSM Health; and Sarah Overton, MS '17, BSN '10, vice president/chief nursing officer of clinical services at OSF Multispecialty Services.
The event drew praise from attendees. Mary Traub, MS '95, who was "Zooming" in from Texas, commented "Great presentation. Wonderful to hear of your leadership in other geographical areas and how they parallel with what we are experiencing day-to-day in Houston.
Next up was a new element at REUNION: a research presentation. It was delivered by Susan Dunn, PhD, RN, FAHA, FAAN, associate professor and head of the college's Department of Biobehavioral Nursing Science. Dunn's study "HeartUp!" examines how increased physical activity can aid heart disease patients who feel hopeless about their ability to affect their own future health.
As the lecture closed, Karen Friedberg, BSN '75, MS '80, commented "This is so awesome! I really appreciate hearing about this! As an oncology nurse, I can only think about the applicability to other disease processes."
Following a lengthy break, guests returned to help the college honor its 2020 Alumni Award winners: Distinguished Alumni Award recipient Brian M. Stahulak, BSN '97, Ann & Robert H. Lurie Children's Hospital of Chicago as well as three Outstanding Alumni Achievement Award recipients: Phyllis Powell Pelt, BSN '67, MS '95, (retired) UIC College of Nursing; Angelique Richard, PhD '99, Rush Health; and JoEllen Wilbur, PhD '84, MS '75, Rush University College of Nursing.
Alumni from classes of years ending in 0 or 5 were also recognized—including 9 "golden alumni" from the Class of 1970, and another 26 who graduated in the 1960s or 1950s!
Following a well-received video tour of the Chicago campus building and the nearby area, the day concluded with another informative session, "Illinois Nurses on the Front Line: The Flu Pandemic of 1918," presented by Arlene Keeling, PhD, RN, FAAN, president, American Association for the History of Nursing, and Gwyneth Milbrath, PhD, RN, MPH, clinical assistant professor and director of the Midwest Nursing History Research Center at the UIC College of Nursing.
The realities about the pandemic of a century ago—in which one-third of the world's population became infected and at least 15 million died—revealed new insights into the crisis facing the world today, and attendees responded enthusiastically.
"Thanks for this comprehensive presentation which provides perspective," commented Barbara Saltzman, BSN '62, "We must learn from history!"
The nearly seven-hour REUNION seemed to have flown by when the day closed at 2:30 p.m. "Thank you so much for a very interesting, stimulating and fun day," said Rose Haque, BSN '65.
SAVE THE DATE FOR OUR NEXT REUNION: OCT. 16, 2021!
Modified on November 13, 2020