Sabrina Jamal-Eddine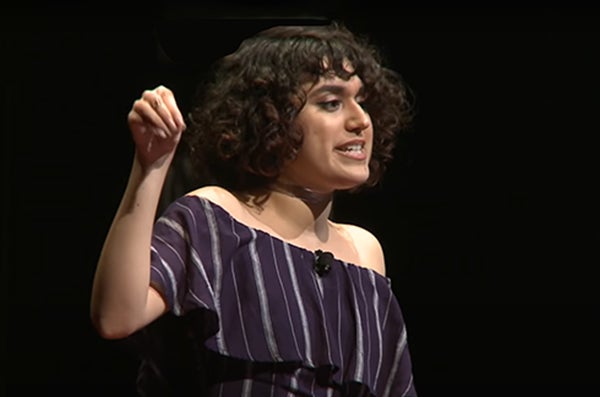 A spinal injury that resulted from surgical malpractice changed the course of Sabrina Jamal-Eddine's life. It first drew her to the nursing field, then drove her desire to make the profession more accessible to disabled students and practitioners.
Jamal-Eddine, RN, is a third-year student in the UIC College of Nursing PhD program. She was a sophomore in high school when she underwent posterior spinal fusion surgery to correct a spinal curvature. But the surgery was a failure, and rather than repairing the problem, it created a host of new ones.
"The minute I got out of surgery, it started to hurt to breathe," Jamal-Eddine recalls. "Every time I inhaled, it felt like someone was cutting me with a knife. That pain didn't go away."
Two years later, she had a revision surgery, which successfully corrected the mistakes of the first with the insertion of new, properly-contoured hardware. But two major back surgeries left her with trauma to her spine and a permanent, non-apparent physical disability, entailing lifting limitations, protruding screws, and pain with certain types of movement.
Her experiences with nurses following those two surgeries solidified her desire to be a nurse. She recalls nurses who showed empathy, positivity and caring – as well as those who didn't. She was determined to be like the former.
"I've always been a caretaker and knew that taking care of people and alleviating pain was something that would bring me joy," she says.
Breaking down barriers for disabled students
But when she entered her undergraduate nursing program as a disabled student, she faced barriers.
Her course syllabus posted a 'disability statement,' asking students to come forward if they have a disability. She later learned through research that nearly all nursing programs have "technical standards," physical requirements to complete the program. Jamal-Eddine knew she would struggle with one of those requirements – lifting a patient in bed – but felt that shouldn't sideline her entire nursing career.
Nursing is inherently a flexible profession, she says, offering opportunities for nurses with a wide range of abilities and disabilities, including careers in telehealth, administration, informatics and as a nurse practitioner.
"I could do everything that was required in my nursing program besides lifting a patient up in bed," she says. "That was the only thing I thought I might need help with. I never had any intentions of doing bedside nursing. It was silly that this generic program requirement was posing barriers for future nurses who might never need that skill."
Despite the deterrent, Jamal-Eddine stayed in the program. She faced resistance from some clinical instructors, who questioned her ability to complete the program, while others showed empathy and support. An instructor on a progressive care unit – which required heavy lifting – was particularly understanding.
Jamal-Eddine recalls the instructor saying: "'Nursing is a team profession. Nurses are always relying on each other. Any time you need to lift a patient up in bed, we have seven other people in this clinical rotation who can help you.'"
Jamal-Eddine is now taking those experiences into her PhD program at UIC to study how she can educate nursing students, instructors and practitioners about ableism – discrimination against disabled people – and disability justice.
For Jamal-Eddine, one of the most powerful ways to do this is through spoken word poetry. She used the format in a 2019 TedX talk about her experiences with Islamophobia and xenophobia.
She sees an important intersection between humanities and nursing and will be exploring this as the first nursing student ever chosen for a prestigious Humanities Without Walls Predoctoral Career Diversity Summer Workshop , hosted by the University of Michigan's Institute for Humanities.
"Even though I have the inherent experiences as a marginalized person, the humanities provide me with the language I need to articulate these inequities, and they help me advocate to progress beyond those," she says. "We talk about nursing as art and science, but art isn't given the space it deserves in nursing curricula. I believe humanities helps us humanize people and often work toward belongingness."
Modified on March 08, 2022