Sandra Martell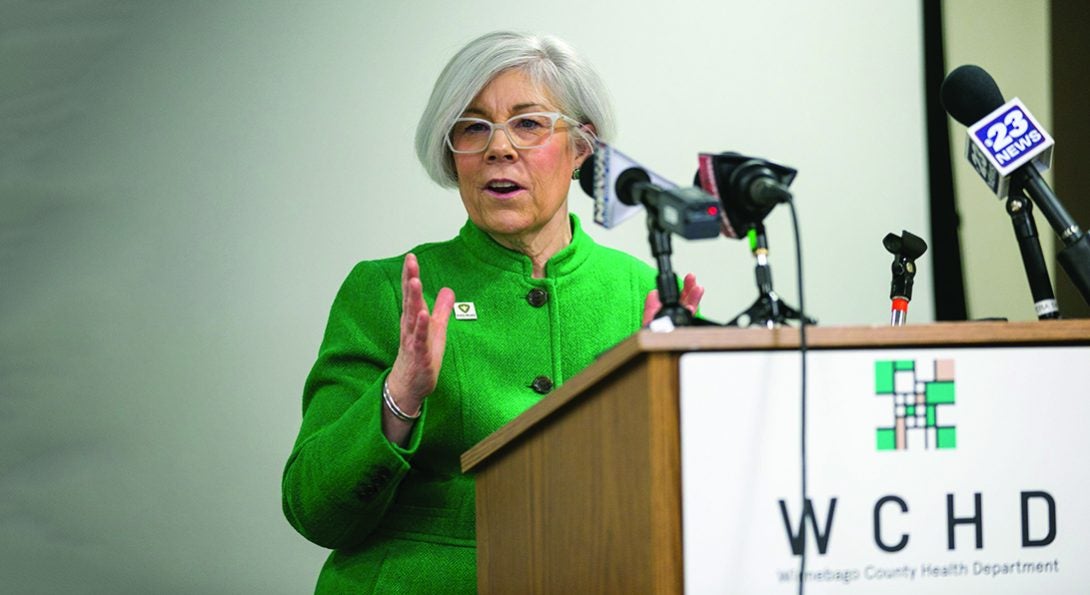 Public Health Administrator, Winnebago County (Illinois) Health Department
Sandra Martell, DNP '10, MS '93, RN, didn't set out for a career in public health. She started college at Marquette University with a plan to be a biomedical engineer, but a campus outbreak of Russian flu changed her career course. With her dorm quarantined, Martell helped take care of those around her who fell ill.
She recalls one of her dorm mates asking, "Have you ever thought about being a nurse?"
"I said no," Martell says. "She said, 'I think that's your calling.' I hadn't really thought about it, but I knew I wanted to help people."
Martell is now public health administrator of the Winnebago County (Illinois) Health Department, a county of 280,000 people that includes Illinois' fifth most populous city, Rockford. As chief health strategist, she is leading the county through the COVID-19 pandemic, setting policy and providing education and guidance to reduce the transmission of the virus in Winnebago County.
The response required Martell to address the public regularly through news conferences, television and phone interviews, and community question-and-answer sessions. She has also aligned resources to support the public health response and elicited cooperation and support from elected officials, healthcare providers and community partners.
The pandemic is just one challenge Martell faces in Winnebago County because of its variety of populations: urban, suburban and rural. She has worked for the county since 2014 after serving as the Cook County Department of Public Health's chief nursing officer and interim chief operations officer.
"[Winnebago County] is the right size for those of us who are looking to do intervention work," she says. "There are opportunities for community engagement, intervention and evaluation of the impact."
Martell and her colleagues are working on a key initiative to make the county a trauma-informed community. That means the community builds interventions and programs from an understanding that the causes of many issues that challenge health are rooted in trauma. In a city such as Rockford, the dissolution of the manufacturing economy and subsequent unemployment and environmental challenges, as well as racial issues, have rippled through the community, Martell says.
Community stakeholders working in areas of child and maternal health, mental health and violence all embraced the framework of trauma, and the county is targeting its work accordingly. Just before the pandemic, voters approved a referendum for a sales tax to help fund mental health services.
Now, the pandemic has added another layer of trauma for the community at large, and its community of nurses. They're at the front lines in two distinct areas: the challenging clinical settings tending to patients, and on the public health front trying to prevent further tragedies.
"Nursing offers such a diversity of practice areas," she says. "And we are all needed."
Modified on October 18, 2021