Springfield, Urbana campuses celebrate virtual pinning
Two downstate campuses carry on a tradition for BSN graduates in a nontraditional way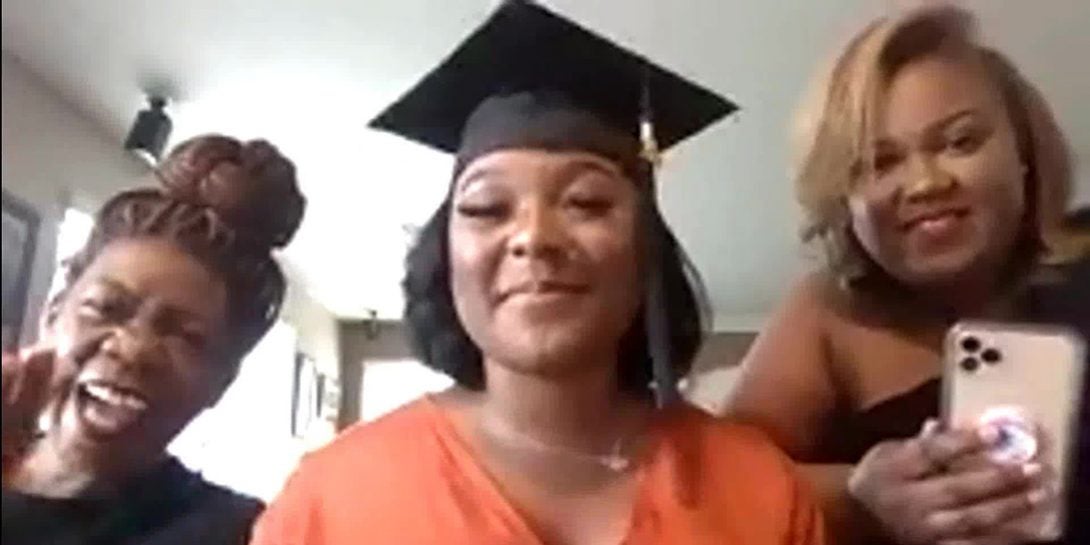 Last week, students earning bachelor's of nursing science degrees on the Springfield and Urbana campuses celebrated the annual pinning ceremony, to mark their passage from student to nurse, in two live virtual ceremonies.
"The UIC College of Nursing pin is a symbol," said Dean Terri Weaver in her remarks to the Urbana students. "It signifies your allegiance to the college and your achievement as our graduate. It points to all the blood, sweat and—yes, indeed—tears … that you went through to arrive at this moment."
Many students at both campuses—the only two UIC Nursing campuses outside of Chicago that offer a BSN degree program—took part in the virtual ceremony with their families at their sides.
In Urbana, there were no actual pins (yet), but each graduate had a chance to take the spotlight by saying his or her name, followed, for the first time, by the initials "BSN."
When it was her turn, Mollie Anderson, BSN '20, from the Urbana Campus, said she would "proudly" wear her grandmother's pin from 60 years ago until she receives her own.
"Class of 2020, we have done it," said Emmanuella Odiko-pim, BSN '20, one of the Urbana Campus student speakers.
"Many of us never anticipated ending our final semester at home, but guess what?" she said. "Due to Covid-19, we have gained another skill that will make us some of the best nurses ever. … We have learned to be flexible and adaptable."
In Springfield, Maria Camilla Agnes, BSN '20, vice president of her campus's Student Nurses Association, took a moment to savor the accomplishment of completing nursing school.
"We passed nursing school, and it's not just any nursing school," Agnes said. "We graduated from the University of Illinois at Chicago, one of the nation's top BSN programs."
Weaver said the pin makes a statement to all those who see it on white coats and scrubs.
"It says: I am an expert in my work; I am a knowledge seeker and an evidence user. I am … an authority of my practice," she said.
She added: "The pin says you belong to something special: the alumni community of the UIC College of Nursing. You're joining 12,000 UIC Nursing alumni living throughout the U.S. and around the world. People will see the pin and know you graduated from one of the top nursing colleges."
Modified on May 22, 2020