Student creates tools for incarcerated moms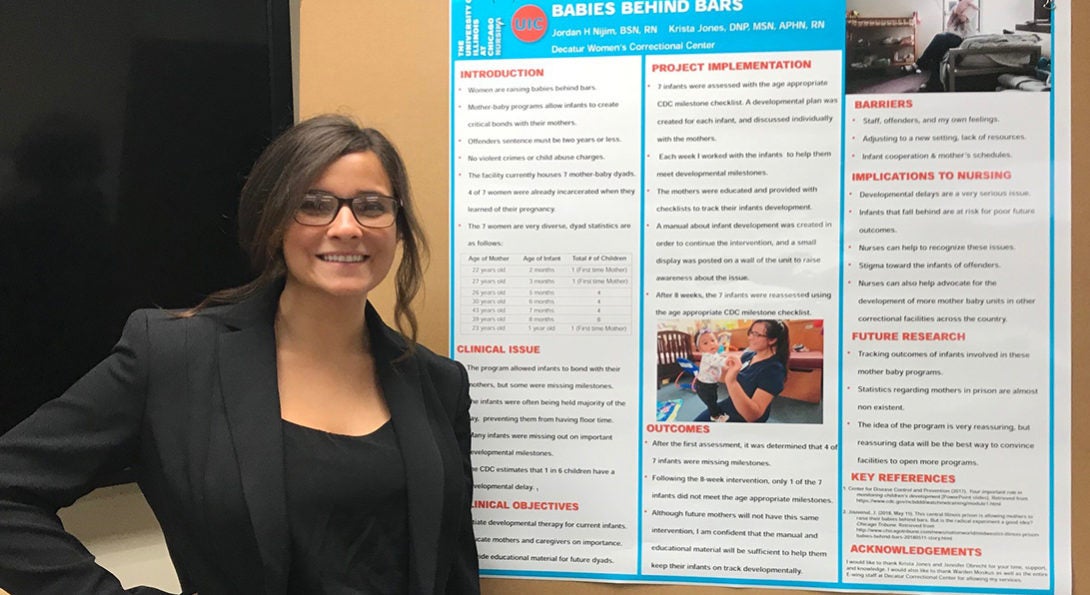 Body copy
Jordan Nijim, a NICU nurse, is used to caring for babies.
But as part of her capstone project for her Advanced Generalist Master of Science program in Urbana, she faced a daunting challenge: To work with mothers and their babies in an innovative prison nursery program at the Decatur Correctional Center.
It's one of only eight facilities in the country that allows nonviolent offenders who meet strict criteria to stay with their babies while they serve time.
When Nijim arrived, the prison warden told her she suspected some of the babies were not meeting age-appropriate developmental milestones, things like holding their heads up or babbling. Using a CDC milestone checklist, Nijim assessed them, finding that four of the seven babies in the unit had missed milestones.
Through twice weekly visits, Nijim created plans for getting the babies caught up.
"Three of the seven were first time moms," Nijim says. "They didn't have a grandma or aunt to reach out to. They couldn't use Google. So they were just kind of guessing."
She gave the mothers lists of exercises and activities to do with their babies, attended doctor's visits and created a bound manual on infant development, which will be kept at the prison for future mothers.
By the end of the eight-week intervention, when Nijim reassessed the babies, all but one had reached all their age-appropriate milestones.
"The babies had huge improvement over the two-month time period," she says. "The moms really looked forward to my visits. They were excited to hear what I had to say. They were willing to do anything to make sure their baby was healthy and on track."
Modified on October 04, 2018