Students celebrate graduation on the small screen, for now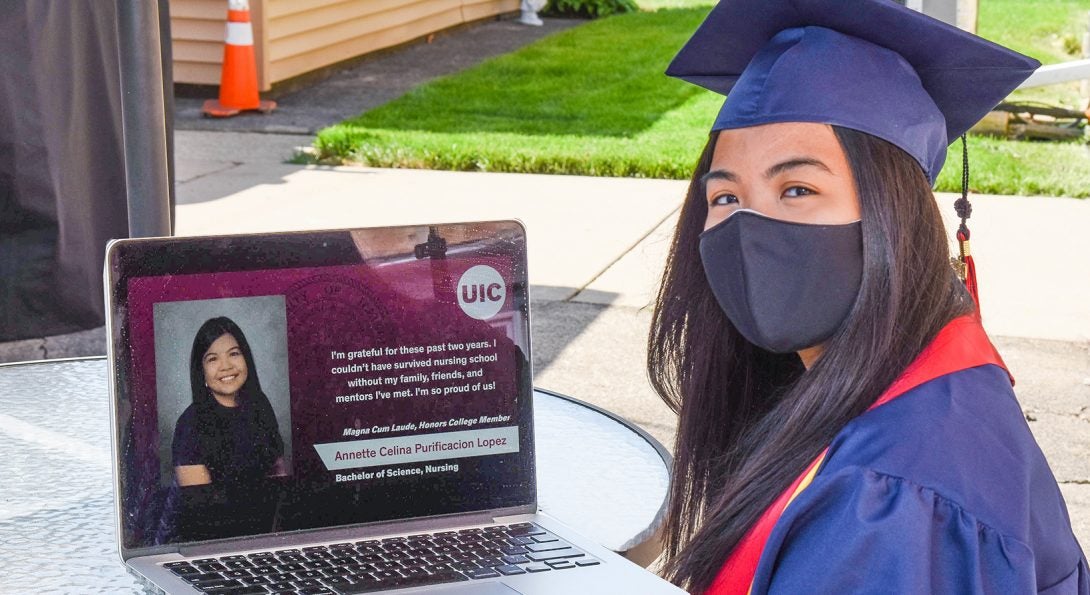 Watching from afar on laptops, phones and TVs, the UIC Nursing graduating class of 2020 heard messages both congratulatory and motivational as they marked the milestone of graduation in a way that was different from any previous class – virtually.
"I know you must have mixed feelings about it," said keynote speaker Leslie Mancuso, PhD, RN, FAAN president and CEO of Jhpiego, an international nurse-run NGO, in a recorded message. "On the one hand, you're thrilled to be finished. On the other, you're disappointed you couldn't celebrate it with friends and family."
Adding that she, too, was disappointed to not be in-person due to the coronavirus pandemic, she urged students to nonetheless relish their accomplishments.
"You're getting a degree from an esteemed university and at this moment, the world appreciates nurses more than ever and we are in demand more than ever," Mancuso said. "The world sees nurses as heroes, as they should."
A traditional commencement ceremony will be held when large gatherings are again deemed safe, but in the meantime, the 296 UIC Nursing graduating students watched messages from University of Illinois System president Timothy Killeen, UIC chancellor Michael Amiridis, Dean Terri Weaver, and Ann & Robert H. Lurie Children's Hospital of Chicago chief nursing officer Brian Stahulak, BSN '97, the UIC Nursing 2020 Distinguished Alumni Award recipient.
Magdalena Soriano, BSN '20, celebrated at home with her husband and two young daughters, watching the virtual graduation, having a "Zoom session" with her entire family (including some overseas), taking photos and enjoying a feast of her favorite foods. She couldn't celebrate in person with her sister and parents because her sister tested positive for COVID-19 and her parents are showing symptoms.
"Even though I am disappointed, sad and upset, I also feel accomplished and I continue to keep my head help up high," she says. "I have achieved something I have always dreamed of. I have exceeded my own expectations. I am graduating Summa Cum Laude and with College Honors, and COVID-19 cannot take that away from me."
Gianna Tan, BSN '20, says the "immense support" she's received from her classmates, friends and family has curbed some of the disappointment of a delayed commencement ceremony.
"While this isn't going at all according to my plans, I know that I'll be able to get through it and use the experiences I'm learning to be a better nurse and person in the future," she says.
And Catherine Tran, BSN '20, a first-generation college student, says her parents emigrated from Vietnam to give her a better life and a chance at higher education, and she continues to look forward to the day when they can watch her walk across a stage at in-person graduation.
In her remarks, Weaver noted that 2020 marks the 200th anniversary of Florence Nightingale's birth and remarked on the similar challenges — lack of supplies, rampant infection — that faced both "the Lady with the Lamp" and nurses today. The World Health Organization has declared 2020, "the Year of the Nurse and the Midwife."
"You, like her, will be brave, tireless, and tenacious and will generate the best science and apply it to the care of all patients with an outreach and appreciation of different cultures, backgrounds and needs," she said. "As a UIC College of Nursing graduate, like Florence Nightingale, you will also advocate for those who are underserved and you will lead."
Acknowledging that this is an "unbelievable time" to be entering nursing practice, Stahulak gave an encouraging boost to students, telling them: "You can do this."
"I am proud of you, the UIC Nursing class of 2020 and firmly believe the adversity you have witnessed and been part of will make you one of the brightest and best generation of nurses this country has ever seen," he said. "You will not only be part of the solution to help mitigate the [coronavirus] pandemic, it will enable you to be uniquely positioned for what lies ahead."
        See slideshow below
Celebrating in the time of COVID: Graduates sent photos of their personal festivities Heading link
Modified on October 25, 2020