The future of nursing education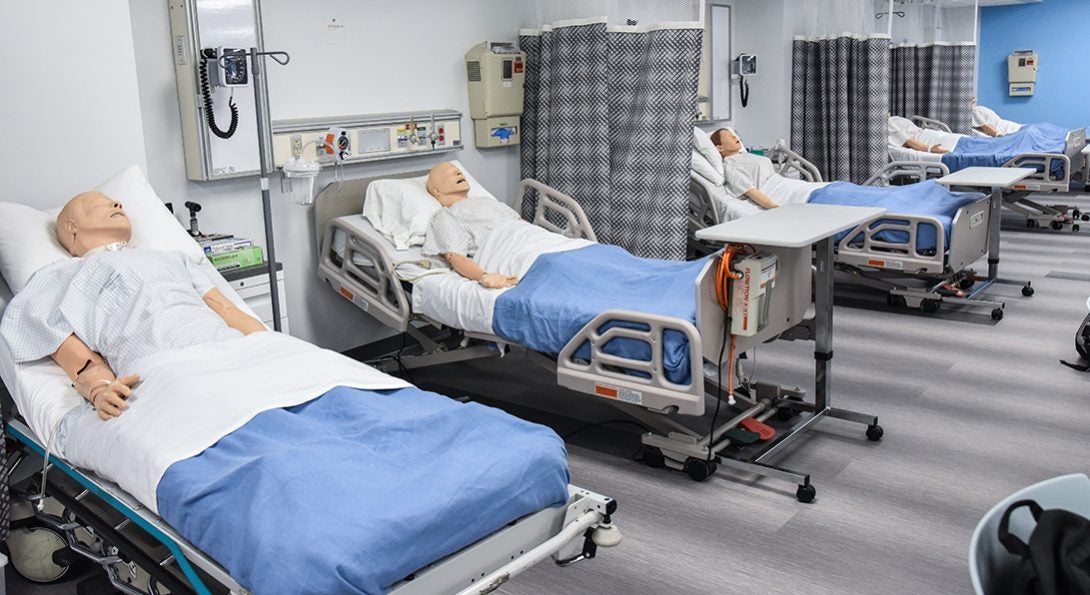 The M. Christine Schwartz Experiential Learning & Simulation Laboratory opens to accolades at UIC Nursing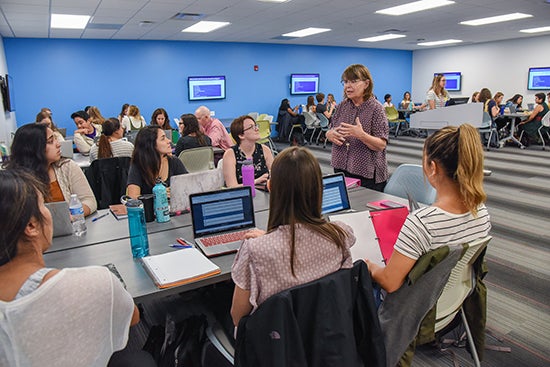 On the lower level of the UIC Nursing building in Chicago, in what appears to be a well-equipped hospital room—with working hospital bed, vital signs monitor, sink and IV pole and pump—there's a patient presenting with severe abdominal pain. A group of advanced practice nursing students will need to get a history, conduct a physical exam and order the right tests in order to diagnose the patient's condition.
Everything has the look and feel of an authentic—and perhaps dire—medical situation, except for one thing: It's not a real patient. It's a high-fidelity manikin, operated by lab coordinator Kelly White, DNP '19, RN, who is seated in a control room behind a one-way mirror. White is the voice of the patient, speaking into a microphone that emits her voice through the manikin's mouth. She can also change its heart and respiratory rate in response to the students' actions or inaction.
"She's actually having a GI bleed, so they'll need to get scans of her belly and start giving blood products," White says. "If it gets to a point where they're stuck and the patient's not getting better, we'll end the simulation and debrief, talking through their approach."
This high-fidelity simulation room is one of eight in the newly-renovated M. Christine Schwartz Experiential Learning & Simulation Laboratory. Going into use in August for select classes in the college, the Schwartz Lab will celebrated with a formal ribbon-cutting on Oct. 12.
The 15,000-square-foot lab was funded entirely with philanthropic dollars, primarily with a $5 million donation from Christine Schwartz, BSN '70. It boasts a 10-bed "ER" and skills lab, five nurse practitioner office rooms, a mental health assessment room, a student study lounge, and even a model apartment for home health simulations.
Among the lab's unique features is the Nita & Phil Francis Family Birthing Suite, named for the couple who donated $1 million to the Schwartz Lab.
In short, the lab offers students a chance to practice treating patients of all ages in multiple healthcare settings, so they're prepared for what they might encounter in real nursing situations.
"In this lab, we can follow the same 'simulated' patient through the lifespan—from birth in the Francis Family Birthing Suite to later in life, when he or she is in need of skilled nursing care at home," says Dean Terri Weaver. "Students can practice skills in a low-stakes environment, making mistakes and learning from them without fear of harming a patient."
I call this the ʻkeystone'. It's the biggest building block in place for the future of nursing education at the university.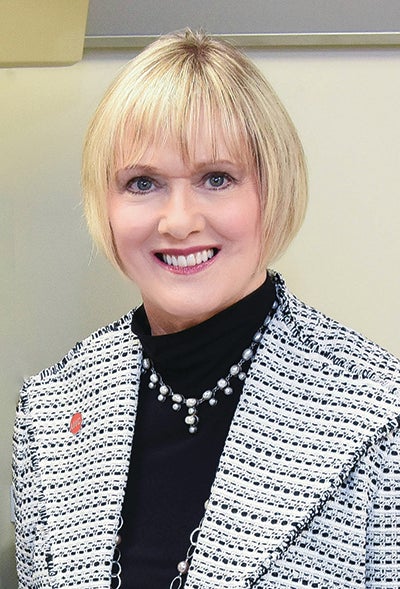 The renovation builds on the college's first experiential learning facilities, which opened in 2014, also funded by Schwartz. Three years in the making, the expansion greatly increases capacity and offers the latest in experiential and simulated technology. It's the result of intensive research into the best nursing education facilities in the country.
"It's amazing to finally see the completion of the simulation lab," Schwartz says. "I think of it as a keystone, the foundational building block for the future of nursing education at the university."
Susan Kilroy, RN, MSN, director of the Clinical Learning Resource Center, which includes the Schwartz Lab, says one of the big benefits of simulation is that it allows faculty to be the architects of deliberate learning opportunities, creating "high risk, low volume" scenarios that are important for any nurse to learn.
"When students participate in their clinical rotations, faculty cannot control the patients they care for or the diagnoses they encounter," Kilroy says. "During a clinical rotation a student may care for a patient with diabetes, but may never encounter a critical state known as diabetic ketoacidosis, or DKA. In the Schwartz Lab, we can create this condition, so students can recognize the signs and symptoms of DKA and think critically through the scenario.
Schwartz says she's excited by the "endless possibilities" the lab can create.
"Whether students go to work in a hospital, a public health setting, or a community clinic in another part of the world, the skills they learn in this lab will touch hundreds if not thousands of lives," she says.
Modified on September 20, 2019