Three alumnae to receive Outstanding Alumni Achievement Awards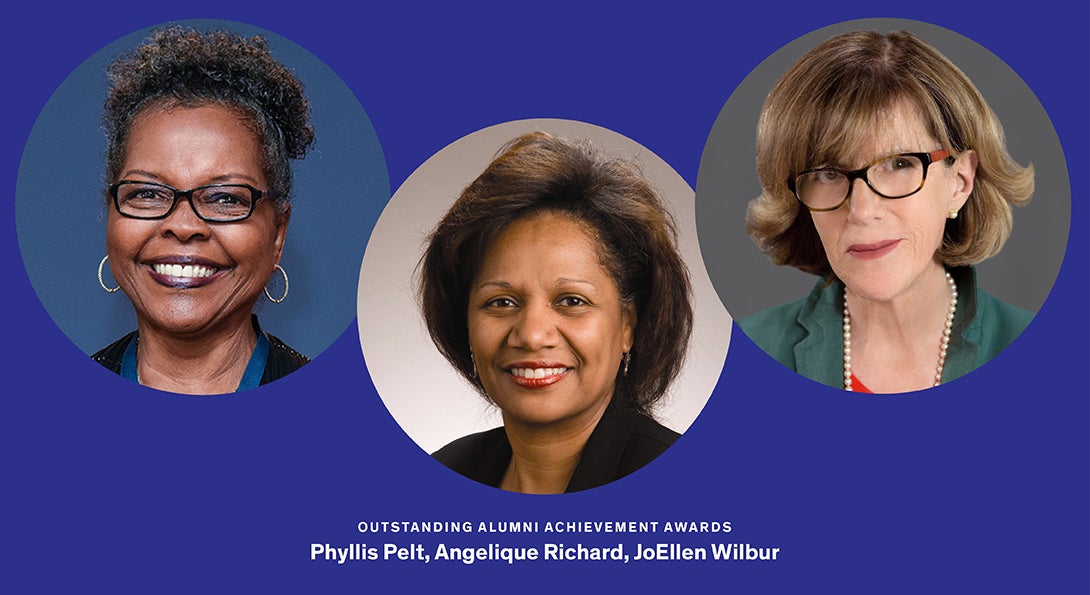 Three alumnae who have made exceptional contributions to healthcare, health science and society have been selected to receive the UIC College of Nursing's 2020 Outstanding Alumni Achievement Award. They will be honored at the all-alumni REUNION on Oct. 10.
They are:
Phyllis Pelt was the founding director of the UIC College of Nursing's online school nurse certification program. In a career that spans 53 years, Pelt has been a school nurse leader, preceptor, health advisory board member, speaker, consultant and mentor.
"Phyllis has left a legacy of programs and nurse leaders in her wake," wrote UIC Nursing clinical professor Martha Dewey Bergren, DNS, RN, FAAN. "I am blessed to be one of them."
Angelique Richard, senior vice president of hospital operations and chief nursing executive of Rush System for Health, participated as the only nurse representative on vice president Joe Biden's Cancer Moonshot panel discussion at the Fred Hutchinson Cancer Research Center in 2016.
"Angelique is relentless when it comes to ensuring high quality patient care," wrote Janice Phillips, PhD '93, RN, associate professor at Rush University College of Nursing.
JoEllen Wilbur spent 23 years as a faculty member at UIC Nursing and then as associate dean for research. She is now professor and Independence Foundation Chair in Nursing and associate dean for research at Rush University College of Nursing. She still holds the title of professor emerita at UIC Nursing.
"Dr. Wilbur's research accomplishments are numerous and impressive," wrote Shannon Zenk, PhD, MS '99, RN, FAAN. "She was an early innovator in the area of women's health, with a particular focus on midlife symptoms, cardiovascular health, and physical activity."
Modified on September 24, 2020