UIC, City Colleges of Chicago to offer dual admission for BSN seekers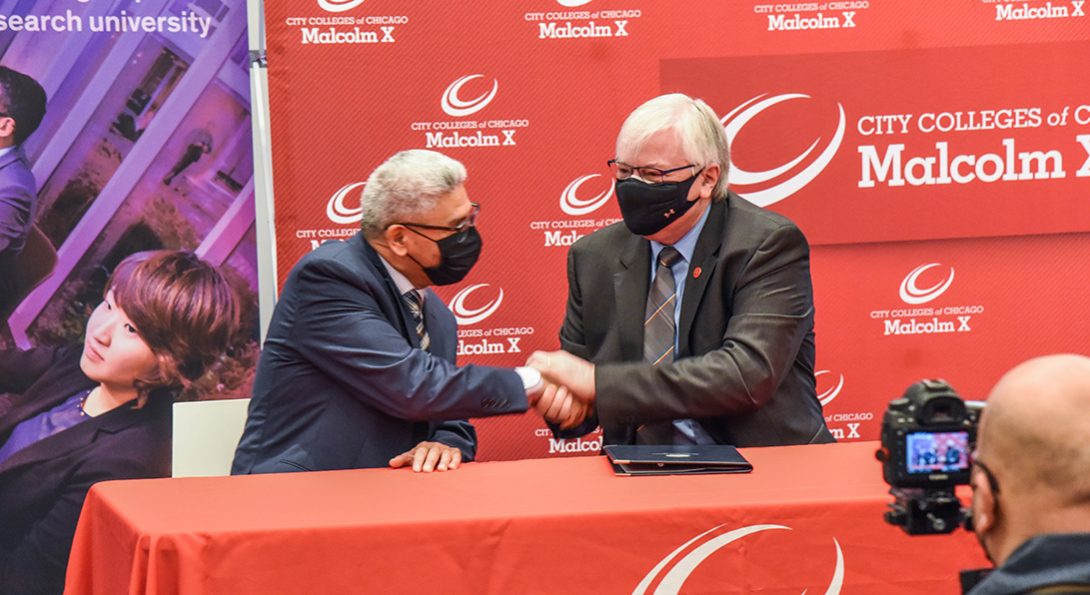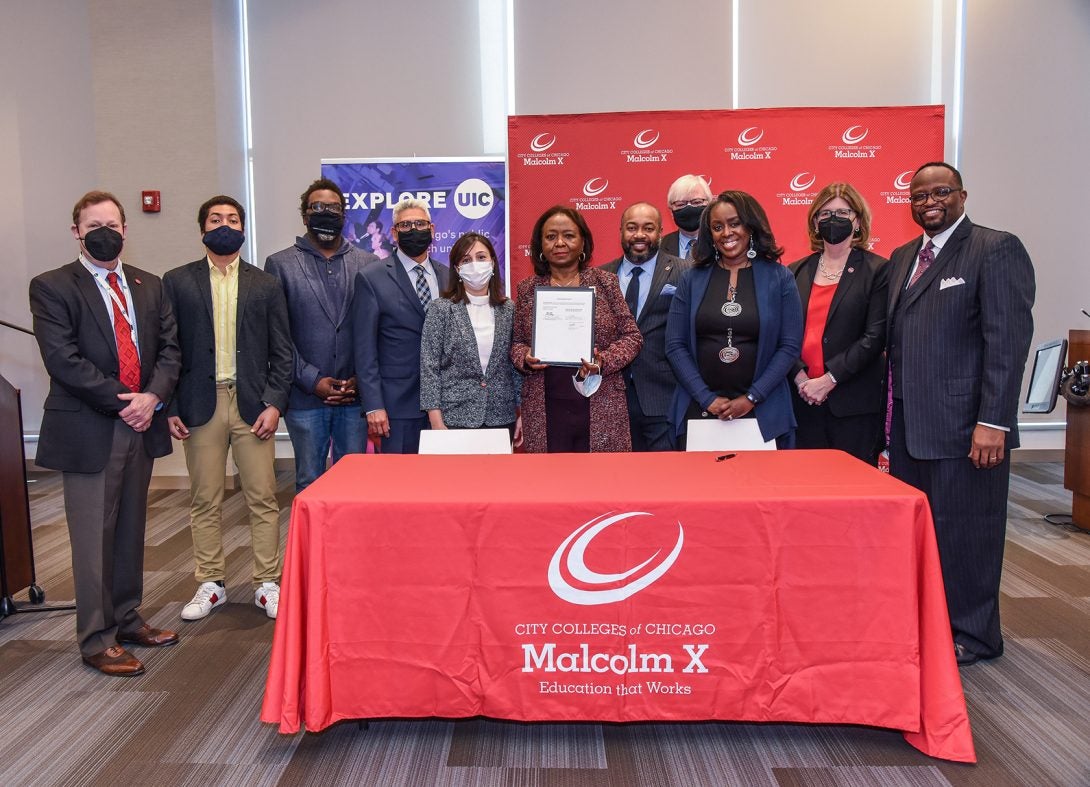 The board of trustees of the University of Illinois, on behalf of the UIC College of Nursing and UIC Extended Campus, and City Colleges of Chicago (CCC), will offer a dual-admissions pathway from the City Colleges of Chicago Associate Degree in Nursing (ADN program) to UIC's online RN to BSN degree-completion program.
The partnership was publicly announced during a Dec. 17 press conference at CCC's Malcolm X College, just a half-mile from the UIC College of Nursing's building on the Chicago campus.
With nursing shortages projected to continue, the career outlook for registered nurses is excellent. In order to help meet workforce demands for highly skilled nurses, CCC and UIC have created a dual-admissions pathway for nursing students. Under the agreement, nursing students can earn an associate degree in nursing at CCC's Malcolm X College while at the same time, enrolling in courses that are part of the fully online UIC RN to BSN degree completion program.
"Healthcare is only getting more complex, and nurses are increasingly called upon to make critical decisions and lead collaborations," said UIC College of Nursing Dean Eileen Collins. "With the clinical skills they learn at Malcolm X, and the nursing leadership skills they learn at UIC, this program's graduates will be invaluable assets to their employers and, most importantly, to their patients."
After students successfully complete the ADN curriculum, they will be awarded their associate degree and continue their progress in the UIC online RN to BSN program as degree-seeking students. UIC will confer the bachelor's degree in nursing after graduation requirements are met.
"This is better access to education for more diverse populations, and we are excited to offer this degree pathway to our ADN students interested in getting their BSN," said David Sanders, President of Malcolm X College. "For many of our student nurses, it will now be possible to earn their BSN more quickly and relatively inexpensively."
"This agreement … will empower Malcolm X College's incredible nurses to seamlessly continue on to UIC to earn their BSN while working in their field of expertise—so being able to earn their BSN online is key to their continued success," said Juan Salgado, Chancellor of City Colleges of Chicago.
ADN students in this program will also receive additional support to stay on track. This includes regular meetings with UIC academic advisors and support from City Colleges of Chicago.
The Institute of Medicine's 2011 Future of Nursing report asserts that a higher level of education gives nurses a wider range of competencies, such as in leadership, systems thinking, evidence-based practice, health policy, and collaboration. The report also notes some evidence that more education for nurses is associated with better patient outcomes.
In 2021, CCC had approximately 75 ADN nursing graduates. CCC becomes the fifth Illinois community college system to offer a dual-admissions nursing program with UIC. Almost 600 students have graduated from UIC's RN to BSN program since it went fully online in 2008.
"The MXC School of Nursing's ADN program did an excellent job of preparing me to pass the NCLEX exam and continue my nursing education in the UIC RN to BSN program," said Juanita Darby, MXC Nursing program alumna and current UIC student. "The BSN is vital for improved quality of patient care as well as career advancement opportunities, and I am finding that UIC is providing me with excellent preparation for my future nursing career."
Modified on February 23, 2022