UIC Nursing alum one of '100 Most Influential African Women'
Sheila Dinotshe Tlou, PhD '90, former minister of health in Botswana, made AvanceMedia's 2019 list alongside presidents, prime ministers, secretaries general and CEOs. Heading link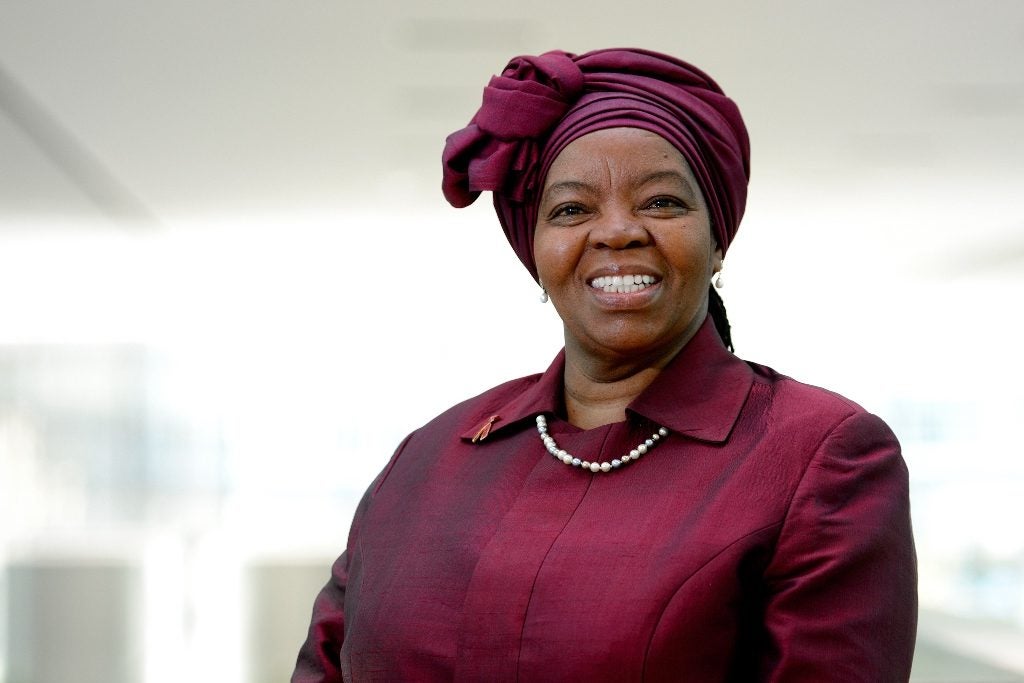 Sheila Dinotshe Tlou, PhD '90, RN, FAAN, didn't want to be a nurse. Growing up in Botswana—where she attended a school taught by Irish nuns—she had a knack for languages and drama, and she dreamed about a career in Hollywood.
When she applied for a scholarship to go to college in the U.S., an education officer told she was eligible for one, but only in the health sciences.
"I was told, 'my dear, this is a developing country,'" Tlou recalls. "'We do not eat languages. We want you to return with a degree that can benefit the country; that can feed our people and contribute to the economy. That's definitely not languages.'"
Somewhat reluctantly, she chose to study nursing. But she says she now thanks the man who refused her a scholarship in the humanities, since it allowed her to discover her "calling:" community health nursing.
Tlou, who this year was named one of AvanceMedia's "100 Most Influential African Women," served as member of Parliament and the minister of health in Botswana from 2004 to 2009. She then went on to serve as regional director of the joint United Nations Program on HIV/AIDS (UNAIDS) from 2010 to 2017, where her policies helped stem the spread of HIV. She is currently co-chair of the Global HIV Prevention Coalition and the Nursing Now Global Campaign.
Career catapulted at UIC
Tlou says she was drawn to the PhD program at UIC Nursing because of its strong concentration in women's health. The program allowed her to see health through a "gender lens," leading her to focus her research and policies on women, girls and education.
She conducted her PhD dissertation on menopause, but when she returned to Botswana, she saw an urgent need: the rise of the HIV epidemic. Botswana had—and continues to have—one of the highest rates of infection in the world at roughly 20% of the adult population.
"With the advent of HIV, I knew women would not make it to menopause," she says. "They would die before then."
In the 1990s and early 2000s, she was co-principal investigator with UIC Nursing professor emerita Kathleen Norr on a research project looking at the effectiveness of peer education for AIDS prevention among Botswana women. She also served as nursing professor, director of the WHO Collaborating Centre, and HIV/AIDS coordinator at the University of Botswana.
Tlou's expertise on HIV led to her appointment as Botswana minister of health in 2004. Under her leadership, Botswana rolled out antiretroviral treatment (ART) to all people living with HIV in Botswana to near universal coverage, such that mother–to-child transmission rates fell from 30% in 2003 to 8% in 2008, while maternal mortality due to AIDS fell from 38% to 9%.
Next, she served for seven years as UNAIDS regional director for Eastern and Southern Africa, where she provided leadership and political advocacy for the AIDS response in 21 African countries.
Currently, Tlou is co-chair of the Nursing Now Global Campaign, which aims to raise the status and profile of nursing for Universal Health Coverage, and co-chair of the Global HIV Prevention Coalition, born out of the need to address the gap and rise in new infections, despite success in treatment and care.
Oh, and about that acting career? That was not a dream denied.
Tlou continues to act in amateur theater and got a taste of Hollywood when, while serving as Botswana's minister of health, she made it onscreen in the 2008 BBC version of "The No. 1 Ladies Detective Agency," which starred Jill Scott, Anika Noni Rose and Idris Elba.
Modified on February 25, 2022