UIC Nursing diversity efforts recognized by AACN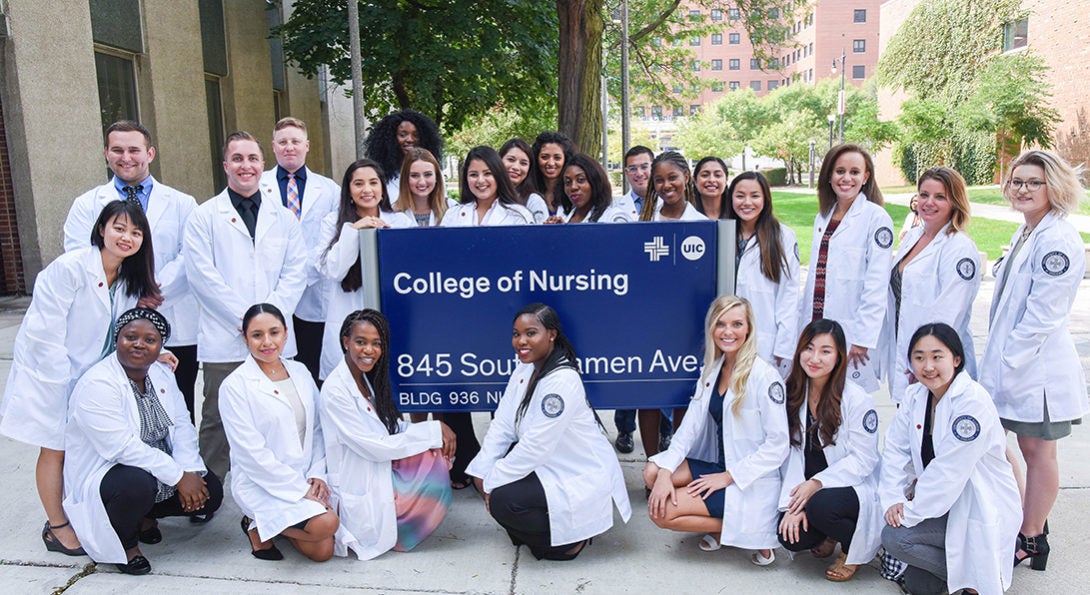 Award reflects efforts outlined in college's Diversity Strategic Plan Heading link
The UIC College of Nursing has been selected to receive the 2020-21 Lectureship Award for Diversity, Inclusion, and Sustainability in Nursing Education from the American Association of Colleges of Nursing.
"This award reflects very intentional efforts on the part of our college over several years, and it recognizes our faculty and staff's dedication to equity and inclusion," says Dean Terri Weaver, PhD, RN, FAAN, ATSF, FAASM.
In the award letter, AACN noted UIC Nursing's Diversity Strategic Plan, which functions as a roadmap for achieving diversity, equity and inclusion goals. Also noted was the college's holistic admission process, which was proven in a formal evaluation to be effective in identifying strengths and skills of underrepresented minority applicants that may be overlooked in traditional review processes.
Since instituting the Diversity Strategic Plan in 2015, college leadership has made important changes aimed at sustaining achievements and strengthening the college's ability to serve the needs of a diverse student body.
In January 2020, after a national search, Phoenix Matthews, PhD, was appointed the first associate dean for equity and inclusion in the College of Nursing. When the nation erupted in protests over police violence during the summer of 2020, Matthews implemented "Time to Talk" lectures on topics such as microaggressions, restorative justice, and talking to children about racism.
The college's recently formed Equity & Inclusion Committee hosts virtual "Meet and Learn" sessions and has developed a resource document for faculty on how to manage instances of microaggressions in the classroom setting.
Skill-building activities across stakeholder groups have included individual and group consultations on emergent issues related to issues of equity and inclusions and collaborating with diversity units across campus to offer specific diversity trainings for UIC Nursing community.
In acceptance of the Lectureship Award, Weaver is invited to deliver a presentation about all the college's DEI initiatives at AACN's Diversity Symposium in November. Given her retirement in August, Matthews will represent the college at the event.
Modified on November 12, 2021