UIC Nursing prof puts spotlight on bisexual health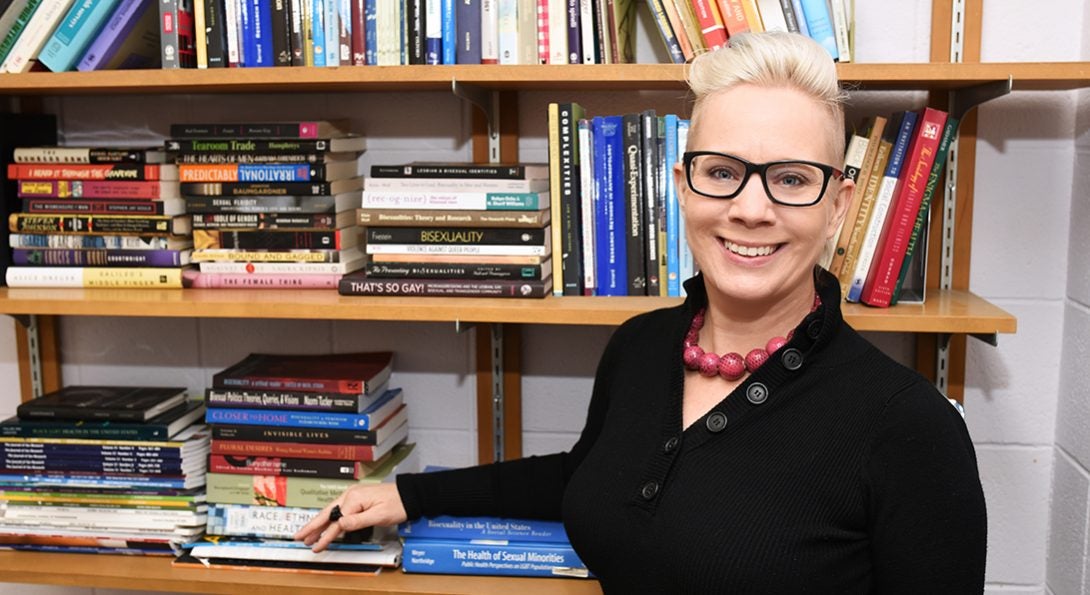 UIC College of Nursing faculty member Wendy Bostwick co-edited a special section on bisexual health research in the Archives of Sexual Behavior, the first time the prominent sexuality journal has dedicated an entire section to the health of bisexual people.
Bostwick, associate professor in the health systems science department at UIC Nursing, served as guest editor with Brian Dodge, associate director of the Center for Sexual Health Promotion at the Indiana University School of Public Health-Bloomington, for the special section, which was published this month. Bostwick's line of research is focused on health disparities among sexual and gender minority populations.
Despite making up the largest proportion of the "lesbian, gay and bisexual" population, research focusing on the unique health needs of bisexual individuals is relatively scarce, Bostwick and Dodge wrote in the "Introduction to the Special Section on Bisexual Health: Can You See Us Now?"
But such scholarship is important because bisexuals consistently report higher rates of negative health outcomes, including mood and anxiety disorders, substance abuse, suicide and disparities related to healthcare access and use, they wrote.
Bisexuality has been well-documented since antiquity, and yet continues to be treated in popular culture as if it's a "new trend," Bostwick and Dodge wrote.
"We were interested in scholarship and research related to bisexual populations that move the field forward, beyond 'who is bisexual and what does bisexuality mean?'" Bostwick says. "[We wanted] to start to flesh out and build a larger understanding of why it is we see such pronounced health disparities and health inequities among bisexual people in the first place."
The special section consists of more than a dozen contributions from researchers across the globe, focusing on issues such as aging among bisexuals, sexual identity and depression, how discrimination affects health and well-being, and new measures for capturing the experiences of bisexuals.
"Archives of Sexual Behavior is one of the oldest and highest-impact journals in the field of sexuality research, so having a section completely devoted to health among bisexual people, a group that has been invisible for so long, will fill a major gap in sexual health research," Dodge said in an Indiana University news release.
Bostwick says while health inequities for bisexuals are notable and need to be stressed, the research also serves as a framework to better understand the connection between sexual orientation and health "writ large."
"When we seek to answer questions for bisexual people," she says, "that can open our understanding for everybody. Everybody has a sexual orientation. Everybody has a sexual identity."
Modified on December 18, 2019