UIC Nursing prof works to create age-friendly health systems, dementia-friendly communities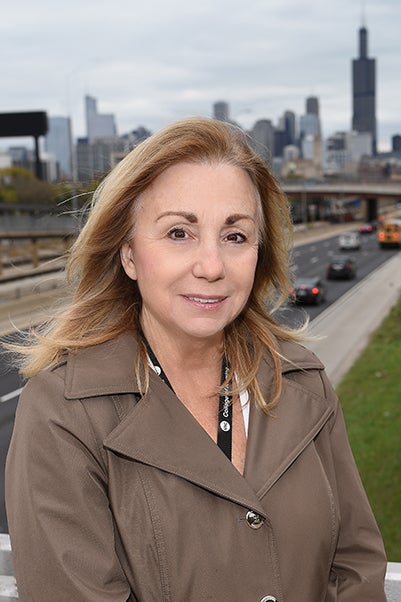 The signs are there if you know what to look for. A woman's lights are shut off, not because she doesn't have the money, but because she forgot to pay her bill. A man keeps landing in the emergency room because he didn't remember to take his heart medication. An octogenarian wanders away from home, then returns, saying she was lost.
These are signs of dementia that Valerie Gruss, PhD, APRN, CNP-BC, FAAN, knows well.
As an advanced practice nurse who has spent her career studying older adults, she also knows that our nation is critically underprepared for the health needs of a fast-growing population of older adults—not least of all, the challenges that come with the memory-stealing disease.
With millions of dollars in grants from the U.S. Human Resources and Services Association, Gruss is on a mission to create age-friendly health systems and dementia-friendly communities across Illinois and beyond.
She and Memoona Hasnain, professor of family medicine at UIC, have assembled a team of interprofessional experts on aging to create ENGAGE-IL. Nine programs under the ENGAGE-IL umbrella are helping seniors "age in place," including a free mobile app, the Dementia Guide Expert; a library of more than 20 online learning modules on geriatrics for healthcare professionals; and a partnership with the city of Chicago to train managers of high-rise buildings to recognize the signs of dementia.
Dementia looms large
An estimated 5.7 million Americans aged 65 and older were living with Alzheimer's disease as of 2017, according to the CDC, and as the U.S. population grays, that number is expected to almost triple in the next 30 years. While early onset dementia can occur in younger adults, it is most common for people over the age of 65.
There is no cure for dementia, and on average, people live with the disease for eight to 10 years.
"This is a disease that can be devastating and overwhelming to caregivers and loved ones," Gruss says. "Our goal is to educate people on Alzheimer's disease and related dementias, because most clinicians and the general population don't have a full and accurate understanding of what it is or how to manage the symptoms of dementia. We're trying to give people the tools to understand what's going on and help them better manage this disease."
Creating Vertical Independent Villages
In Chicago, Gruss' team is taking an innovative approach to reaching vulnerable older adults living alone in high-rise apartment and condo buildings. These are buildings that are not specifically designed for seniors, but nonetheless may have hundreds of seniors living in them.
Through a contract with the city of Chicago's Age-Friendly Chicago Commission, she is making training available to building staffers to help them recognize signs of dementia, identify problems their residents may be having, and connect senior residents with appropriate services and resources. Gruss estimates she will train more than 100 managers, creating dementia-friendly buildings, one building at a time.
"The building management staff are the people engaging with these older adult residents 24-7," Gruss says. "They're the ones who see them every day. They're the ones who will notice subtle changes and now, through our program, can connect [seniors] with needed services."
Gruss worked with the city of Chicago to establish a hotline for building managers to reach the Illinois Department on Aging, connecting older adult residents with appropriate services rather than having building managers call 911 or sending seniors to the emergency department.
Margaret Shamberger, regional director of Lieberman Management Services, which manages high-rise condo buildings throughout Chicago, elected to take part in the program. She says one of her building managers noticed a resident who was wandering and seemed disoriented and confused. The building manager called the city and eventually got connected to the right department, but Shamberger says not all managers are as savvy, and the new hotline will "streamline the process for managers."
"When there's an issue—such as a resident who is missing and found in the stairwell—who do they call?" she says. "This training offers resources and phone numbers through the city for property managers to be able to get assistance."
Lack of geriatricians
Today, there are 49 million people in the U.S. over the age of 65, but in 15 years, that number will grow to 78 million people. Then, for the first time ever, there will be more seniors than children in the U.S.
At the same time, the number of healthcare workers trained in geriatrics is not keeping pace.
"There's a lack of geriatricians," Gruss says. "We need specialized, trained people to work with the older adult population because the care that's needed is very different. And yet fewer and fewer people are entering geriatrics, getting certified in geriatrics or even working in the field."
That's why a number of Gruss' ENGAGE-IL programs focus on healthcare providers, offering training on comprehensive, patient-centered care for older adults. These include the online learning modules, an interprofessional internship for students and a certification program for primary care clinicians.
As the baby boomers age, many are choosing to live independently. And while there are many advantages—it can be less expensive than a nursing home or assisted living facility and more comfortable—it also means older adults are sometimes in isolation. Still, Gruss says relatively simple solutions could allow them to maintain their independence. For instance, a senior who forgets to take his or her medication could purchase a medication box with an alarm on it.
"Our goal here is to enable people to age in place," Gruss says. "We don't have to institutionalize them. In many cases, we can provide appropriate home services and resources to assist the older adult so that they can continue to live independently and safely in the community."
Modified on June 22, 2020