Visit to Thailand strengthens college connections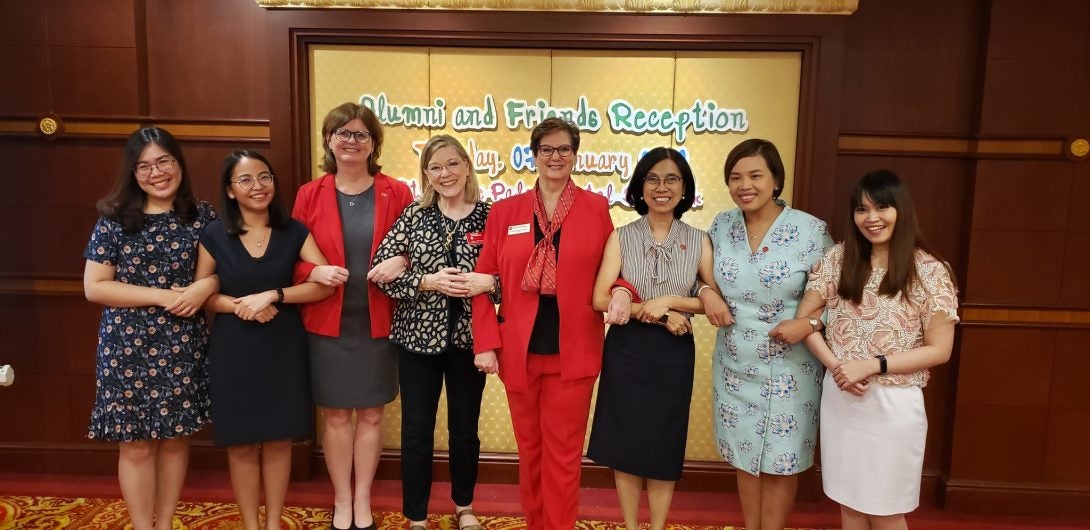 During an eight-day visit to Thailand last month, top leaders from the UIC College of Nursing held a reception for alumni and friends, presented at a major nursing conference, and strengthened ties with partner schools.
Making the rounds in Thailand were: Dean Terri Weaver, PhD, RN, FAAN, ATSF; associate dean for research Eileen Collins, PhD, RN, FAAN, FAACVPR, ATSF; associate dean for global health Linda McCreary, PhD '00, MS '93, BSN '73, RN, FAAN; and clinical assistant professor Ruth Woroch, DNP, FNP-BC.
The college has a long and rich connection to Thailand: Six of Thailand's top nursing colleges have been, or are currently, led by deans and directors with PhDs from UIC.
Highlights from the trip include:
A reception, attended by about 40 alumni, former visiting scholars and friends, at the Prince Palace Hotel Bangkok on Jan. 7.
The N-nergizing Nursing Profession for NCD Challenges Conference , where Weaver and Collins spoke and McCreary and Woroch presented. Yajai Sitthimongkol, PhD '94, MS '92, is dean of the Mahidol University Faculty of Nursing, which hosted the conference.
Visits to partner schools to renew relationships and cooperation agreements as needed, including to the Ministry of Health's Praboromarajchanok Institute, Thammasat University, Suan Sunandha Rajabhat University and the Ramathibodi School of Nursing of Mahidol University.
Modified on May 25, 2023