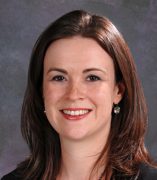 Anne M. Fink, PhD RN CNE FAHA
Assistant Professor
Department of Biobehavioral Nursing Science
Contact
Building & Room:
750 NURS
Address:
845 S. Damen Ave, MC 802, Chicago, IL 60612
Office Phone:
Email:
About
Dr. Fink's laboratory studies sleep disorders to understand the adverse effects on the cardiovascular system. Experiments define the mechanisms linking disrupted sleep with the development of high blood pressure. There are two areas currently under investigation: (1) defining the impact of experimental shift-work on circadian patterns in blood pressure and heart rate variability, and (2) determining how neuronal networks in the pons regulate cardiorespiratory responses to experimental sleep apnea. These studies have important implications for designing interventions that reduce cardiovascular morbidity in the millions of Americans afflicted with sleep apnea syndrome and circadian rhythm disorders.
Selected Publications
Fink AM. Measuring the effects of night-shift work on cardiac autonomic modulation: An appraisal of heart rate variability metrics. International Journal of Occupational Medicine & Environmental Health, 2020;33:409-25.
Maki KA, Burke LA, Watanabe-Chailland M, Sweeny D, Romick-Rosendale LE, Calik MC, Green S, Fink AM. Sleep fragmentation increases blood pressure and is associated with alterations in the gut microbiome and fecal metabolome in rats. Physiological Genomics, 2020;52:280-92.
Fink AM, Topchiy I, Ragozzino M, Amodeo D, Waxman JA, Radulovacki M, Carley DW. Brown Norway and Zucker Lean rats demonstrate circadian variation in ventilation and sleep apnea. Sleep, 2014;37:715-21.
Fink AM, Burke LA, Sharma K. Lesioning of the pedunculopontine nucleus reduces rapid eye movement sleep, but does not alter cardiorespiratory activities during sleep, under hypoxic conditions in rats. Respiratory Physiology & Neurobiology, 2021;11:103653.
Fink AM, Dean C, Piano MR, Carley DW. The pedunculopontine tegmentum controls renal sympathetic nerve activity and cardiorespiratory activities in Nembutal-anesthetized rats. PLOS One, 2017;12:e0187956.
Topchiy I, Fink AM, Maki KA, Calik MW. Validation of PiezoSleep scoring against EEG/EMG sleep scoring in rats. Nature and Science of Sleep, 2022;14:1877-86.
Fink AM, Bronas UG, Calik MW. Autonomic regulation during sleep and wakefulness: A review with implications for defining the pathophysiology of neurological disorders. Clinical Autonomic Research, 2018;28:509-18.
Maki KA, Fink AM, Weaver TE. Sleep, time, and space—fatigue and performance deficits in pilots, commercial truck drivers, and astronauts. SLEEP Advances, 2022;3:pac033.
Weaver TE, Calik M, Farabi SS, Fink AM, Galang-Boquiren, MT, Kapella MK, Prasad B, Carley DW. Innovative treatments for obstructive sleep apnea. Nature and Science of Sleep, 2014;6:137-47.
Fink AM. Sleep neurobiology and the critical care environment. Critical Care Nurse, 2020;40:e1-6.
Education
Ph.D., University of Illinois Chicago
B.S.N., Loyola University Chicago