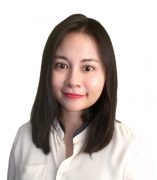 Mia Cajita, PhD, RN-BC
Assistant Professor
Department of Biobehavioral Nursing Science
Contact
Building & Room:
756 NURS
Address:
845 S. Damen Ave., MC 802, Chicago, IL 60612
Office Phone:
Email:
CV Link:
About
Dr. Cajita's research program is rooted in her clinical background as a staff nurse on a cardiac unit. The overarching goal of her research is to reduce cardiovascular health disparities by addressing person-, provider-, and socioeconomic-related barriers to cardiovascular health behaviors. Dr. Cajita uses health technology and a health literacy lens to design her interventions.
Selected Publications
Cajita MI, Zheng Y, Kariuki JK, Vuckovic KM, Burke LE. mHealth technology and CVD risk reduction. Current Atherosclerosis Reports. 2021; 23(36): 1-24. doi: 10.1007/s11883-021-00927-2. PMID: 33983491
Cajita MI, Rathbun SL, Shiffman S, Kline CE, Imes CC, Zheng Y, Ewing LJ, Burke LE. Examining reactivity to intensive longitudinal ecological momentary assessment: 12-month prospective study. Eating and Weight Disorders – Studies on Anorexia, Bulimia, and Obesity, 2023: 28 (26). doi: 10.1007/s40519-023-01556-1.
Cajita MI, Denhaerynck K, Berben L, Dobbels F, Van Cleemput J, Crespo-Leiro MG, Van Keer J, Poncelet AJ, Russell C, and De Geest S. Is level of chronic illness management in heart transplant centers associated with better patient survival? Findings from the International BRIGHT Study. Chronic Illness. 2022 Dec; 18(4): 806-817. doi: 10.1177/17423953211039773. PMCID: PMC9643815. PMID: 34549630
Cajita MI, Nilsen M, Irizarry T, Callan J, Beach S, Swartwout E, Person Mecca L, Schulz R, and Devito-Dabbs A. Predictors of patient portal use among community-dwelling older adults. Research in Gerontological Nursing. 2021; 14(1): 33-42. doi: 10.3928/19404921-20200918-03. PMID: 32966584. PMCID: PMC8992382
Cajita MI, Kline CE, Burke LE, Bigini EG, Imes CC. Feasible but not yet efficacious: a scoping review of wearable activity monitors in interventions targeting physical activity, sedentary behavior, and sleep. Current Epidemiology Reports. 2020; 7(1): 25-38. doi: 10.1007/s40471-020-00251-4. PMID: 33365227. PMCID: PMC7751894. NIHMSID: NIHMS1637544
Han HR, Delva S, Greeno RV, Negoita S, Cajita MI, Will W. Health literacy-focused intervention for Spanish-speaking inner-city Latinos with uncontrolled hypertension. Health Literacy Research and Practice. 2018; 2(1): e21-e25. doi: 10.3928/24748307-20180108-02. PMID: 31294273; PMCID: PMC6608908.
Cajita MI, Rodney T, Xu A, Hladek M, Han HR. Quality and health literacy demand of online heart failure information. Journal of Cardiovascular Nursing. 2017; 32(2): 156-164. doi: 10.1097/JCN.0000000000000324. PMID: 26938508; PMCID: PMC5010526.
Cajita MI, Cajita TR, Han HR. Health literacy and heart failure: a systematic review. Journal of Cardiovascular Nursing. 2016; 31(2): 121-130. doi: 10.1097/JCN.0000000000000229. PMID: 25569150; PMCID: PMC4577469.