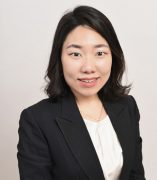 Minseung Chu, DNP, FNP-BC
Clinical Assistant Professor
Department of Population Health Nursing Science
Contact
Building & Room:
College of Nursing, Room 912
Address:
845 S Damen Ave. Chicago, IL
Office Phone:
Fax:
Email:
About
Dr. Chu's clinical scholarship focuses on reducing health disparities by providing primary care to marginalized populations, particularly in the realm of infectious diseases. Her capstone project involved identifying means of improving PrEP adherence to prevent HIV among sexual minorities. Dr.Chu was at the forefront of UIC's work on vaccine development as a sub-investigator for two phases 3 trials of COVID-19 vaccines: the Moderna mRNA-1273-P301 and Janssen Ad26.COV2.S studies. As her efforts in global health, Dr. Chu works for improving nursing education and local community health in a suburban area in Zambia.
Dr.Chu is a family nurse practitioner whose direct-care practice has included lifespan primary care including medication-assisted treatment for people with opioid use disorder in federally qualified health centers. As an educator, Dr. Chu focuses on promoting graduate student competencies in health assessment and management.
Selected Publications
Woroch, R. A., Chu, M., & Gingell, M. J. (2022). Comorbid HIV Infection and Opioid Use Disorder Simulation for Nurse Practitioner Students. Nurse educator, 10.1097/NNE.0000000000001271. Advance online publication. https://doi.org/10.1097/NNE.0000000000001271
Turner, M., Chu, M., Cotler,K., & Yingling,C. (2021). Application of a Sexual Risk Assessment Tool in Primary Care. The Journal for Nurse Practitioners, 17(9), 1128-1132. https://doi.org/10.1016/j.nurpra.2021.06.018
Chu, M., Cotler, K., & Yingling, C. (2020). Understanding patient motivations for HIV pre-exposure prophylaxis initiation and adherence. Journal of the American Association of Nurse Practitioners, 32(6), 423-428.  https://doi.org/10.1097/JXX.0000000000000282
Education
Doctor of Nursing Practice – Family Nurse Practitioner, the University of Illinois at Chicago, College of Nursing, Chicago, IL (May. 2019)
- Practicum: Understanding patient motivations for HIV pre-exposure prophylaxis initiation and adherence
Bachelor of Science in Nursing, Hanyang University, College of Nursing, Seoul, South Korea (Feb. 2011)
- Thesis topic: Visiting conditions and satisfaction with medical institutions among multi-cultural families in Korea