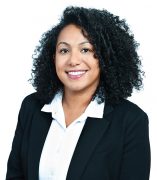 Natasha Crooks, PhD, RN
Assistant Professor
Department of Human Development Nursing Science
Pronouns: She/her/hers
Contact
Building & Room:
NURS 816
Address:
845 S. Damen Ave., Chicago IL 60612
Office Phone:
Email:
CV Download:
About
Natasha Crooks, PhD, is an Assistant Professor at the University of Illinois Chicago, College of Nursing and an affiliate faculty at the Center for Dissemination and Implementation Science (CDIS) in the UIC Department of Medicine. Dr. Crooks earned her BSN and PhD in Nursing at the University of Wisconsin-Madison. She completed NIH-funded (K12GM0000580), postdoctoral training at Rollins School of Public Health at Emory University. She has also been an associate of the Building Interdisciplinary Research Careers in Women's Health (BIRCWH) program and a Clinical and Translational Science (CCTS) KL2 affiliate.
Dr. Crooks' community-engaged research program centers on addressing sexual health disparities among Black girls and women. She has developed a conceptual model describing the sociocultural processes and conditions influencing Black female sexual development and STI/HIV risk funded by the NIH (F31NR016624). In this qualitative work with Black girls and women the concept of "protection" was identified as a major sociocultural condition influencing Black female sexual pathways and sexual behaviors. Participants indicated the need to engage Black male caregivers in family-based programming which led her to adapt IMARA (Informed, Motivated, Aware, and Responsible about AIDS) an evidence-based HIV/STI prevention program designed and tested for Black girls and female caregivers. She has utilized the ADAPT-ITT framework to create IMAGE (IMARA for Black Male caregivers and Girls Empowerment) an intervention designed to increase the protection of Black girls' sexual and reproductive health funded by NIMHD a sub-award of CHER Chicago (U54MD012523-05). Dr. Crooks' other research projects focus on developing a measure to identify girls at risk for early sexual debut, sexual trauma, and STI/HIV, improving Black maternal health, and health outcomes among sex workers in Chicago.
Selected Grants
Center for Health Equity Research NIH/NIMHD (U54MD012523-01), Protecting Black girls: Development of Family-based Sexual and Reproductive Health Intervention, Principal investigator
Institute for Research on Race and Public Policy Faculty Fellowship, Protecting Black girls Sexual Development: A Family Intervention, Principal investigator
NIH/NICHD (UG3HD096875), Multilevel Comprehensive HIV Prevention for South African Adolescent Girls and Young Women, Co-Investigator
Service to Community
Crooks, N., King, B., Tluczek. A., & Sales, J.M. (2019). The process of becoming a sexual Black woman: Results of a grounded theory study. Perspectives on Sexual and Reproductive Health. Doi:10.1363/psrh.12085
Crooks, N., King, B., & Tluczek., A. (2019). Protecting Black female sexuality. Culture, Health and Sexuality. Doi: 10.1080/13691058.2019.1632488
Crooks, N., Singer, R.B., & Tluczek, A. (2020). Black Female Sexuality: Intersectional Identities and Historical Contexts. Advances in Nursing Science. Doi: 10.1097/ANS.0000000000000332
Crooks, N., Donenberg, G., & Matthews, A. (2021). The Ethics of Research at the Intersection of COVID-19 and Black Lives Matter: A Call to Action. Journal of Medical Ethics. Doi: 10.1136/medethics-2020-107054
Crooks, N., King, B., & Tluczek A. (2022). Being fast or cautious? Conditions influencing the sexual pathways of Black females. BMC Women's Health. Doi: https://doi.org/10.1186/s12905-022-01644-x
Crooks, N., Sosina, W., Debra, A., Donenberg, G. (2022). The Impact of the COVID-19 Pandemic on Black Girls: A Socioecological Perspective. Journal of Pediatric Psychology. Doi: https://doi.org/10.1093/jpepsy/jsab13
Crooks, N., Singer, R.B., Smith, A., Donenberg, G., Matthews, A., Patil., C. Johnson, AK., Haider, S. (2023). Barriers to PrEP Uptake Among Black Female Adolescents and Emerging Adults: An Intersectional Perspective. Preventive Medicine Reports. Doi: https://doi.org/10.1016/j.pmedr.2022.102062
Crooks, N., Barrie, R., Singer, R.B., & Donenberg, G., (2023). The role of the Strong Black Woman in Black Female Sexual Development. Archives of Sexual Behavior. Doi: 10.1007/s10508-023-02529-2
Crooks, N., King., B. Donenberg., G., & Sales., J.M. (2023). Growing up too "Fast": Black girls' Sexual Development. Sex Roles. Doi: https://doi.org/10.1007/s11199-023-01390-w
Crooks, N., Debra, A., Coleman, D., Sosina, W., Singer, R., Green, B., Caldwell, C., Johnson, W., Patil, C. Jeremiah, R., Matthews, A., Donenberg, G. (2023). Application of ADAPT-ITT: Adapting an Evidence-Based HIV/STI Mother-Daughter Prevention Intervention for Black Male Caregivers and Girls. BMC Public Health. Doi: https://doi.org/10.1186/s12889-023-16364-6