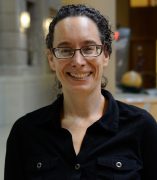 Ellen Goldstein, MFT, PhD
Assistant Professor
Department of Population Health Nursing Science
Pronouns: She/Her/Hers
Contact
Building & Room:
1044 NURS
Address:
845 S. Damen Ave., MC 802, Chicago, IL 60612
Office Phone:
Email:
Related Sites:
About
Ellen Goldstein, MFT, PhD is an Assistant Professor in the Department of Population Health Nursing Science in the College of Nursing.
Dr. Goldstein obtained her Masters in Clinical Psychology with an emphasis on Prenatal and Perinatal Psychology at the Santa Barbara Graduate Institute and PhD in Nursing Science and Health Care Leadership at the Betty Irene Moore School of Nursing at the University of California at Davis. She completed her T32 postdoctoral training in Primary Care Research in the Department of Family Medicine and Community Health at the University of Wisconsin. Building on her clinical experience as a Licensed Marriage and Family Therapist working with at-risk youth and families, Dr. Goldstein's research goal is to develop a trauma-informed approach for perinatal care to advance maternal and child health outcomes. As a behavioral and social scientist, Dr. Goldstein's research is centered on developing and testing the acceptability and effectiveness of trauma-informed interventions that can improve pregnancy outcomes and be delivered adjunct to routine perinatal care. Thus far, her research has taken steps to demonstrate feasibility of adverse childhood experiences (ACE) screening and brief intervention services within community-based clinics serving patients at high risk for health inequities. This research has contributed to a deeper understanding of how to translate a patient's ACE score into clinical care and address ACE's impact on mental and physical health in patients served in community clinics. Dr. Goldstein is co-founder of the National Collaborative on Trauma Informed Health Care Education and Research (TIHCER) whose mission is to advance interprofessional trauma-informed health education across the continuum of learners. As Co-Investigator with the University of Wisconsin team on the NIH/NIDA-funded Healthy Brain and Child Development (HBCD) Study, Dr. Goldstein is leading recruitment efforts for a nationwide longitudinal birth cohort study that investigates effects of environmental and biological factors on early child development spanning in utero through 10 years of age.
Selected Grants
National Institutes of Health/NIDA/U01DA21020, Healthy Brain and Child Development National Consortium, Co-Investigator
National Institutes of Health/NIDA/R34DA050270, Promoting Resilience in Children: Protocol Development for a Birth Cohort Study to Assess Factors Impacting Neurodevelopment, Co-Principal Investigator
University of Wisconsin School of Medicine and Public Health Funds, Supporting Expectant and New Mothers in the Time of COVID-19 Pandemic, Principal Investigator
University of Wisconsin (UW) Institute Clinical Translational Research (ICTR)/Advancing Health Equity and Diversity Pilot Awards (AHEAD)/UL1TR002373, Addressing adverse childhood experiences and health risk behaviors among low-income black primary care patients: Testing feasibility of a motivation-based intervention, Principal Investigator
Professional Leadership
Co-Founder, National Collaborative on Trauma Informed Health Care Education and Research
Notable Honors
2020, William E. Scheckler Award for Outstanding Research Publication, University of Wisconsin Department of Family Medicine and Community Health
2019, William E. Scheckler Award for Outstanding Research Publication, University of Wisconsin Department of Family Medicine and Community Health
Licensures and Certifications
Licensed Marriage and Family Therapist (Lic #49859)