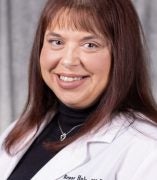 Renae Denise Hale, DNP, RN, MHN-BC
Visiting Clinical Instructor
Population Health Nursing Science Department
Pronouns: She, Her, Hers
Contact
Building & Room:
Springfield Campus ,SAB 20G
Address:
One University Drive, Springfield Campus. Univeristy College of Nursing
Office Phone:
CV Download:
About
Dr. Hale began her nursing career following completion of her BSN from St. John's College of Nursing. Dr. Hale began her career in child and adolescent psychiatry and continued her professional psychiatric nursing career in home health caring for geriatric psychiatric patients and several years later caring for adult psychiatric patients in the inpatient setting. While completing her MSN from Loyola University, Dr. Hale facilitated the development of a home health hospice program. Dr. Hale brought her 20+ year of clinical experience to the faculty role, providing students from several programs with access to her deep experience in psychiatric care.
Dr. Hale also served as the Chief Nursing Officer at an in-patient psychiatric mental health facility specializing in the care of children and youth. During that time, she completed her DNP from Walden University. Currently Dr. Hale serves students as a Visiting Clinical Instructor and teaches in the Population Health Nursing Science Department for the University of Illinois Chicago. Dr. Hale is a board certified Psychiatric-Mental Health Nurse and has currently submitted an accepted manuscript "Evidence Based Practice: Implementing Trauma Care of Children and Adolescents in the In-patient Psychiatric Setting."She is a member of the American Nursing Association and American Psychiatric Nurses Association
Education
DNP, Nursing, Walden University 2014-2019
Minneapolis, Minnesota
MSN, Nursing, Loyola University 2006-2009
New Orleans, Louisiana
BSN, Nursing, St. Johns College of Nursing 1992-1995
Springfield, Illinois
Licensures and Certifications
Board Certification for Psychiatric and Mental Health Nurse 2020
ANCC
Current nursing licensure:
1995-2020
State of Illinois: 041290461
Professional Memberships
American Psychiatric Nurses Association 2011-2020
American Nurses Association - Illinois 2020
Selected Presentations
Hale, Renae D. (2019). Implementation of a Trauma-informed Care program for the reduction of seclusion and restraint. Two-hour podium presentation at the 32nd annual American Psychiatric Nurses Association, New Orleans, LA, October 2nd -5th
Research Currently in Progress
Hale, Renae D. (2020). Evidence Based Practice: Implementing Trauma-Informed Care
for Children and Adolescents in the In-Patient Psychiatric Setting. Journal of American
Psychiatric Nursing Association. Accepted August 30th, 2020