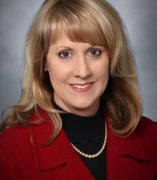 Kelly D. Rosenberger, DNP, APRN-FPA, CNM, WHNP-BC, FAANP
Clinical Associate Professor
Founder and Director Rural Nursing Program
Department of Human Development Nursing Science
Pronouns: she/her
Email:
CV Download:
Related Sites:
About
Dr. Rosenberger has years of research experience, clinical expertise, and demonstrated leadership as the PI successfully implementing two HRSA Nursing Diversity training grants—Nursing Workforce Diversity (NWD) 1D19HP42044-01-00 (2021-2025, $2.22 million) and Nursing Workforce Eldercare Enhancement (NWED-E2) 1D19HP42698-01-00 (2021-2022, $362,335.00 one year). She has designed and implemented nursing training activities for diverse nursing students using evidence-based strategies to address the needs of underserved populations in rural and medically underserved communities. This includes didactic and experiential curriculum development and reducing financial barriers of diverse nursing students by providing scholarships and telehealth certification training to all students. As PI of the Telligen Community Initiative successfully funded in 2017 for $50,000, Dr. Rosenberger initiated and implemented expansion of the rural nursing concentration beyond the Rockford Campus to the five other CON campuses statewide. As a leader in rural health, she cultivates relationships with many rural community partners and her collaborative work is ongoing to enhance nurse practitioner practice readiness for rural and underserved communities. In 2022, Dr. Rosenberger was awarded a new HRSA Grant as PI (UK1HP46065) entitled "Enhancing Nursing Education and Retention by Initiation of Care Delivered by Mobile Health Clinics (ENRICH)" in the amount of $3,096,747.
Dr. Rosenberger has over 27 years of experience providing healthcare for underserved patients at a FQHC as an advanced practice clinician and preceptor with clinical expertise in reproductive health, family planning, pregnancy, and sexual health. She is the lead author and editor of the resource textbook Guidelines for Nurse Practitioners in Ambulatory Obstetric Settings, 3rd ed, Springer Publishing, New York, NY. This textbook provides expert clinical practice knowledge with up-to-date guidelines for high-quality ambulatory obstetric and sexual health care and is used globally as a resource for practicing clinicians and in nurse practitioner and nurse midwifery educational programs.
As the former Director of the UIC College of Nursing Rockford Campus, Dr. Rosenberger founded and led the development of an innovative interprofessional concentration in rural nursing demonstrating her ability to meet the diverse learning needs of Doctor of Nursing Practice (DNP) as well as rural medical and rural pharmacy students. Given the urgent need to increase and expand the number of trained multidisciplinary primary care providers in rural communities as a nation-wide priority, she developed the rural nursing program to recruit and train diverse rural advanced practice nurses. Under her leadership, the Rural Nursing Program was revised to a Rural Nursing Certificate Program to prepare graduates to practice in rural settings, promoting the health of patients and communities through partnerships in education, service, research, and policy. She is deeply committed to preparing APRNs to care for rural communities by expanding their knowledge of determinants of health and health disparities in those populations.
Dr. Rosenberger has years of expertise developing and implementing innovative curricula using a hybrid of online and face-to-face formats. Her accomplishments led to her receipt of the Nursing Excellence Award from the Cleveland Clinic Foundation, her induction into the Sigma Theta Tau International Honor Society of Nursing (Alpha Mu Chapter), being named a fellow of the American Association of Nurse Practitioners and most recently receiving the UIC Interprofessional Teaching in Action Matters  (I-TEAM) Award recognizing faculty who have demonstrated excellence in interprofessional practice and education through teaching innovation. In addition to leading the Rockford Campus and directing the Rural Nursing Program, Dr. Rosenberger maintained a robust clinical practice at the UI Health Mile Square L.P. Johnson Family Health Center where she precepted DNP students. Dr. Rosenberger is the former director of the Women's Health Nurse Practitioner Program which achieved 100% board certification first time pass rates during her tenure. Currently, Dr. Rosenberger is leading the development of the ENRICH Project to provide Teen Health & Wellness Mobile Care Services including Telehealth and the Healthy Teens App.