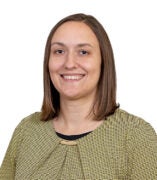 Larisa Ann Burke, MPH
Senior Research Specialist
Office of Research Facilitation
Contact
Building & Room:
614 NURS
Address:
845 S. Damen Ave., MC 802, Chicago, IL 60612
Office Phone:
Email:
Related Sites:
About
I have more than 10 years of applied research experience in biostatistics, research design, methodology, and outcomes measurement. In addition, I have contributed to the implementation of numerous patient-oriented research projects involving a varied team of collaborators. I hold a Masters in Public Health with a Biostatistics major from the University of Illinois at Chicago. My research focus is the statistical analysis of health data. I have extensive experience managing research data in SAS, STATA, SPSS, ACCESS, R, Qualtrics, REDCap and Excel, including database design, data queries, data cleaning, and statistical analysis.
Selected Publications
Burke LA, Steffen AD, Kataria S, Watson KS, Winn RA, Oyaluade D, Williams B, Duangchan C, Asche C, Matthews AK (2022) Associations in cigarette smoking and health conditions by race/ethnicity among a diverse sample of patients receiving treatment in a federally qualified health care setting in Chicago, Health Equity 6:1, 1–9, DOI: 10.1089/heq.2022.0056.
Burke, Larisa A., et al. "Impact of comorbidities by age on symptom presentation for suspected acute coronary syndromes in the emergency department." European Journal of Cardiovascular Nursing 16.6 (2017): 511-521.
Service to Community
College of Nursing Staff Committee - Member