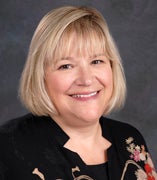 Lauren Diegel-Vacek, DNP, FNP-BC, CNE
Clinical Assistant Professor
Director, Doctor of Nursing Practice (DNP) Program
Department of Biobehavioral Nursing Science
Contact
Building & Room:
College of Nursing
Address:
845 S. Damen Ave., MC 802, Chicago, IL 60612
Office Phone:
Email:
Related Sites:
Selected Publications
Diegel-Vacek, L. & Vuckovic, K. (2019).  Pharmacotherapeutic Preparation for Nurse Practitioner Full Practice Authority. Journal for Nurse Practitioners. Special topics issue: Scope of Practice, 15 (7), e131-e134. DOI: 10.1016/j.nurpra.2019.03.028
O'Dell, A., Diegel-Vacek, L. (2018). Nov/Dec 2018, Volume 40, Issue 6. Development of an RN Training Toolkit for Value-Based Care Models. Viewpoints, American Association of Ambulatory Nursing.
Potts, L., Murchek, A., Diegel-Vacek, L., Ryan, C. (2018). Improving Patient Flow Utilizing a Standardized Electronic Nursing Handoff Process. Journal of Nursing Administration, 48 (9), 432-436. DOI:10.1097/NNA.0000000000000645
O'Dell, A., Diegel-Vacek, L., Burt, L. & Corbridge, S. (2018). Updated GOLD Guidelines: An Evidence-Based Approach. American Journal of Nursing, 118 (9), 36–47. DOI: 10.1097/01.NAJ.0000544950.73334.58
 Vaez, K., Diegel-Vacek, L., Martyn-Nemeth, P. & Ryan, C. (2017).  Evaluating Diabetes Care for Patients with Serious Mental illness using the Chronic Care Model. Health Services Research and Managerial Epidemiology Volume 4: 1-7 2017.  DOI: 10.1177/2333392817734206