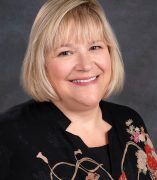 Lauren Diegel-Vacek, DNP, APRN, FNP-BC, CNE, FAANP
Interim Executive Associate Dean
Clinical Associate Professor
Department of Biobehavioral Nursing Science
Contact
Building & Room:
NURS 760
Address:
845 S. Damen Ave., MC 802, Chicago, IL 60612
Office Phone:
Email:
Related Sites:
About
Dr. Diegel-Vacek is Director of the DNP Program and Associate Department Head of the Department of Biobehavioral Nursing Science. She is a Certified Nurse Educator and family nurse practitioner.
Selected Publications
Diegel-Vacek, L. & Carlucci, M. (2020). An Innovative Virtual Poster Session for DNP Student Project Presentations. Journal of Nursing Education.
Fitz, S., Diegel-Vacek, L. & Mahoney, E. (2020) Implementation of a Discharge Bundle to Decrease Lung Transplant Readmissions. Progress in Transplantation.
Sedlock, J., Green, J. & Diegel-Vacek, L. (2020). Implementation of a Geriatric Fracture Program. Orthopaedic Nursing, 39, (3). Pp 165-168. (ANCC contact hour article).
Diegel-Vacek, L. & Vuckovic, K. (2019). Pharmacotherapeutic Preparation for Nurse Practitioner Full Practice Authority. Journal for Nurse Practitioners 15, (7), pages e131-e134.
Potts, L., Murchek, A., Diegel-Vacek, L., Ryan, C. (2018). Improving Patient Flow Utilizing a Standardized Electronic Nursing Handoff Process. Journal of Nursing Administration, 48 (9) 432-436.
O'Dell, A., & Diegel-Vacek, L. (2018). Development of an RN Training Toolkit for Value-based Care Models. Viewpoints, American Association of Ambulatory Nursing. Vol. 40, Issue 6.
Notable Honors
2020, Fellow, American Association of Nursing Practitioners
Education
BSN Lewis University, Romeoville IL
MSN University of Illinois Chicago College of Nursing
DNP University of Illinois Chicago College of Nursing
Licensures and Certifications
Licenses:
Registered Nurse, State of Illinois
Advanced Practice Registered Nurse, Certified Nurse Practitioner, State of Illinois
Certifications:
Family Nurse Practitioner, ANCC
Certified Nurse Educator, NLN
Professional Memberships
American Association Colleges of Nursing-Practice Leadership Network
American Association Nurse Practitioners
American Nurses Association
National Organization Nurse Practitioner Faculties
Sigma Theta Tau International Honor Society of Nursing, Alpha Lambda Chapter
Selected Presentations
Sparbel, K., Diegel-Vacek, L., Reising, V. & Corbridge, S. (2020). Teaching Systems Thinking: Strategies for Implementation across the Curriculum. National Organization of Nurse Practitioner Faculties (NONPF) Fall Conference: Excellence in Virtual NP Education. (Virtual conference).
Fitz, S., Diegel-Vacek,  L., Mahoney, E. (2019). Reducing 30-Day Hospital Readmissions Among Lung Transplant Patients. Fuld Institute for Evidence-based Practice Summit, Ohio State University. Columbus, OH
Diegel-Vacek, L. (2019). Benefits of Faculty Practice. National Organization of Nurse Practitioner Faculties (NONPF) preconference workshop. Atlanta, GA,
Diegel-Vacek, L. (2019). Plenary session. Faculty Practice for Schools of all Sizes: Innovative models of sustainable faculty practice. American Association of Colleges of Nursing (AACN) Faculty Practice Conference, San Diego, CA
 Diegel-Vacek, L.  (2018). Building Academic-Practice Partnerships for Interprofessional DNP Projects.  American Association of Colleges of Nursing (AACN) Doctoral Practice Conference,  Naples, FL
Diegel-Vacek, L. (2013). Use of Evidence-based Architectural Design to Promote Hand Washing. Midwest Nursing Research Society (MNRS) Annual Conference, Chicago, IL