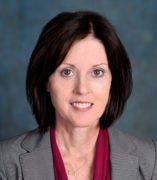 Marianne L. Durham, DNP, RN, CPPS, CPHQ
Clinical Assistant Professor
Co Faculty Advisor UIC IHI Open School Chapter
Department of Population Health Nursing Science
Contact
Building & Room:
1054 NURS
Address:
845 S. Damen Ave., MC 802, Chicago, IL 60612
Office Phone:
Email:
CV Download:
About
My practice, mentorship, teaching and scholarship includes healthcare quality improvement, patient safety and DNP education.
Selected Publications
Durham, M. L. & Jankiewicz, A. (2019). Detecting medication administration errors. Journal of Patient Safety. 15(3), 181-183. doi:10.1097/PTS.0000000000000384
Durham, M. L., Cotler, K. & Corbridge, S. J. (2019). Facilitating faculty knowledge of DNP quality improvement projects. Journal of the American Association of Nurse Practitioners, 31(11), 665–674. doi: 10.1097/JXX.0000000000000308.
Durham, M. L., Yingling, C., & Hershberger, P. E. (2019). Accelerating improvement of a DNP project proposal course using quality improvement methods. Journal of Nursing Education, 58(5), 306-311. doi:10.3928/01484834-20190422-11
Durham, M. L., Egan, A.,** Jankiewicz, A., Murphy, M., Nedved, P., Luvich, R., Goh, A., & Fogg, L. (2017). Addressing safe opioid monitoring practices using an interprofessional approach. The Journal of Nursing Administration, 47(11), 537-544. doi:10.1097/NNA.0000000000000540
Durham, M. L., Suhayda, R., Normand, P., Jankiewicz, A., & Fogg, L. (2016). Reducing medication administration errors in acute and critical care: Multifaceted pilot program targeting RN awareness and behaviors. The Journal of Nursing Administration, 46(2), 75-81. doi: 10.1097/nna.0000000000000299
Service to Community
Faculty Advisor to the UIC Institute for Healthcare Improvement Open School chapter with a mission to advance quality improvement and patient safety competencies in the next generation of health professionals.