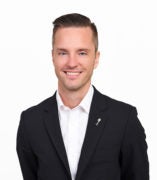 Michael W. Calik, PhD
Assistant Professor
Department of Biobehavioral Nursing Science
Contact
Building & Room:
740 NURS
Address:
845 S. Damen Ave., MC 802, Chicago, IL 60612
Office Phone:
Email:
CV Link:
About
I am a neuroscientist studying respiratory modulation during sleep, and the interaction of metabolic disease, sleep, and exercise. The goal of my research is to investigate pharmacological treatments of sleep-related breathing disorders (e.g. obstructive sleep apnea [OSA]), and to investigate how exercise affects sleep and metabolic disease.
My published results show that dronabinol, a cannabinoid, injected locally into the nodose ganglia (cell bodies of the vagus nerves containing cannabinoid receptors) attenuates reflex apnea and increases upper airway activity in rats; apnea attenuation, but not increases in upper airway activity, is blocked by systemic cannabinoid antagonism. Moreover, systemic administration of dronabinol in chronically instrumented conscious rats decreases apnea index, but also decreases time spent in REM sleep.
Combined with the human trials showing a decrease in OSA severity with dronabinol administration, and the results from my investigations of the a rat model of apnea, dronabinol has the potential of being the first drug approved for OSA treatment. However, cannabimimetic modulation of respiration needs clarification. It is my goal to investigate the cannabinoid dependent and independent receptor-mediated mechanisms of the peripheral and central nervous systems that augment state-dependent respiratory control. Moreover, I will study other pharmacological agents that can be used alone or in combination with cannabinoids to reduce apnea propensity.
I study the neurophysiological, neurobiological, and neuropharmacological mechanisms of the respiratory circuitries (both peripherally and centrally) implicated in sleep-related breathing disorders.
Other interests of mine are to study the interplay of sleep, and exercise, diet and sleep. I am currently investigating the effect of meal timing and exercise on an prediabetic rat model. Currently it is unknown if preprandial or postprandial exercise is better at glucoregulation, since literature in humans and animals have showed mixed results.
Selected Publications
Topchiy I, Fink AM, Maki KA, Calik MW. Validation of PiezoSleep Scoring Against EEG/EMG Sleep Scoring in Rats. Nat Sci Sleep. 2022 Oct 20;14:1877-1886. (PMID: 36300015).
Fink AM, Bronas UG, Calik MW. Autonomic regulation during sleep and wakefulness: a review with implications for defining the pathophysiology of neurological disorders. Clinical Autonomic Research. 2018:  Dec; 28(6); 509-518 (PMID: 30155794).
Calik MW, Carley DW. Effects of Cannabinoid Agonists and Antagonists on Sleep and Breathing in Sprague-Dawley Rats. Sleep. 2017: 40 (9); zsx112 (PMID: 28934522).
Calik MW. Update on the treatment of narcolepsy: clinical efficacy of Pitolisant. Nature and Science of Sleep. 2017: Apr 26; 9; 127-133 (PMID: 28490912).
Calik MW, Carley DW. Intracerebroventricular injections of dronabinol, a cannabinoid receptor agonist, does not attenuate serotonin-induced apnea in Sprague-Dawley rats. Journal of Negative Results in Biomedicine. 2016: 15(1); 8 (PMID: 27133202).
Calik MW, Carley DW. Cannabinoid Type 1 And Type 2 Receptor Antagonists Prevent Attenuation of Serotonin-induced Reflex Apneas by Dronabinol in Sprague-Dawley Rats. PLoS One. 2014: 9(10); e111412 (PMID: 25350456).
Weaver TE, Calik MW, Farabi SS, Fink AM, Galang-Boquiren MT, Kapella MK, Prasad B, Carley DW. Innovative Treatments for Adults with Obstructive Sleep Apnea. Nature and Science of Sleep. 2014: 2014(6); 137-147 (PMID: 25429246).
Calik MW, Radulovacki M, Carley DW. A Method of Nodose Ganglia Injection in Sprague-Dawley Rat. Journal of Visualized Experiments. 2014: 2014(93); e52233 (PMID: 25490160).
Calik MW, Radulovacki M, Carley DW. Intranodose ganglion injections of dronabinol attenuate serotonin-induced apnea in Sprague-Dawley rat. Respiratory Physiology & Neurobiology. 2014: 190(1); 20-24 (PMID: 24121138).
Calik MW, Shankarappa SA, Langert KA, Stubbs, Jr. EB. Forced-Exercise Preconditioning Attenuates Experimental Autoimmune Neuritis by Altering Th1 Lymphocyte Composition and Egress. ASN Neuro. July-August 2015: 7(4); 1-11 (PMID: 26186926).
Education
Postdoctoral Research Associate, University of Illinois at Chicago, 2012-2015
Loyola University Chicago, PhD 2011 Neuroscience
Loyola University Chicago, BS 2005 Biology
Jagellonian University, Certification 2002 Polish Language
Professional Memberships
Society for Neuroscience
Society for Neuroscience Chicago Chapter
Research Currently in Progress
Receptor-dependent and Independent Modulation of Peripheral and Central Respiratory Neuronal Control during Sleep.
PiezoSleep Technology for Non-invasive High-throughput Sleep and Breath Tracking in Rodents.
Exercise timing for optimal glucose control in type 2 diabetes.