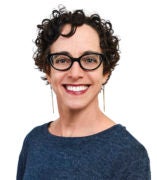 Rebecca Singer, DNP, RN
Clinical Assistant Professor
Department of Population Health Nursing Science
Pronouns: She/her/hers
Contact
Building & Room:
1048 NURS
Address:
845 S. Damen Ave., MC 802, Chicago, IL 60612
Office Phone:
Email:
CV Download:
About
Dr. Rebecca Singer teaches population health drawing on over a decade of experience in global health and community partnerships. She has worked for over 75 months in the field with the humanitarian response organization Doctors Without Borders; most of her work focuses on providing care to survivors of violence, establishing primary health services for displaced persons and refugees, responding to epidemics and establishing emergency preparedness. She has also worked with Grounds for Health establishing community based cervical cancer prevention programming in Latin America and East Africa. As the Executive Director of Coffee Kids, she partnered with coffee cooperatives to improve the lives and livelihoods of their coffee farming members and their families. Formerly the Director of Healthcare Services at an interdisciplinary center for torture survivors in Denver, Colorado, Dr. Singer provided intensive healthcare case management to asylum seekers and refugees.
Additionally, Dr. Singer is involved in a UIC project to bring nursing students into correctional facilities to engage in health promotion activities with the individuals detained there. She is also part of a team developing an on-line curriculum that will prepare health care workers to provide care within the corrections system.
As an outgrowth of her humanitarian and development work which brings her into regular contact with human suffering, Dr. Singer is committed to ensuring that healthcare workers engage in self-care that enables them to maintain high levels of compassion satisfaction and avoid compassion fatigue, burnout and long term impacts of secondary trauma. She believes that continued engagement with the arts and humanities has great potential to help health care workers find meaning in their work while enhancing wellness.  To that end, Dr. Singer collaborated with Kathryn Kruse, and writer and educator, and ANA Illinois to develop Tell Well, a creative writing workshop designed to help health care workers develop their writing practice.
Education
Bachelor of Arts, Indiana University, Bloomington, Indiana, 1991
Master of Arts, University of Michigan, Ann Arbor, Michigan, 1994
Bachelor of Science in Nursing, University of Colorado, Denver, Colorado, 2004
Nursing Doctorate, University of Colorado, Denver, Colorado, 2004
Doctor of Nursing Practice, University of Illinois at Chicago, 2018