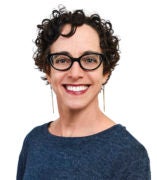 Rebecca M Singer, DNP, RN
Clinical Assistant Professor
Department of Population Health Nursing Science
Pronouns: She/her/hers
Contact
Building & Room:
1048 NURS
Address:
845 S. Damen Ave., MC 802, Chicago, IL 60612
Office Phone:
Email:
CV Download:
About
Dr. Rebecca Singer, DNP, RN, is an assistant clinical professor of population health at the University of Illinois Chicago College of Nursing with almost two decades of experience in global health and community partnerships. This work has taken her around the world to conflict zones, post-conflict zones and other unstable regions where she has collaborated to provide essential health care services to individuals, families, and communities in crisis. Her work has focused on providing trauma-informed care to survivors of violence, including sexual and intimate partner violence, and on coordinating emergency response services for refugees and internally displaced persons. Additionally, she has partnered with coffee farmers to prevent cervical cancer and improve their lives and livelihoods. Domestically, she has worked in torture treatment centers, correctional institutions and reproductive health clinics providing care that enhances health and dignity.
Since the beginning of the global pandemic in 2020, Rebecca has co-lead an outbreak response program that focuses on providing services to people most vulnerable to poor outcomes, including residents of shelters for those experiencing homelessness, long term care facilities, residential treatment centers, subsidized housing, senior living apartments, and correctional institutions, or those most susceptible to becoming ill, in collaboration with the City of Chicago Department of Public Health. The Outbreak Response Team has provided testing, vaccination and infection control expertise in response to COVID-19, mpox, Ebola Virus Disease, and multi-drug resistant organisms, as part of the city's pandemic preparedness program. Rebecca was also a co-PI on a NIH-funded study examining community impact of COVID-19.
In the spring of 2022, Rebecca was in Sofia, Bulgaria as a Fulbright Scholar. Her work focused on teaching in the Faculty of Public Health at the Medical University of Sofia and in providing strategic planning support to Shalom: the Organization of the Jews of Bulgaria.
As part of her global health work, Rebecca established a Global Health Nursing Certificate Program at UIC College of Nursing. The three-course program prepares nurses and other health and human services professionals to collaborate to improve the health of individuals and populations around the world and to address global health challenges and health disparities.
Notable Honors
2022, Fulbright Fellowship for Teaching and Professional Service Bulgaria, Fulbright Commission
2021, Teaching Recognition Program, UIC Office of Provost and Vice Chancellor or Academic Affairs
2021, Notable Health Care Heroes, Crain's Chicago Business
2023-2024, Public Voices Fellowship, The Op-Ed Project
Education
Bachelor of Arts, Indiana University, Bloomington, Indiana, 1991
Master of Arts, University of Michigan, Ann Arbor, Michigan, 1994
Bachelor of Science in Nursing, University of Colorado, Denver, Colorado, 2004
Nursing Doctorate, University of Colorado, Denver, Colorado, 2004
Doctor of Nursing Practice, University of Illinois at Chicago, 2018