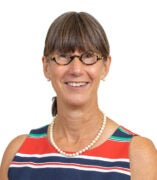 Lisa K. Sharp, BSN, MA, PhD
Professor, Associate Dean for Research
Department of Biobehavioral Nursing Science
Office of Research Facilitation
Pronouns: She/Her
Contact
Building & Room:
NURS 606
Address:
845 S Damen Ave, Chicago IL, 60612
Office Phone:
Fax:
Email:
CV Download:
Selected Grants
National Institute of Minority Health and Health Disparities, ACTION Physical Activity in Minority Women with Asthma Intervention: Efficacy to Implemention, Site PI
National Institute of Diabetes, Digestive, and Kidney Diseases, Multivariable Artificial Pancreas to Detect and Mitigate the Effects of Unannounced Physical Activities and Acute Psychological Stress, Co-investigator
National Science Foundation, Virtual Assistant Health Coach: Learning to Autonomously Improve Health Behaviors, Co-investigator
Selected Publications
Sharp LK, Solanki P, Boyer T, Vivo A, Kale I, Hughes AM, Gibson G, Jurasic MM, Evans CT, Suda KJ. A qualitative exploration of dentists' opioid prescribing decisions within U.S. veterans affairs facilities. Pain. 2023 Apr 1;164(4):749-757. doi: 10.1097/j.pain.0000000000002759.
Nyenhuis SM, Shah N, Ma J, Marquez DX, Wilbur J, Cattamanchi A, Sharp LK. Identifying Barriers to Physical Activity Among African American Women with Asthma. Cogent Med. 2019;6(1):1582399. Epub 2019 Feb 27. PMID: 31754624; PMCID: PMC6871513.
Nabulsi NA, Nazari JL, Lee TA, Patel PR, Sweiss KI, Le T, Sharp LK. Perceptions of prescription opioids among marginalized patients with hematologic malignancies in the context of the opioid epidemic: a qualitative study. J Cancer Surviv. 2023 Apr 6. doi: 10.1007/s11764-023-01370-9.
Suda KJ, Boyer TL, Blosnich JR, Cashy JP, Hubbard CC, Sharp LK. Opioid and High-Risk Prescribing Among Racial and Ethnic Minority Veterans. Am J Prev Med. 2023 Jun 10:S0749-3797(23)00251-9. doi: 10.1016/j.amepre.2023.06.008. Epub ahead of print. PMID: 37302514.
Smart MH, Nabulsi NA, Gerber BS, Gupta I, Di Eugenio B, Ziebart B, Sharp LK. A Remote Health Coaching, Text-Based Walking Program in Ethnic Minority Primary Care Patients With Overweight and Obesity: Feasibility and Acceptability Pilot Study. JMIR Form Res. 2022 Jan 19;6(1):e31989. doi: 10.2196/31989. PMID: 35044308; PMCID: PMC8811699.
Yan CH, Naveed M, Alobaidi A, Kopfman M, Nutescu EA, Sharp LK. Association between transportation barriers and anticoagulation control among an inner-city, low-income population: A prospective observational cohort study. Res Pract Thromb Haemost. 2021 Oct 31;5(7):e12605. doi: 10.1002/rth2.12605. PMID: 34755020; PMCID: PMC8558473.
Sharp LK, Ureste PJ, Torres LA, Bailey L, Gordon HS, Gerber BS. Time to sign: The relationship between health literacy and signature time. Patient Educ Couns. 2013 Jan;90(1):18-22. doi: 10.1016/j.pec.2012.10.012. Epub 2012 Nov 13. PMID: 23154148.