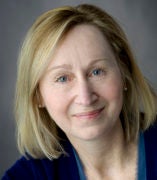 Susan M. Walsh, DNP, APRN, PNP-PC
Clinical Professor, Department of Human Development Nursing Science
Director, Pediatric Nurse Practitioner Primary Care Program
Associate Director, Global Health Leadership Office
Contact
Building & Room:
846 NURS
Address:
845 S. Damen Ave., MC 802, Chicago, IL 60612
Office Phone:
Email:
About
Dr. Walsh is a board certified Pediatric Nurse Practitioner and a Clinical Professor at UIC College of Nursing in the Department of Women, Children and Family Health Science joining the faculty in 2004. She has been in clinical practice as a pediatric nurse for over 35 years, varying from neonatal intensive care, gastroenterology, dermatology, school-based adolescent care and pediatric primary care. Because of her desire to serve diverse and vulnerable pediatric populations and their families, she has championed multiple local and global initiatives including health literacy programming with youth at a juvenile detention center and expanding health care access for children, their families and community at a local elementary school. For over a decade she has coordinated global health initiatives and service learning programs for graduate students. She is the Director of the Pediatric Nurse Practitioner Acute and Primary Care programs and the Associate Director of the Global Health Leadership Office. Her efforts are aimed at providing "Primary Health Care for All" (Declaration Alma Ata, 1978) via direct patient care and indirectly though the advancement of health education locally and globally.
Current Area of Teaching
Dr. Walsh currently teaches content in the Pediatric Nurse Practitioner Program on health prevention, promotion, and maintenance across infancy, childhood, adolescence, and young adulthood. She also teaches advanced clinical and pharmacological management of acute and chronic illness in pediatric ambulatory health care settings. With a team of other faculty, she is an instructor for clinical practicum courses while also serving in a faculty clinical preceptor role and as a synthesis project faculty mentor for Doctorate of Nursing Practice students. In preparation for global health experiences, she co-teaches a course that develops foundations for practice in global health.
Service to Community
Service / Practice
In order to further advance the call for health care for all, Dr. Walsh is committed to community engagement and development projects within urban Chicago neighborhoods. Recently Dr. Walsh is working collaboratively with the UIC CON graduate students and the Cook County Department of Corrections and the Cook County Juvenile Temporary Detention Center developing and delivering Health Literacy and Community Engagement Programs. Additionally, to combine a passion for clinical practice, teaching, service and global health Dr. Walsh is a liaison for Interprofessional Service Learning in Haiti for both students and faculty.
Professional Leadership
Director, PNP primary and acute care programs, UIC College of Nursing
Associate Director Global Health Leadership Office, UIC College of Nursing
President and Founder, Little by Little NFP
Notable Honors
2019, Fellow, American Academy of Nursing
2018, Global Humanitarian Award, Institute of Medicine Chicago
2018, Pinnacle Leader, Power of Nursing Leadership
2018, Global Health Care Nurse Practitioner Award, National Association of Pediatric Nurse Practitioners
2016, Teaching Recognition Program Award, University of Illinois at Chicago
2020, excellence in Nursing: Volunteerism, University of Illinois Health System