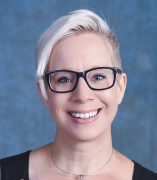 Wendy Bostwick
Associate Professor
Department of Health Systems Science
Contact
Address:
845 S. Damen Ave., MC 802, Chicago, IL 60612
Office Phone Voice:
Email:
CV Download:
About
Wendy Bostwick, PhD, MPH, is an Associate Professor in the Health Systems Science Department, College of Nursing, at the University of Illinois at Chicago. She received her MPH and PhD in Community Health Sciences from UIC and completed post-doctoral training at the University of Michigan. Wendy conducts research related to health disparities among sexual and gender minority populations, with a focus on mental health and substance use among bisexual women. She has been engaged in women's health activism, research and advocacy for over 20 years. Her research incorporates multiple methods including survey research, qualitative interviews, and electronic diaries. Her current work explores how microaggressions associated with race, gender, sexual orientation and their intersection may affect mental and physical health among bisexual women and men. Her work has been supported by the National Institute on Drug Abuse, the National Institute on Minority Health and Health Disparities, and the American Institute on Bisexuality. Wendy serves on the Board of Directors of the Guttmacher Institute, Howard Brown Health Center, located in Chicago, and is adjunct faculty at the Fenway Institute, in Boston, MA.
Selected Publications
Bostwick, W.B., Dodge, B.M. (2018). Introduction to the Special Section on bisexual health: Can you see us now? Archives of Sexual Behavior. Advanced online publication. https://doi.org/10.1007/s10508-018-1370-9
Beach, L., Bartelt, E., Dodge, B., Bostwick, W.B., Schick, V., Fu, T., Friedman, M.R., Herbenick, D.  (2018). Metaperceptions of others' attitudes toward bisexual men and women among a nationally representative probability sample: A brief report. Archives of Sexual Behavior. Advanced online publication. https://doi.org/10.1007/s10508-018-1347-8
Bostwick, W.B., Hughes, T.L., Steffen, A., Veldhuis, C.B., Wilsnack, S.C. (2018). Depression and victimization in a community sample of bisexual and lesbian women: An intersectional approach. Archives of Sexual Behavior. Advanced online publication https://doi.org/10.1007/s10508-018-1247-y.
Bartelt, E., Bowling, J., Dodge, B.M., Bostwick, W. B. (2017). Bisexual identity in the context of parenthood: An exploratory qualitative study of self-identified bisexual parents in the U.S. Journal of Bisexuality, 1-22.
Research Currently in Progress
Co-Principal Investigator & Site PI, Health Effects of Identity-Based Stressors among Men, R21 MD012319-01, National Institute of Minority Health & Health Disparities, $453,392. (Co-PI:Brian Dodge, Indiana University).
In addition to the above, we are in the analysis phase of the companion study, E-Diaries to Assess Health Effects of Microaggressions (R21 MD0009585), which assessed racially and ethnically diverse bisexual women's experiences of microaggressions, using daily e-diaries, a baseline survey, and qualitative interviews.