'A true learning curve'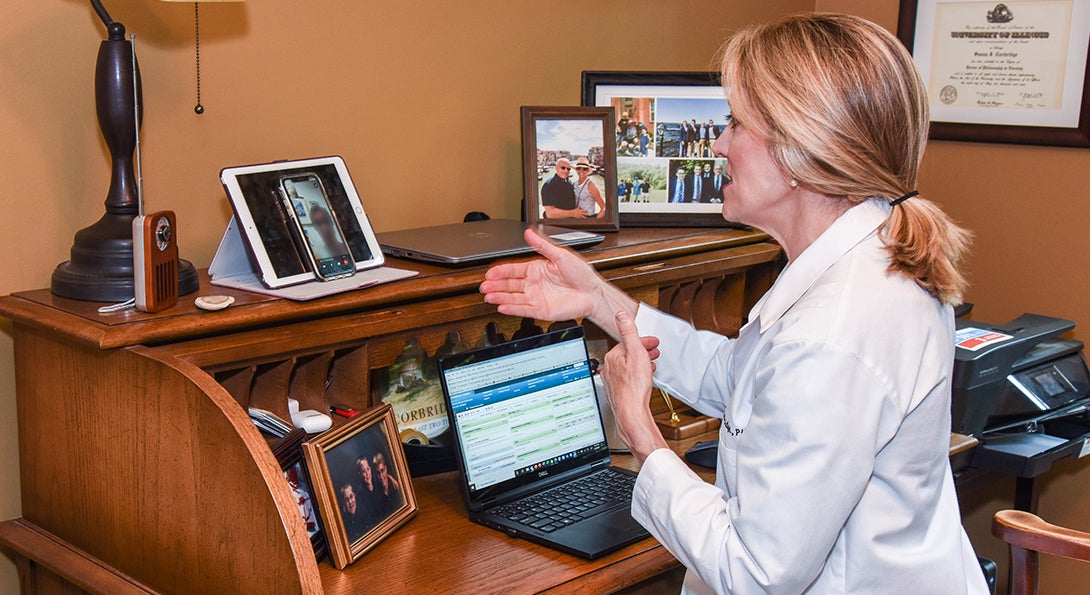 As a UI Health pulmonary specialist, Susan Corbridge, PhD' 09, APRN, FAANP, FAAN, works with patients who have the poorest outcomes if they contract COVID-19, making telehealth a top priority. Heading link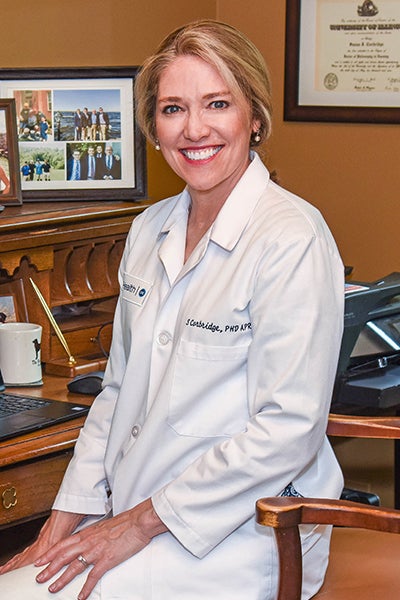 Since coronavirus spread to the U.S., Susan Corbridge, PhD '09, APRN, FAANP, FAAN, has been working feverishly to transition her practice to telehealth. As a pulmonary specialist at UI Health, her patients are some of the most vulnerable for having poor outcomes if they contract COVID-19.
"It's been super important to keep our patients with lung disease out of the hospital," says Corbridge, who is executive associate dean at the UIC College of Nursing and maintains her clinical practice in addition to her role at the college.
Corbridge says many of her patients are "extremely scared" to leave their houses, so telehealth has been a vital way to continue to care for them. Still, it's been an adjustment for both providers and patients, as they navigate a new way of delivering healthcare.
"This has been a true learning curve for all of us," she said.
Breaking down barriers
Given the almost-overnight transition to telehealth in her practice, Corbridge says she and her team began to wonder what affect the change might have on access to care. Telehealth requires having access to technology – a video-capable device and relatively high-speed Internet access—and the know-how to use it.
She is working with Mary Pasquinelli, DNP '18, MS '14, a nurse practitioner who specializes in lung cancer, to conduct a study of 200 patients in their practice to look at whether telehealth is creating disparities – whether due to race, age, income or other factors – and how to break down those barriers.
"I think it's going to be really eye-opening, and something we'll be able to share with entire UI Health system," Corbridge says.
'It's here to stay'
When some of Corbridge's colleagues were pulled away to see COVID patients in the ICU, she, along with several of her colleagues, took the lead on setting up the telehealth platform for the lung health clinic. This has involved troubleshooting technical difficulties with patients, figuring out how to document appropriately for reimbursement, and keeping patients – many of whom feel isolated – focused on their pulmonary issues.
Through video "you can see a lot," Corbridge says, including being able to assess respiratory rates, checking for lower extremity swelling, and even getting a sense of how someone's living conditions could be contributing to their health issues.
Corbridge says she thinks telehealth will be valuable for her patient population even after the threat of COVID-19 lessens. Her practice has traditionally had a high no-show rate because patients with severe lung disease are often anxious about leaving their homes.
"It's here to stay," Corbridge says. "This is going to change the way healthcare will be provided going forward."
Modified on June 10, 2020