Faces on the front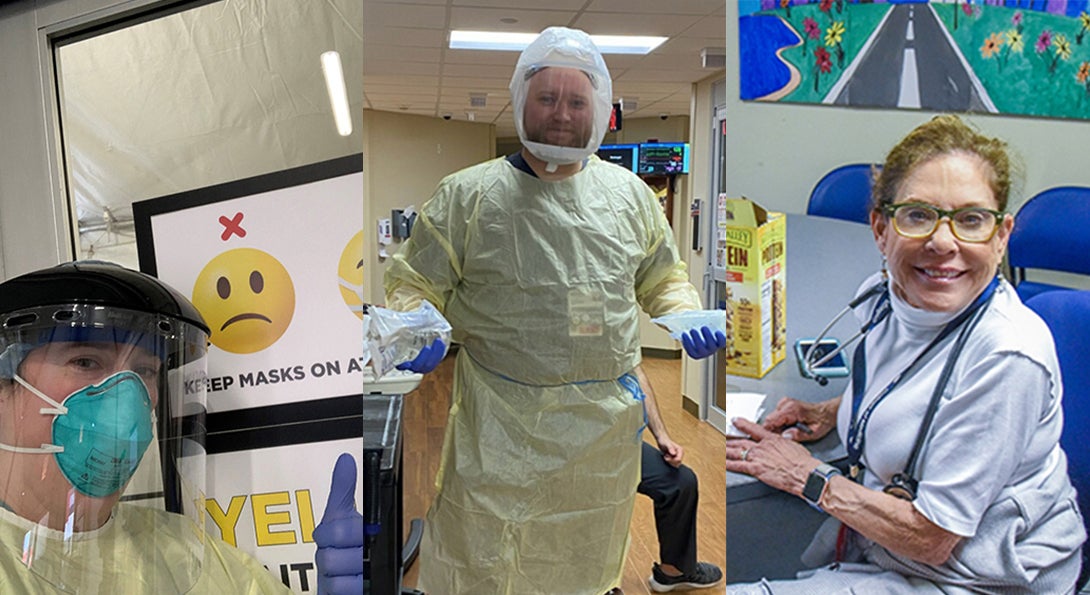 UIC Nursing faculty, students and alumni are confronting the COVID-19 crisis in brave, novel and inspiring ways. These are just some of our #facesonthefront.
After staying by her COVID-19 patient's side for five hours straight, Rockford DNP student and ER nurse Beth Todd, RN, PEL-CSN, felt devastated when she heard a Code Blue called to the patient's room.
Norah Kilpatrick, a master's degree student in the graduate-entry track, was feeling powerless without a license, but found her calling during the pandemic with the COVID Rapid Response Team.
As a UI Health pulmonary specialist, Susan Corbridge, PhD' 09, APRN, FAANP, FAAN, works with patients who have the poorest outcomes if they contract COVID-19, making telehealth a top priority.
Called a "rockstar" for her work battling COVID-19, UIC Nursing clinical instructor Minseung Chu, DNP '19, is part of an initiative to limit the spread of COVID-19 among Chicago's homeless community and provides care for COVID patients at UI Health.
After working a 13-hour shift at University of Illinois Hospital, UIC Nursing clinical assistant professor Julie Schwind, DNP '17, MS '06, BSN '00, RN, clocked out, got to her car, and started sobbing. Two days later, she took to her computer, letting loose a torrent of words and emotions in a Facebook post.
UIC Nursing clinical assistant professor Rebecca Singer, DNP '18, RN, pulls from her background working with Doctors Without Borders to manage a COVID-19 testing site for UI Health employees.
Graduate-entry MS student Jenine Johnson, who shifted careers to nursing in her 40s, says she may be one of the last faces a dying COVID patient sees.
Recognizing that critical COVID-19 patients likely wouldn't think to bring their cell phone chargers to the hospital with them, Megan Cairns Tress, MS '18, is trying to raise enough money to buy the critical lifeline for every hospital bed she can.
Last month, the UI Health Pilsen Family Health Center Lower West was a comprehensive family clinic. Now, it's serving as a temporary COVID-19 assessment site, staffed by an interprofessional team of providers, including UIC Nursing's Carolyn Dickens, Janey Kottler and Karen Cotler.
Elisabeth Schreiber, MS '11, left her 8-year-long job as an emergency room nurse in 2014 to become a nurse practitioner (and, ultimately, clinical lead) in the UI Health Clinical Decision Unit. But the COVID-19 crisis has brought her back to her old crew, triaging patients in an expanded role.
Tom McClure, BSN '18, is caring for the most severely ill COVID-19 patients as an ICU nurse at Memorial Medical Center in Springfield, where he recognizes he's in the midst of a "marathon, not a sprint."
Janey Kottler, DNP, FNP-BC, clinical instructor and nurse practitioner at the nurse-led Mile Square Health Center – Humboldt Park, was supposed to be returning from her honeymoon in Panama on Monday, March 30. Instead, she was working at the UI Health Pilsen Family Health Center Lower West assessing patients for COVID-19.
Karen Cotler, UIC Nursing clinical assistant professor, normally spends her Fridays providing primary care to patients who visit a needle exchange site. The pandemic has hindered her ability to reach this disenfranchised population, but she's still committed to caring for them.
Annette Lopez, a senior BSN student graduating in May, understood why senior year milestones needed to be canceled or postponed. But working on a COVID floor has driven it home.
Check back for updates.
Modified on October 08, 2020