Black nursing history exhibit: 'It's part of the Chicago story'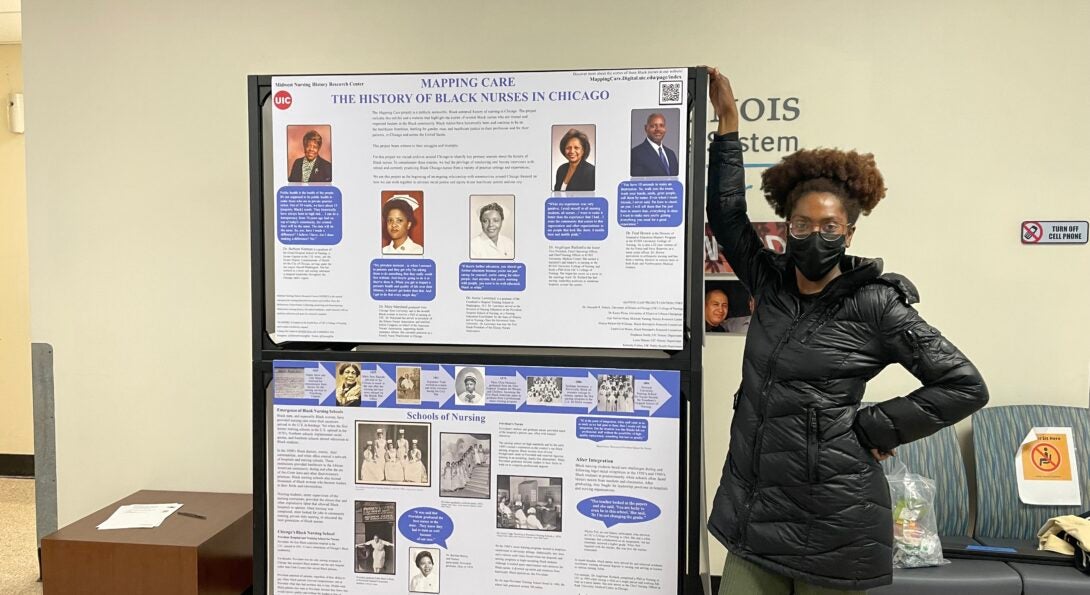 The traveling exhibit is at Mile Square Main until March 31. A talk on the project will be held at the Chicago Public Library George C. Hall branch on April 1 at 12 p.m.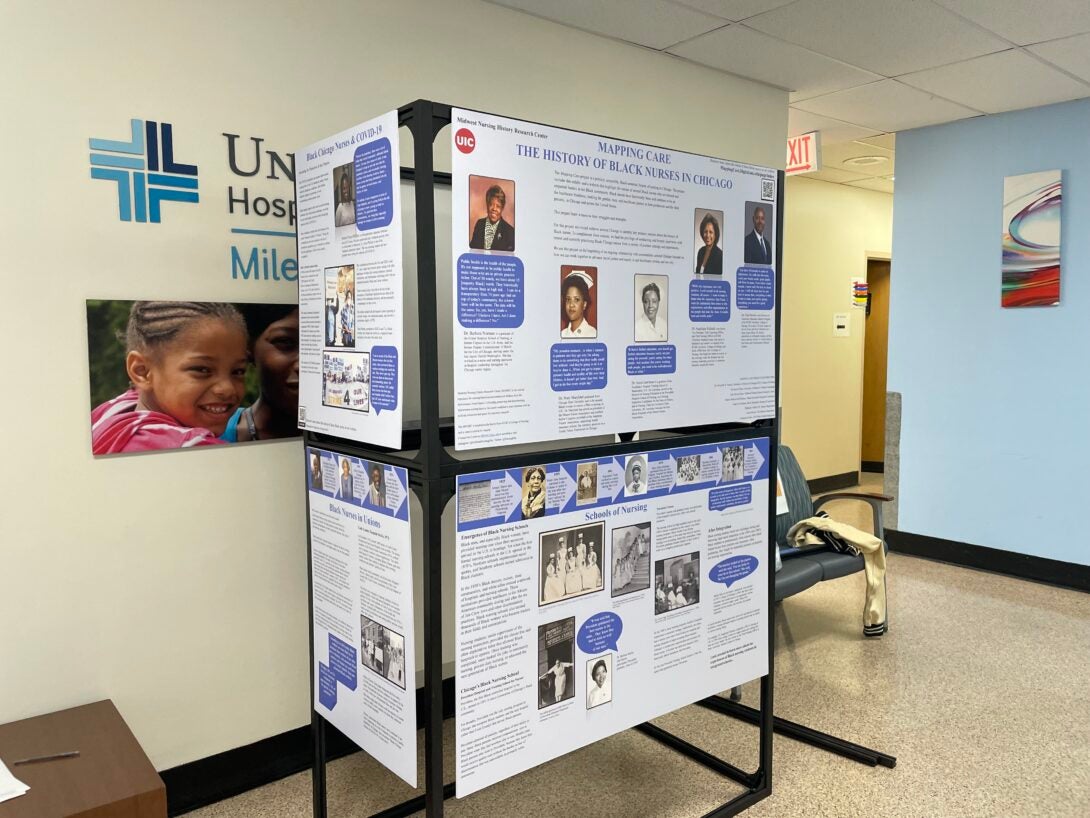 A traveling exhibit and website highlights both historic and current contributions of Chicago Black nurses.
The project, Mapping Care: Black Nurses in Chicago, was co-led by Gwyneth Franck, PhD, RN, MPH, UIC College of Nursing associate professor, and Karen Flynn, an associate professor in the departments of Gender & Women's Studies and African American Studies at the University of Illinois Urbana-Champaign. It was funded with a grant from the Chicago-based Gaylord and Dorothy Donnelly Foundation.
"The purpose of this display is to show that Black history deserves to be celebrated always, not just in February [during Black history month]," says Franck, who is also director of the Midwest Nursing History Research Center, housed at UIC Nursing. "It's not a niche or special history. It's part of our whole story. It's part of the Chicago story."
The exhibit is at Mile Square Health Center-Main, 1220 S. Wood Street, until March 31, when it will travel to the George C. Hall branch of Chicago Public Library, 4801 S. Michigan Ave., where Flynn and graduate research assistant Leora Mincer will give a presentation on Saturday, April 1 at 12 p.m.
"These narratives from nurses across various health care specialties, including Black immigrant nurses, shed light on a range of subjects across time and space," Flynn says. "The public will hear stories about what it was like growing up and why the interviewees chose nursing as an occupation. They will be inspired by nurses who worked during the HIV/AIDS crisis, those with unparalleled commitment to serving their communities, and those who relied on their faith to sustain them during difficult times."
The project team collected oral histories from more than 20 Black nurses. These range from recent RNs who graduated nursing school during the COVID-19 pandemic, to established nurse leaders such as Angelique Richard, PhD '99, RN, senior vice president and chief nursing executive at Rush System for Health, and Phyllis Pelt, MS '95, BSN '67, founding director of UIC Nursing online school nurse certification program.
"I think [Black nursing history] has been hidden, and certainly not highlighted or celebrated," Franck says. "Listening to the stories of the people we interviewed, you can understand why. They've had to fight a lot harder to get where they are, to get the recognition they've gotten."
The exhibit excerpts some of these oral histories (they will be available in full through the web portal) and includes information on Black public health nurses, military nurses and nursing during the COVID-19 pandemic. It also chronicles the transition from Provident Hospital and Training School for Nurses, which, for decades, was the only nursing school in Chicago that accepted Black nursing students, to integration into predominantly white schools and universities.
"We heard a lot of similar stories from Black nurses who were some of the first to integrate into predominantly white nursing schools," Mincer says. "Things like getting lower grades for submitting the same work, being treated pretty badly by teachers, or being socially isolated. Even in those difficult environments, they often excelled, or were at the top of their class, and went on to earn doctorates in nursing or be leaders in the field."
For individuals interested in researching Black nursing history, the web portal also includes a map of archives throughout the city of Chicago with collections relevant to Black nurses.
The project team also included JoJo Galvan Mora, Midwest Nursing History Research Center archivist, Stephanie Smith, UIC history doctoral student, and Kennedy Forbes, a UIC undergraduate student.
Follow @midwestnursinghist and @nursinghist or email mnhrc@uic,edu on social media to learn about additional traveling exhibit locations.