Charese Jackson named inaugural Diversity Award recipient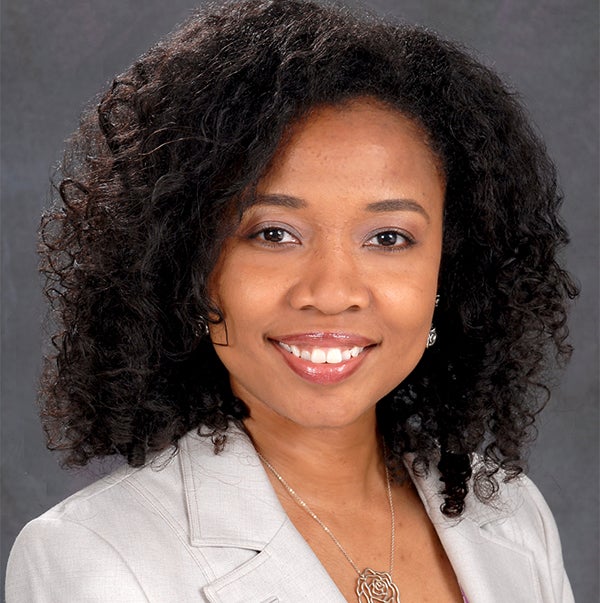 Charese Jackson, assistant director for the Urban Health Program, has been named the inaugural recipient of the UIC College of Nursing Julie and Mark Zerwic Diversity Award.
The annual award recognizes UIC College of Nursing faculty, students or staff who have made a significant contribution to support diversity and foster equity and inclusion within a department, college, university and/or the community.
Julie Zerwic was formerly executive associate dean at UIC Nursing where she implemented a strategic plan aimed at increasing diversity among faculty, staff and students, and is now dean of the University of Iowa College of Nursing.
UIC Nursing Dean Terri E. Weaver says Jackson was selected as the inaugural recipient because she "has always been committed to the principles of diversity, equity and inclusion."
Jackson is an alumna of UIC with a bachelor's degree in criminal justice and a master's in public administration. Prior to becoming the assistant director for the Urban Health Program in 2009, she was in the same role at UIC College of Pharmacy from 2004 to 2009.
In her current role, Jackson oversees and manages the recruitment, admission, retention and graduation processes of underrepresented minority students from diverse backgrounds in the undergraduate and graduate programs. She also assisted students in establishing the Urban Health Program College of Nursing Student Association and has served as the staff advisor for the committee since 2011. UCONSA helps students of all backgrounds explore the disparities in health and healthcare facing minority populations.
"Ms. Jackson has demonstrated great leadership and has proven to be a great resource for the college and the communities we serve," Weaver adds. "Over the years, she has led and organized multiple events and workshops for students, faculty and staff around issues of diversity, equity and inclusion. Her work has had a great impact on students and communities in Chicago, as well as internationally, and she has provided exceptional mentorship to those in the Urban Health Program."
Jackson will be honored at a celebration on Dec. 2, during which she will present a sampling of her work.
Modified on October 26, 2020