Doorenbos invested as Nursing Collegiate Professor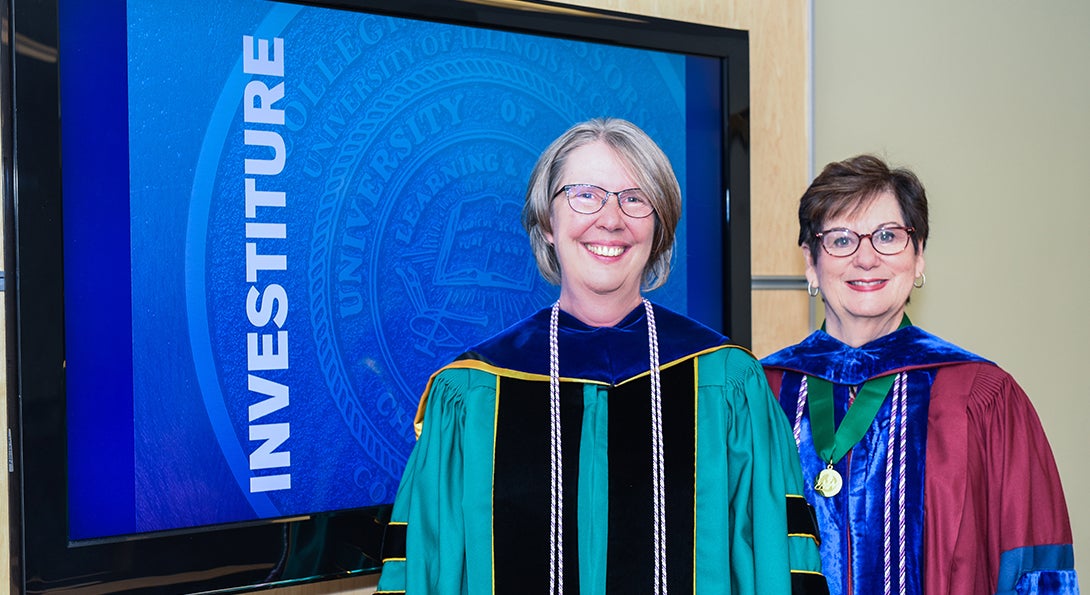 Doorenbos is one of two UIC Nursing faculty members to hold the title of Nursing Collegiate Professor Heading link
She's a "leader among leaders," a "consummate scholar, educator and health professional," and has, "without question, elevated the level of cancer research on campus."
Those were just some of the accolades bestowed upon Ardith Z. Doorenbos, PhD, RN, FAAN, as she was formally invested as Nursing Collegiate Professor during a ceremony on Nov. 7 in the college's Third Floor Event Center.
Doorenbos is now one of two faculty members at UIC Nursing to hold the title of Nursing Collegiate Professor, an honor that was introduced in 2016 to recognize faculty who demonstrate excellence in research, scholarship and teaching. Shannon Zenk, PhD, MS '99, MPH, RN, FAAN, was invested as Nursing Collegiate Professor last year. The professorships are funded in part through the college's Annual Fund, an enormously valuable source of unrestricted funds sustained by the generosity of hundreds of donors.
Doorenbos came to UIC Nursing in 2018 as one of the first seven scholars recruited via a University of Illinois System initiative to recruit world-class faculty. In addition to her position as professor in the Department of Biobehavioral Health Science, she is director of palliative care at the University of Illinois Cancer Center. She was inducted into the Sigma Theta Tau International Nurse Researcher Hall of Fame in 2018.
"Dr. Doorenbos has devoted herself to enhancing the quality of life and the quality of death for those in pain," said Robert Barish, UIC vice chancellor for health affairs, who performed the investiture in front of Doorenbos' colleagues and family. "She sometimes calls herself a 'midwife for souls.' I can't think of any work more meaningful than that."
Doorenbos began her career as an oncology nurse for bone marrow transplant patients where the survival rate was only about 10%. This led her to pursue research with a focus on pain management and palliative care. She has career research funding of more than $40 million, much of it from NIH, with a sustained record of more than 150 peer-reviewed publications.
Her current work includes pain management for sickle cell disease patients, improving pain identification and control for cancer survivors at the UI Cancer Center, and a $2.8 million NIH grant to find alternatives to opioids as a pain management strategy for kidney disease patients on chronic dialysis.
Doorenbos credited her colleagues, doctoral students and post-doctoral students for helping her to create meaningful collaborations in the relatively short time that she's been here.
"It really is because of the incredible environment that I've found myself at UIC," she said in her remarks. "Here specifically at the College of Nursing, we attract world-class nurses."
Doorenbos' investiture was hosted by UIC Nursing Dean Terri Weaver, who described herself in "awe" of her accomplishments in practice and research.
"She sets a fantastic example of interprofessional collaboration and the development of high-quality science," Weaver said.
Modified on November 19, 2019