'I wanted to do something'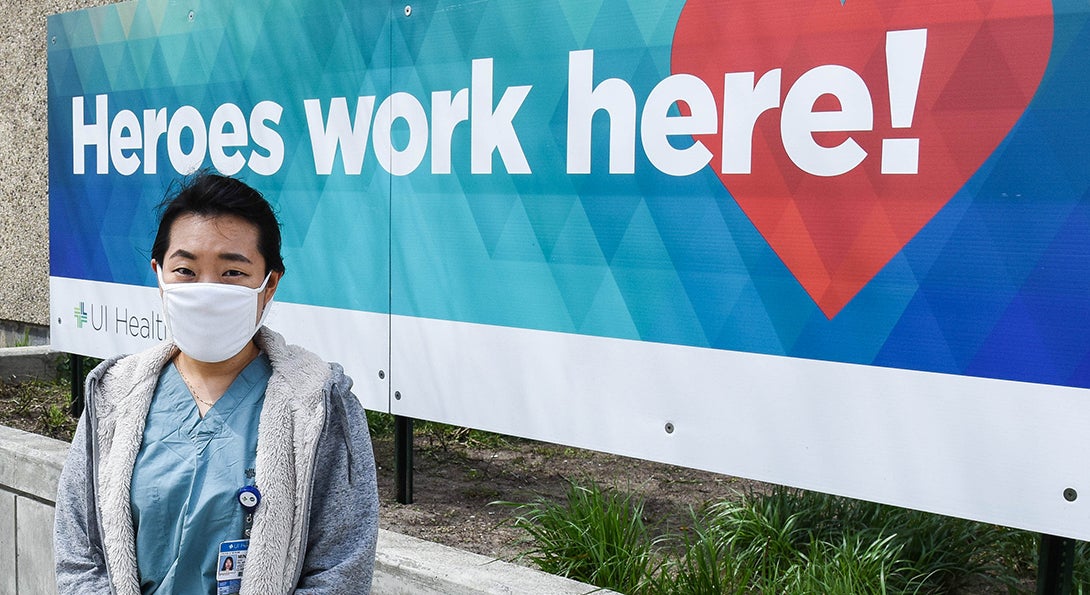 Called a "rockstar" for her work battling COVID-19, UIC Nursing's Minseung Chu is part of an initiative to limit the spread of COVID-19 among Chicago's homeless community and provides care for COVID patients at UI Health. Heading link
UIC Nursing clinical assistant professor Minseung Chu, DNP '19, is one of several UIC Nursing faculty and students playing an important role in helping to limit the spread of COVID-19 among Chicago's homeless community.
As part of Unsheltered Chicago Coalition – a collaborative project with UIC Nursing, the UIC College of Medicine, Rush University Medical Center and other area healthcare providers – she travels to shelters throughout the city to offer COVID testing.
For those experiencing homelessness, infection control measures such as handwashing, masking and social distancing can be particularly difficult to follow, and shelters are prone to becoming infection cluster sites.
Chu, who teaches and typically works at a clinic based at a needle-exchange site run by the UIC School of Public Health Community Outreach Intervention Projects, said the initiative was a "really good fit." Her clinical scholarship focuses on management of infectious diseases in vulnerable populations.
"For over 10 years, since I decided to become a nurse, I always said that I wanted to be a nursing professional who provides healthcare service to underserved populations," Chu said.
Rockstar
Working with College of Medicine assistant professor Stockton Mayer, D.O., Chu says she goes to a different shelter two to three times a week and sometimes other high-risk settings like nursing homes to take histories and provide COVID testing.
Chu may be one of the few healthcare providers in Chicago who has had previous experience fighting a coronavirus outbreak. As a nurse in South Korea, she worked on a response team during the 2015 MERS outbreak.
When Charles Yingling, DNP '12, MS '05, FNP-BC, FAANP, UIC Nursing associate dean for practice and community partnerships, put out a call to UIC Nursing faculty for their expertise to help fight COVID-19, Chu was eager to do her part.
Yingling calls her a "rockstar." In addition to her work on the homeless initiative, she has also worked in the UI Hospital COVID MICU and a COVID stepdown unit.
"I was very inspired," she said. "I wanted to do something. I'm a nurse. I have a license. I have a skill. I want to do something to help during this pandemic."
Modified on August 24, 2020