Melanated Midwives find home at UI Health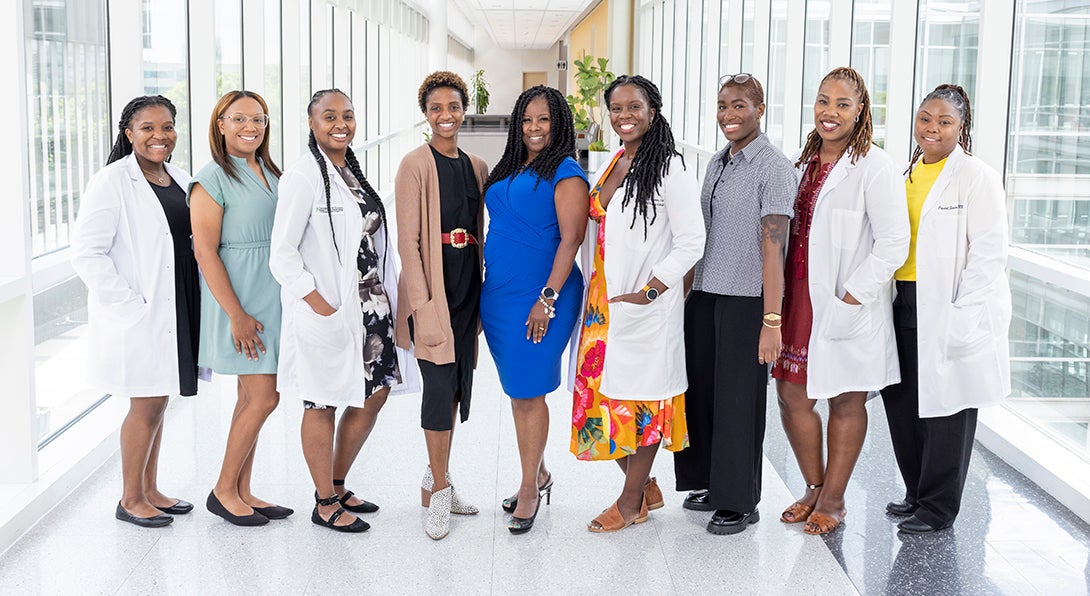 Melanated Group Midwifery Care model is designed to improve Black women's experiences in pregnancy, postpartum Heading link
A team of Black midwives, doulas and nurse navigators has been hired to carry out the Melanated Group Midwifery Care model in an effort to improve pregnancy outcomes for Black people.
The model is funded with a $7.1 million grant from the Patient Centered Outcomes Research Institute in which Karie Stewart, MS '17, CNM, MPH, a UI Health midwife, Kylea Liese, PhD, CNM, a UIC Nursing assistant professor, and Stacie Geller, PhD, are principal investigators.
In Chicago, Black women are six times as likely to die of a pregnancy related condition as non-Hispanic white women, according to the Illinois Department of Health.
The Melanated Group Midwifery Care model is a multipronged strategy to improve Black women's experiences in pregnancy and postpartum: Black pregnant people are matched with Black midwives; a Black nurse coordinates care; and a Black doula provides in-home support for the patients for up to a year after delivery. The model also calls for prenatal care to be provided in a group setting for peer support.
The study will enroll 435 patients over the course of five years, comparing experiences and outcomes of patients receiving traditional prenatal care with those receiving care using the new model.
The site of the study shifted from University of Chicago Medicine to UI Health, which recently hired five Black midwives to staff the new model and is now recruiting pregnant people who identify as Black.
"We were really trying to be intentional about diversifying the midwifery practice, making the practice reflect the population we serve," says Stewart, who is also a PhD student at UIC Nursing. "If we're really serious about addressing Black maternal health in Chicago, we have to lay the groundwork for a new model of care, and that means having the providers and facilities for this relatively radical shift in healthcare delivery."
If you or someone you know is interested in signing up for the study, contact the group at mgmc@uic.edu.
Modified on February 22, 2023