Nurse-midwifery program celebrates 50 years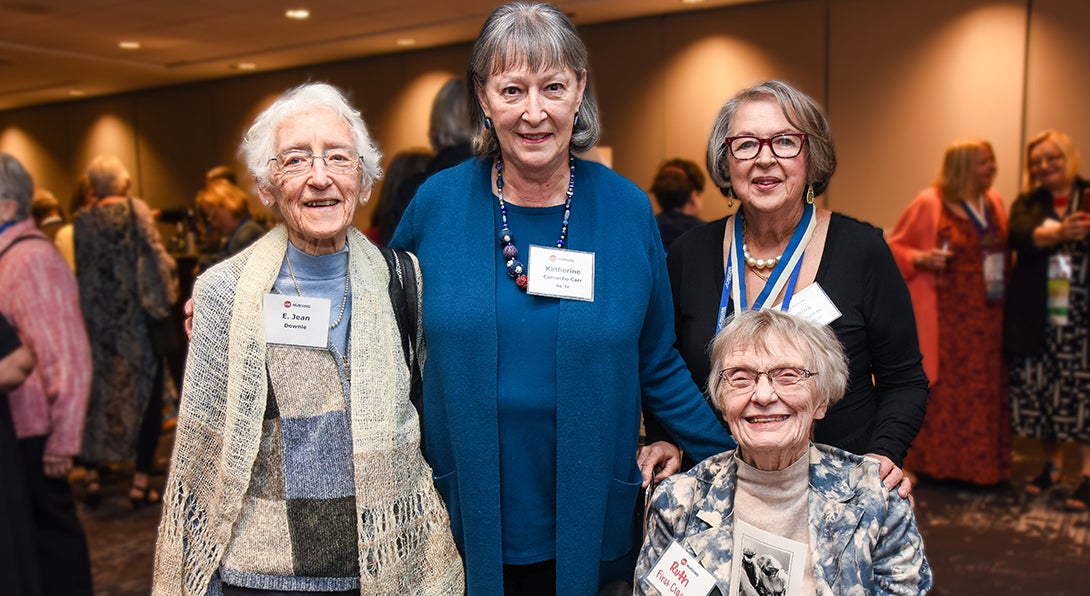 When the UIC College of Nursing opened its nurse-midwifery degree program in 1972, it was the first of its kind in Illinois. Fifty years later, it's still the only brick-and-mortar program in the state, and boasts more than 500 alums, including nurse-midwifery leaders scattered across the country and world. Heading link
More than 100 alumni gathered together on May 23 to celebrate the 50th anniversary of the UIC College of Nursing nurse-midwifery program during the American College of Nurse Midwives annual conference in Chicago.
"It's really wonderful to have this big community, which feels like a big family," says Sabina Dambrauskas, MS '76, BSN '68, FACNM, a member of the inaugural class. "There are so many stellar graduates: former presidents of the American College of Nurse Midwives, a high-ranking official in the World Health Organization, researchers and heads of programs."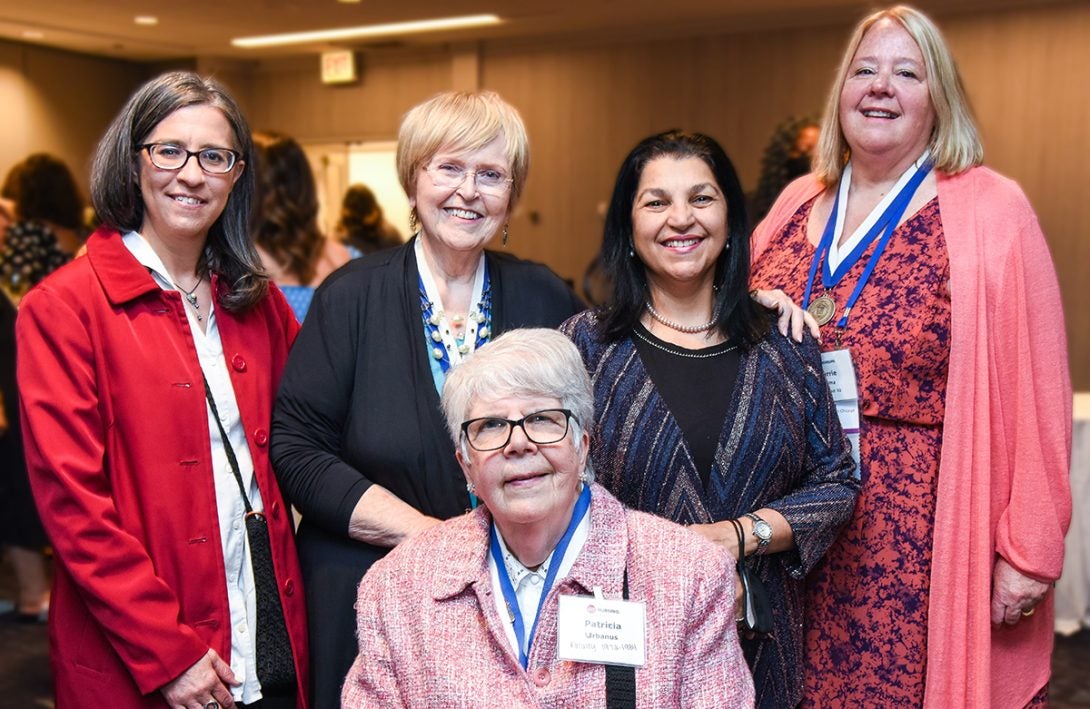 The beginning
The nurse-midwifery program at UIC Nursing was born of a mutual need, says Carrie Klima, PhD, MS '86, CNM, FACNM, who has been director of the nurse-midwifery program since 2012.
Augusta Webster, then head of obstetrics at Cook County Hospital, was keen on starting a midwifery service to help handle some 15,000 deliveries a year. Meanwhile, Lillian Runnerstrom, who had been recruited to establish the UIC nurse-midwifery program, needed a site for her students to train. Thus, began a symbiotic relationship.
There were just five students in that first class at UIC. Students did their clinical training in prenatal, intrapartum and postpartum care at Cook County under faculty midwives who served as preceptors, including the late Joyce Roberts, PhD '79, Pat Urbanus and Jean Downie. Because of the scarcity of midwives with master's degrees at the time, it was not uncommon for new graduates to turn around and become faculty while also practicing at Cook County Hospital.
Classes grew—they routinely have about 25 students now—and so did the acceptance of midwifery practice. When it started, Cook County was the only hospital in the state with a midwifery service, Dambrauskas says, and early nurse-midwives faced misconceptions and stereotypes.
"The old granny midwives were not nurses but were called midwives," Dambrauskas says. "There was always skepticism with that name. People would ask: what's your actual training? Are you just apprentice-trained or do you have some formalized education? That's why it was important in those early days to stress we were nurse-midwives: that we had nursing degrees, experience and medical training."
Integral to women's health care
Through the decades, more clinics began adding midwifery services, and in 1992, midwifery became a full scope of practice at UI Health, facilitated by Roberts, who was then incoming head of the Department of Women, Children and Family Services. (Roberts was also program director from '81 to '84 and again from '97 to '98.)
"It really did change obstetrics at UI Health, and now our midwives see patients in clinics all over city, mostly with our Mile Square network and deliver about 40% of the babies at the hospital," Klima says. "They are integral to the functioning of women's health care at UIC."
Betty Schlatter, PhD '90, who was program director from '89 to '95, and Janet Engstrom, PhD '85, MS '81, program director from '98 to '05, were instrumental in expanding the nurse-midwifery program beyond Chicago to all UIC Nursing campuses and creating more distance learning options. These efforts "pushed midwifery out to other parts of the state," says Klima.
Globally, alumni like Naeema Al-Gasseer, PhD '90, MS '87, have long been influencing women's health issues. Al-Gasseer is currently the World Health Organization representative in Egypt, and before that, Sudan.
The program changed from a master's degree to a Doctor of Nursing Practice degree program in 2014. Klima says students today graduate with a broader skill set, including primary care training, and are prepared to see more complex cases.
"A big trend is the expansion of midwives caring for women and families in a variety of settings and conditions," Klima says. "Midwives are more integrated into health systems now and seen as integral partners in taking care of women, whereas when I went to school, we were still fighting our way into every place that we wanted to be."
Tradition lives on
Still, some things about the program haven't changed.
Beginning with the program's inception, Runnerstrom welcomed new students with a lasagna dinner at her apartment each year. Each fall—with a recent exception due to the COVID-19 pandemic—the college still hosts the Lillian Runnerstrom Lasagna Dinner, although as the program has expanded, now it's held in a restaurant instead of at the director's home. Runnerstrom's lasagna recipe was even passed out as a favor at the anniversary celebration.
Modified on August 11, 2022