Peoria campus goes virtual
Strategic plan for growth in the region no longer includes classrooms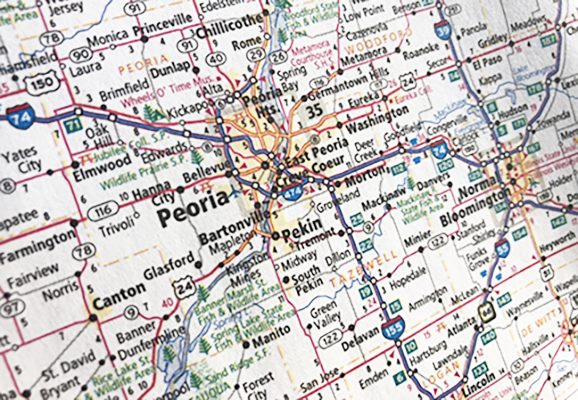 The UIC College of Nursing campus in Peoria, Illinois, will become fully virtual in accord with changes to the college's doctor of nursing practice program and as the successes of remote operations during the height of the COVID-19 pandemic become clear. The transition will be effective with the beginning of the fall semester.
In the past year, UIC Nursing faculty members' competency in online educational delivery has risen from proficient to expert, says Susan Corbridge, PhD '09, APRN, executive associate dean and interim director of the Peoria campus, who notes that the college prides itself on a strong focus on community building and student engagement in online education.
"It's an exciting time. We're embracing new technologies in education and healthcare, and the virtual campus model is a forward-thinking part of that evolution," says Corbridge. "Brick-and-mortar is no longer a mission-critical investment for us in Peoria. Instead we plan to invest in collaborations with alumni, preceptors, community partners, and the U of I College of Medicine in Peoria to grow our presence in the region."
Corbridge is quick to add that all DNP students enrolled at the virtual campus will continue to have access to the library and study rooms at the UIC campus in Peoria.
Students will also receive full support of the College of Nursing, including academic advising, tutoring services, faculty access, and personalized support from the campus director and their DNP focus area director—all delivered virtually.
Moreover, UIC Nursing students in Peoria will still enjoy high-quality clinical placements in the area.
"Those relationships with preceptors mean we're still very much in Peoria," Corbridge notes. "We're just not tying students to a physical location for classes."
"The pandemic showed us how much we can do, and do efficiently, in virtual environments," says Sarah Overton, MS '17, BSN '10, an alumna of UIC Nursing's Peoria campus and now vice president/chief nursing officer of clinical services at OSF Multispecialty Services. "I'll always have great affection for the physical place where I got my [master's] degree, but I'm proud to see my alma mater looking forward, adapting to current realities, and being a good steward of resources."
The Peoria campus becoming virtual is accompanied by a significant increase in online courses in the DNP programs. Beginning in fall 2021, all non-clinical core courses and many non-clinical focus areas courses will be delivered 100% online.
"We are confident these changes will only be good news for our students, giving them more flexibility," says Catherine Vincent, PhD, RN, associate dean for academic affairs.
For years, the UIC DNP program was delivered in a hybrid format, with online, on-site and in-person clinical components.
"It offered flexibility as well as some in-person coursework that fostered camaraderie and connection with peers and faculty," says Vincent. "At the same time, we knew we were inaccessible to other students who wanted to apply but needed even more flexibility."
Online educational delivery has long been a strength of the UIC College of Nursing on account of its network of six campuses throughout Illinois; for most of the past decade, some classes at each campus have been taught via teleconference by faculty based at the Chicago campus. That meant the college had the expertise and the systems in place when the pandemic compelled schools around the world to pivot to fully online learning.
"When the university moved to full-remote in the spring of 2020," says Corbridge, "faculty throughout UIC called on our nursing faculty for guidance and support."
"I thought I would miss in-person conversations and connections, but I found that, working remotely, students met with faculty as an entire classroom, separate groups and individually," says Hayley Mills, who graduated with her DNP from the UIC Nursing-Quad Cities Campus in May and experienced both mostly in-person and entirely remote models of the program. "Connections were still possible, and some might say less intimidating, to make remotely. In fact, virtual learning allowed me to network with classmates from other UIC campuses, which wasn't possible in the in-person format."
Delivering so much of the non-clinical coursework online will not change UIC Nursing's commitment to identifying and contracting high-quality clinical preceptors for all DNP students at all campuses—a feature of the program that sets UICs program apart from most competitors, says Vincent.
"Faculty put a lot of time and energy into recruiting the best preceptors to ensure the education DNP students' receive in our program is top-notch all the way through," she says. "Also, not having to find their own clinical placements takes a weight off our students' shoulders and lets them concentrate on learning."
Modified on September 29, 2021