Peter Kale: 'I saw the need'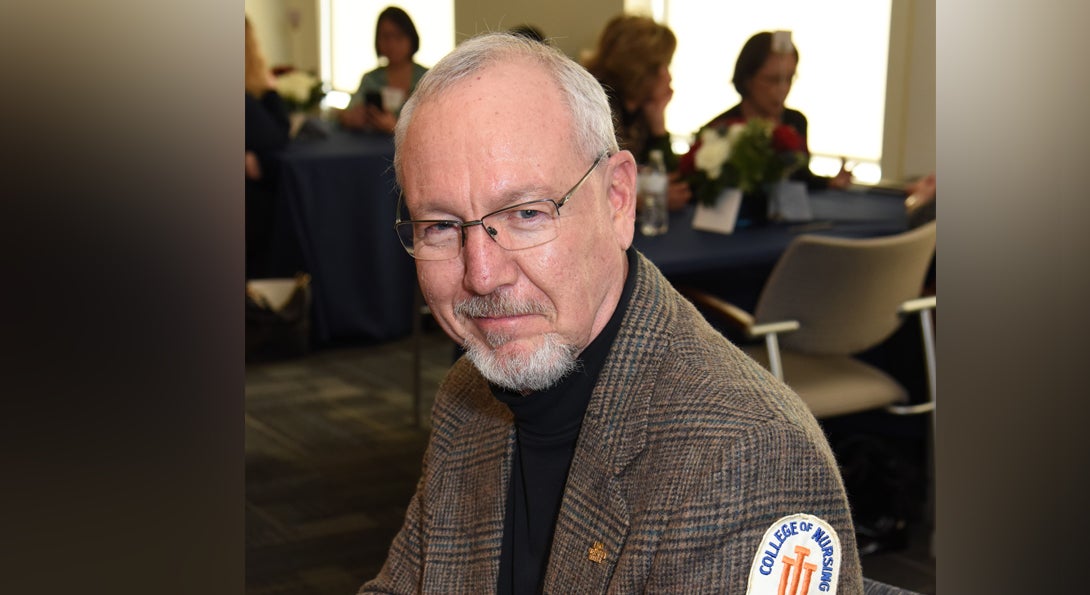 Peter Kale's unrestricted gift will support Urbana faculty, staff and students Heading link
Peter Kale, BSN '79, APRN, was part of the push to legally recognize nurse practitioners in Illinois two decades ago and he spent more than 20 years as a devoted preceptor to UIC Nursing-Urbana students.
A desire to ensure nursing students continue to get the best possible training to be leaders in healthcare inspired him to give a $25,000 unrestricted gift to the Urbana campus this year.
"I've always felt a connection to the College of Nursing," he says. "I saw the program in Urbana was in a growing phase and I wanted to assist the BSN program. I saw the need here."
More than a third of UIC's bachelor's of nursing science students graduate from the Urbana campus. (The others are spread between Chicago and Springfield.) Because Kale's gift is unrestricted, it could go toward supporting faculty, scholarships, simulation lab equipment, or anything deemed necessary to enhance the education being delivered at that campus.
""We are so appreciative of this gift and the flexibility to use it to address critical needs at our campus," says Krista Jones, DNP '11, MS '07, RN, PHNA-BC, director of UIC Nursing's Urbana campus.
Changing times for NPs
A career in healthcare wasn't on Kale's radar growing up in the Quad Cities, where his father was a plumber and his mother stayed home with her eight children.
But while in his senior year studying biology at the University of Illinois at Urbana-Champaign, Kale met with career counselors and began to consider healthcare fields. He liked that nursing would give him patient contact and the burgeoning nurse practitioner field appealed to him. He finished up with his biology degree and immediately enrolled to get his second bachelor's degree from UIC Nursing in Chicago.
Kale received his adult nurse practitioner certification after passing the board exam in 1982, the last year nurses were allowed to sit for the exam without a graduate degree. But he recognized that a graduate degree was becoming an expectation for advanced practice nurses, and he got his master's in nursing administration in 1990.
Still, Kale's certification was not recognized by the state of Illinois, and he worked to bring legal recognition to nurse practitioners in the late 1990s and early 2000s with the Illinois Society for Advanced Practice Nursing, where he was a charter board member.
"I was an NP, but as far as state of Illinois was concerned, I was an RN," he says. "Our work, over time, changed that."
After practicing in Chicago for about a dozen years, he returned to Urbana to work at Carle Foundation Hospital from 1992 to 2016. During that time, he served as a preceptor for nurse practitioner students, and was impressed by the strength of the program and the diligence of the faculty in Urbana.
Kale says his time as a student at UIC Nursing shaped his critical thinking skills and how he approaches problems.
"Even if I didn't pursue a nursing career, certainly the education helped train me how to problem solve and focus on job at hand," he says.
He adds that the COVID-19 pandemic gave him an unexpected opportunity.
"I wasn't spending on vacations and similar entertainment, so I saw it as a good year to make an investment in the students at UIC Nursing," he says.
Modified on June 18, 2021