Practice partnerships make perfect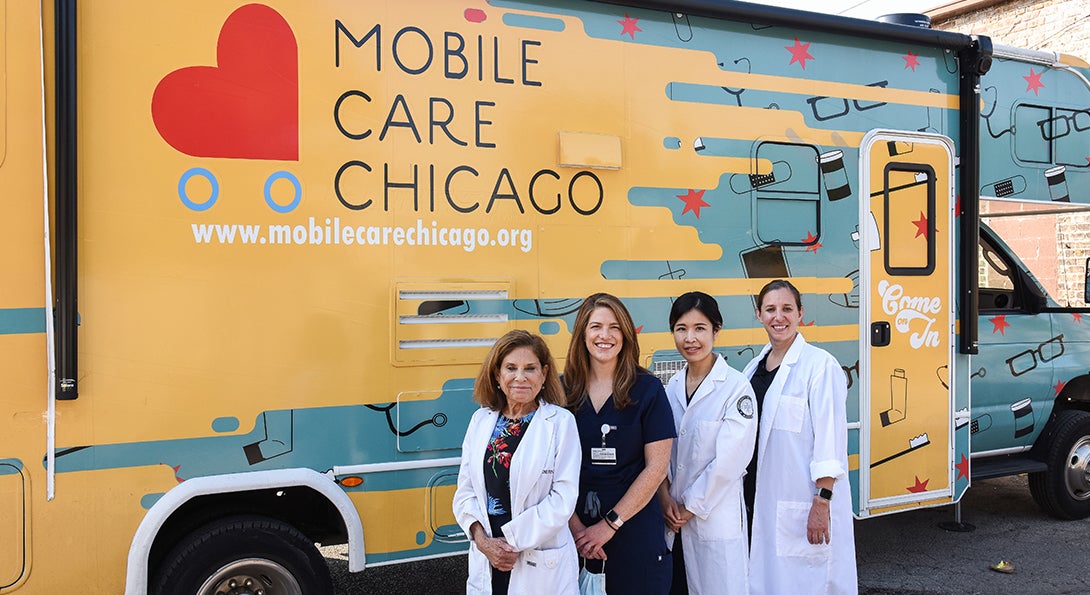 UIC Nursing faculty, students join forces with UIC healthcare to bring more nurse practitioners into fight against opioid epidemic, improve pediatric dental care Heading link
In Chicago, opioid-related overdose deaths increased by 50% during the first six months of 2020 over the same period in the previous ye1ar
In her five years as a nurse on a stepdown unit at UI Health, alum Sooyoung Yeom, DNP '21, FNP-BC, frequently cared for patients going through active withdrawal from substance use. The patients looked "miserable," Yeom says, presenting with severe pain, nausea and discomfort. What was even worse, she adds, was seeing the same patients land in her unit again and again.
"They keep coming over and over and over again," she says. "I thought they would get some help and recover in a rehab program. But even if they get some help, they keep coming back."
Yeom says she now believes that prevention and harm reduction are the biggest tools in the battle against opioid addiction, which is why she's one of two nurse practitioners taking part in the inaugural year of a UIC Nursing-led training program to integrate work with patients with substance use disorders into primary care practice.
The program, which received a $1.8 million grant from the Health Resources and Services Administration, is forging new ground as UIC Nursing's first post doctoral fellowship program focused on clinical practice, says clinical assistant professor Karen Cotler, DNP, FNP-BC, FAANP, one of the program's co-leaders.
And while it's housed at UIC Nursing, the program is taking a distinctly interprofessional approach. The five-year grant is co-led by UIC College of Pharmacy assistant professor Jennie Jarrett, PharmD, BCPS, MMedEd, FCCP.
"No matter where [the trainees] go, they're going to be integrated into this collaborative care model," says Jarrett. "We're going to train them to
be phenomenal nurse practitioners, but also to work well in teams to really support patients in the best way."
In addition to Yeom, Stephanie Guerrero, DNP '21, FNP-BC, was also selected for the first year of the training program. The two will rotate through UI Health's network of federally qualified health centers, Mile Square, which primarily serve the West and Southwest Sides of Chicago. They will also train at the Community Outreach Intervention Projects (COIP) field station, a needle exchange site and primary care clinic in the Austin neighborhood, and its mobile unit, which brings primary care and harm reduction services to patients in their communities. (Both are operated by the UIC School of Public Health and the mobile unit partners with Mobile Health Chicago and Family Guidance, Inc.)
Future years of the program will feature two or more trainees selected from a national pool.
"We want new providers to be out there working as harm-reduction providers [after they complete] the training program," Cotler says. "We want them to be well-equipped, well-educated and fully comfortable treating people with an opioid addiction."
The program is targeting a critical problem that the U.S. Department of Health and Human Services has declared as both an epidemic and a public health emergency. There was a record high 96,779 drug overdose deaths from March 2020 to March 2021, according to provisional statistics from the CDC. That represents a nearly 30% increase over the prior year.
In addition to hands-on experience, the program also incorporates a didactic curriculum that teaches prevention and treatment of substance use disorder, including waiver training in Medically Assisted Recovery (MAR) and workshops on the intersection of substance use and serious mental illness.
"I think it's very meaningful," Yeom says. "I get to see this population in the outpatient setting and try to effect some change."
Modified on February 17, 2022