Eldeirawi awarded Muslims Making Change National Honor
Associate professor Kamal Eldeirawi receives National Honor for COVID-19 Relief at a virtual ceremony featuring Joe Biden Heading link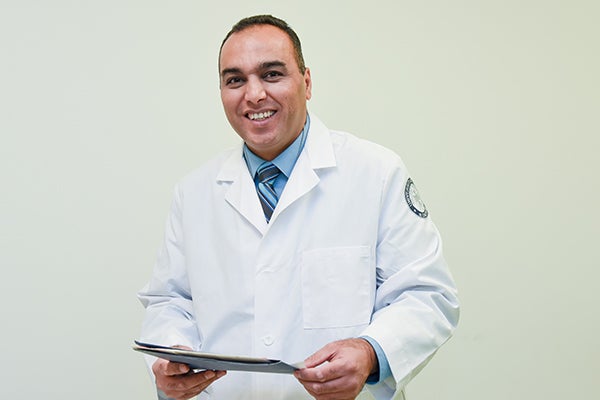 UIC Nursing associate professor Kamal Eldeirawi, PhD, RN, FAAN, received the Muslims Making Change: National Honors award at a virtual ceremony last week for his work protecting public health during the COVID-19 pandemic.
The Oct. 14 ceremony, held by national civil rights organization Muslim Advocates, also featured former vice president and Democratic presidential nominee Joe Biden. Eldeirawi was one of two honorees who received the National Honor for COVID-19 Relief.
Eldeirawi, an epidemiologist, is a board member of the Council of Islamic Organizations of Greater Chicago (CIOGC) and helped create a Joint COVID-19 Taskforce of more than 100 volunteers and organizations, one of the first coordinated and comprehensive responses to COVID-19 in the Chicago area. The taskforce provided education and guidance to the Muslim community, facilitated access to health and dental care, linked individuals to food and financial support, brought resources to community organizations and distributed much-needed personal protective equipment to facilities.
"When the pandemic first hit, masjids [mosques] and Muslim institutions desperately needed clear guidance on how to protect their communities," said Adbul El-Sayed, a physician, epidemiologist, public health expert and progressive activist, who presented the award. "Kamal coordinated and helped created a CIOGC Joint Taskforce to provide telehealth, free teledental and free mental health check-ins, as well as information on COVID-19 and other public health benefits."
He added: "The demonstration of tireless leadership has saved lives and provided families a resource to turn to."
Eldeirawi says he was "very humbled and honored" to receive the award on behalf of the CIOGC's Joint COVID-19 Taskforce.
"I'm very grateful for the opportunity to serve our community and for all individuals and organizations that supported the COVID-19 task force and its activities," he says.
Modified on March 19, 2021