'Providing comfort and closure'
Graduate-entry MS student Jenine Johnson, who shifted careers to nursing in her 40s, says she may be one of the last faces a dying COVID patient sees. Heading link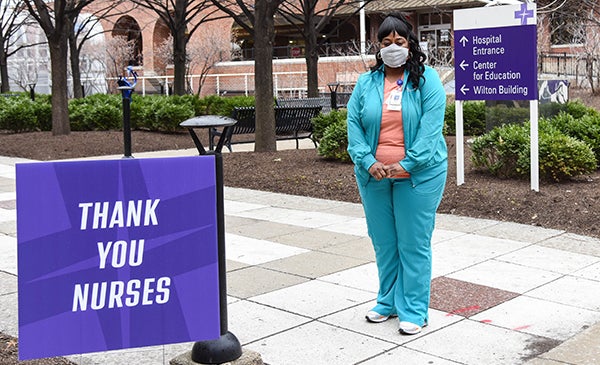 Jenine Johnson, a graduate-entry master's degree student, recently worked three days in a row as a patient care tech on the COVID-19 floors of Advocate Illinois Masonic Medical Center, calling them "the three longest days anyone could experience."
One patient was transferred to her floor from the ER, and the call was quickly made that he should be put on hospice. Like most places, Illinois Masonic is restricting visitors to prevent the spread of the disease, and Johnson and the other providers on the patient's team scrambled to find a way to allow family members to virtually "see" him.
"That happened for the family in less than 24 hours, from the time they brought him to the ER to the time he was transferred to hospice," she says.
Johnson came to nursing in her 40s after a career in hospitality management. She wanted a career that would give her more joy and fulfillment, and she liked the idea of giving her family a direct line to healthcare expertise.
"To me, one of the hardest things to deal with in this pandemic is that we might be the only people that patient is going to see before they expire," she says. "We just go in there and make them as comfortable as possible, and try to bring comfort and closure to families."
Modified on May 07, 2020