Q&A with Schwartz Lab intern and actress Bridget Brown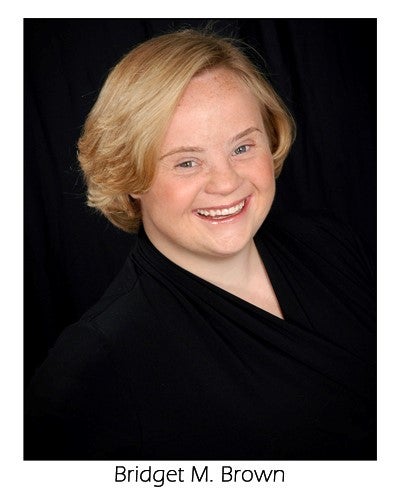 If you visit the UIC College of Nursing Schwartz Lab, you might see the lab's intern – Bridget Brown – helping sim lab coordinator Lynn Ortiz, MS, RN, prep supplies for students. But what you might not know is that Brown, who has Down syndrome, is also a professional actor on the big and small screen with her own IMDB page.
She brings her acting skills to bear as a standardized patient in the Schwartz Lab, where she gives her performances a boost with tips she learned from Miley Cyrus. You can see Brown in her latest role in the Star Wars fan film, "No Easy Target," on the big screen at the Music Box Theater on Dec. 29.
How did you get involved at UIC Nursing?
I'm doing a co-op as a student [the UIC Co-Operative Career Experience Certificate program through the College of Applied Health Sciences ]. It's new program for people with disabilities to learn about being a college student and college life. It's a huge thing. [As part of the co-op program she has a paid internship in the Schwartz Lab.]
I help Lynn Ortiz [simulation lab coordinator], Chris Karczmar [medical simulation specialist] and Sue Kilroy [director of the Clinical Learning Resource Center]. I help Lynn get ready for the next day, so if the students are working on something the next day, it's all set up for them.
What made you want to work as an actor in UIC simulations?
My mom suggested to my dad [Blase Brown, a clinical associate professor in the UIC College of Dentistry], "Why don't you have people with disabilities act out the parts of people with disabilities in simulations?"
I think the message beneath that is: people with disabilities want to take care of their own bodies.
Having people with disabilities involved in acting is really important, to show the world that we can be part of it. I am an actress in movies and tv shows. I advocate for inclusion for people with disabilities. I've been included since the day I was born.
What productions have you been in?
I've been in 26 community musical theater productions. [The 2012 film] "LOL" was the first movie I was in, with Miley Cyrus. The first thing I said to her was, "Just letting you know my friends and I with Down syndrome are fans of you and your dad." She said, "Everybody's a fan of my dad." I played a French girl named Lily in Paris. We filmed in Detroit. She was very nice.
In the beginning, you have to practice a lot. That's what Miley Cyrus says: practice makes you perfect. I always practice every single time when I do it. When I'm in the shower, I practice.
What else were you in?
I was in "Wiener-Dog" in 2016. We walked the red carpet at the Sundance film festival. My dad was in heaven. Kieran Culkin, Greta Gerwig, Danny DeVito were all in that.
I was also in "Shameless" with William H. Macy, filmed in Chicago. I was in "Chicago Justice," playing a travel agent, with John Seda. There's a Star Wars fan film that I was in called, "No Easy Target," which is going to play at the historic Movie Box Theater in Chicago on Dec. 29.
I also work for Pace [transportation] through their marketing department. I do their educational videos and commercials and photo shoots.
In all the things I do, I advocate for inclusion of people with disabilities.
I heard you met Pope Francis.
Not just met the pope! We hugged each other and blessed each other. He called me a prayer warrior in Italian.
As part of the National Catholic Partnership on Disabilities, they had a summit for us to come to Italy. For two hours, Pope Francis saw people with disabilities from five continents.
What advice do you have for students who are learning to care for patients with disabilities?
Make the appointment short. Some people with disabilities have short attention spans. If it becomes too long, they may get fidgety. They won't stay still. [For instance,] it's harder for them to stay in the chair dentist visits.
I also like it when [practitioners] ask about my life. My own doctor, she'll say, "Bridget, you have a lot of things going on. Tell me about it." She knows I'm an actress.
You do have a lot of things going on. What else do you do?
I went to Washington with Jordyn Jensen last year, with the THINKCollege program [dedicated to developing and expanding inclusive higher education for students with intellectual disabilities]. Jordyn's my professor and career coach at UIC [in the department of Disability and Human Development]. We met with legislators and advocated for the co-op program and including people with disabilities.
I'm also vice president of the National Association for Down Syndrome.
And I'm involved [on a sub-committee] with this big grant, a multi-site grant, called PATH, to help health care students learn to care for people with disabilities with health issues. [The project will develop a curriculum for health care students on this topic].
Why is it so important for you to be so involved?
Health is really important to me. We have a lot of health issues, not just [people with Down syndrome] — blending multiple disabilities. We're trying to make sure people with disabilities have good health care.
The most important thing to do is to advocate for inclusion—advocate for inclusion for all people with disabilities.
To read more about Brown, you can visit her website, Butterflies for Change.
Modified on December 15, 2022