Sarah Ailey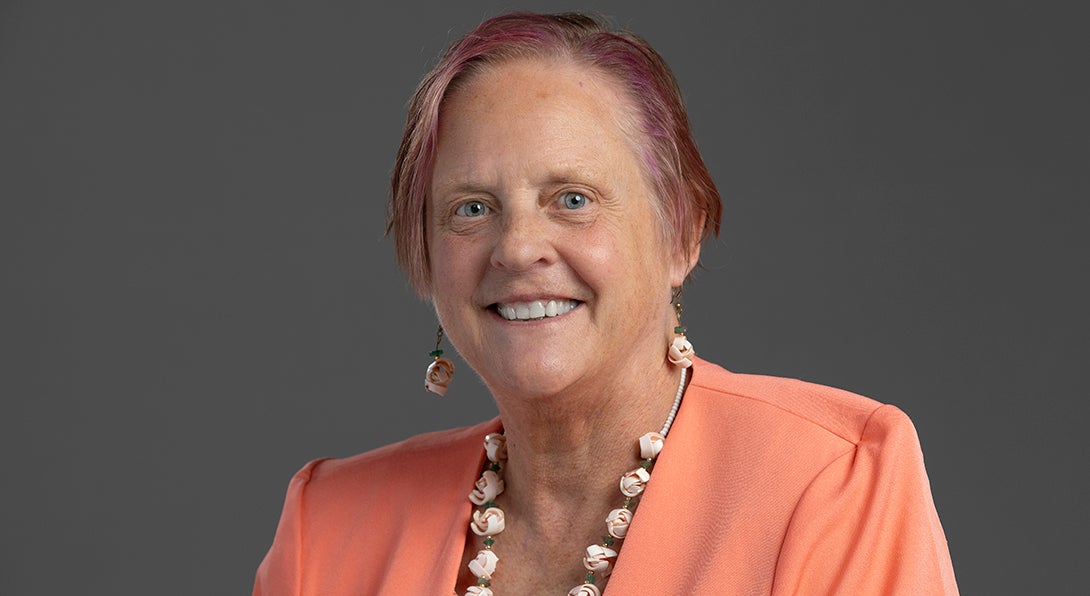 Ailey earns 2022 UIC Nursing Outstanding Alumni Achievement Award Heading link
Sarah Ailey, PhD '02, MS '98, BSN '96, credits her son with being her muse.
Now 46, he was born with an intellectual disability. It was Ailey's experiences navigating the healthcare system that led her to her life's work – improving the lives of those with intellectual disabilities.
"I've been through the healthcare system with him, and have seen its better and worse sides," she says.
Ailey, a professor in the Rush University Department of Community, Systems and Mental Health Nursing, is a recipient of the 2022 UIC College of Nursing Outstanding Alumni Achievement Award.
'A happening place'
Ailey moved to Chicago from Richmond, Virginia, as a 24-year-old, community organizer in the mid-1970s as part of the second-wave feminism movement.
"Chicago was a happening place," she says. "I was going to run to around with some radical feminists for a while."
She adds: "Instead of 'for a while,' I've been here 40-some years."
After she got married and had two children, she decided to get an associate degree in nursing at Triton College and took a job working at Rush Home Care.
She went straight from her bachelor's to her master's to her PhD, all at UIC Nursing.
"UIC's environment was rich for students wanting to address disabilities," she says. "Looking back on my experience, scholars across disciplines who are major leaders in the field graduated in the same period that I did."
As a master's and PhD student, she was influenced by Julia Cowell, MS '74 and JoEllen Wilbur, PhD '84, MS '75 – both former Outstanding Alumni Achievement Award winners—as well as her PhD advisor, Arlene Miller. She also worked closely with Tamar Heller, head of the UIC Department of Disability and Human Development, whom she continues to collaborate with on many projects.
She studied depression among individuals with intellectual disabilities, finding that as many get older, they move to residential communities, where they're more vulnerable to depression, aggression and challenging behavior.
'Fortitude, persistence and commitment'
This led to her NIH-funded, randomized clinical trial, Steps to Effective Problem-Solving (STEPS), an intervention delivered in Chicago-area group homes, intended to enhance social problem-solving skills for residents and staff. Ailey says while similar interventions have been shown to be effective in forensic and clinical settings, it's never been tested before in residential settings.
"This is a group of people that didn't ask to live together, but are together 24/7," Ailey says. "Aggressive and challenging behaviors are a problem in the group home setting and can be very expensive."
Wilbur, who nominated Ailey for the outstanding alumni award, says her "fortitude, persistence and commitment" made the work possible.
Foremost scholar
In 2017, Ailey co-hosted a national conference to address issues and standards of care for individuals with intellectual disabilities. The Partnering to Transform Healthcare with People with Disabilities Conference brought self-advocates with disabilities to the conference, and resulted in a documentary called, "None of us want to stand still," co-produced by Ailey.
Ailey is also principal investigator on a federally-funded grant to address the lack of content about individuals with intellectual and development disabilities in interprofessional healthcare curriculum. The project has five core partners, including UIC, and will result in a curriculum disseminated to 35 institutions.
Cowell, who first met Ailey when she supervised her as an undergraduate student in 1996, recalls admiring her intelligence and commitment, adding it was "rare to see such promise so early."
"Since that time, Dr. Ailey has blossomed into one of the foremost scholars in the care of individuals with intellectual disabilities," Cowell wrote in her nomination letter.
Modified on October 03, 2022