Two faculty selected as fellows of AAN
Alumna Kitty Buckwalter, PhD '80, to be named a Living Legend by the Academy Heading link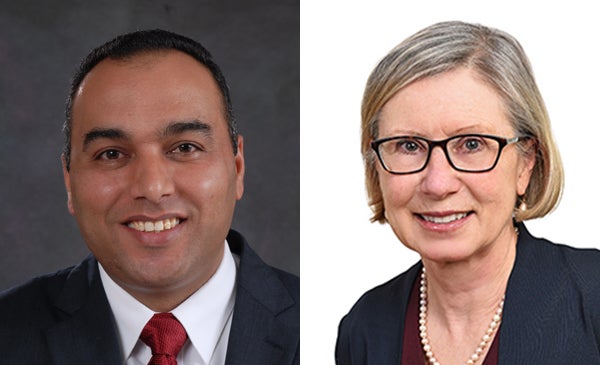 Pamela Martyn-Nemeth, PhD, RN, FAHA, and Kamal Eldeirawi, PhD, RN, both UIC Nursing associate professors, were selected to join the 2020 class of fellows of the American Academy of Nursing.
The college is also proud that alumnae Sarah Ailey, PhD '02, MS '98, BSN '96, Professor, Rush University College of Nursing, and Hyeonkyeong Lee, PhD '06, Yonsei University, Seoul, South Korea, are also among this year's inductees.
The 2020 class includes 230 distinguished nurse leaders. AAN fellowships is considered a significant milestone in a nurse leader's career. Fellows are chosen for their contributions to advance the public's health and will be recognized at the Academy's annual Transforming Health, Driving Policy Conference, taking place virtually Oct. 29-31, 2020.
The 2020 class also includes Rep. Lauren Underwood, who represents the 14th district of Illinois in the U.S. House of Representatives.
At the same conference, Kathleen "Kitty" Buckwalter, PhD '80, RN, FAAN, will be one of five nurse leaders designated as a Living Legend, the Academy's highest honor. The UIC Nursing alumna is professor emerita at the University of Iowa College of Nursing and Distinguished Nurse Scientist in Aging, Reynolds Center of Geriatric Nursing Excellence, University of Oklahoma Health Sciences Center College of Nursing.
Martyn-Nemeth's scholarly focus is on reducing cardiovascular disease risk and improving self-management behavior and quality of life in persons with type 1 diabetes. She is examining the role of sleep and other stressors — such as fear of hypoglycemia — on self-management behavior and glycemic control. Her research portfolio includes NIH -funded studies to test novel interventions to improve sleep and reduce fear of hypoglycemia through technology-assisted strategies.
An epidemiologist with an affiliate appointment in UIC's School of Public Health, Eldeirawi's interdisciplinary research is focused on chronic conditions, especially asthma in vulnerable and underserved populations. He conducted pioneering studies on the effects of immigration and acculturation on the risk of asthma and atopic conditions in children of Mexican origin and is currently replicating some of this work on other immigrant populations. Eldeirawi was one of just 12 nursing educators from across the United States to win a highly competitive 3-year grant from the Robert Wood Johnson Foundation (RWJF) Nurse Faculty Scholars program.
Modified on September 13, 2020