UIC Nursing, Erie cultivate diversity of fellowship program

Leaders at the UIC College of Nursing and Erie Family Health Centers described their efforts to cultivate diversity within a postgraduate fellowship program in a paper published online in the Journal of the American Association of Nurse Practitioners.
The paper, published in December 2021, outlines a two-year quality improvement plan for the AdvancingPractice fellowship program recruitment and admissions process, with a goal of diversifying the fellowship cohort and finding nurse practitioners who will continue practicing in the community upon completion of the program.
Mary McNamara, DNP '13, CNP, UIC Nursing clinical assistant professor and health education specialist with the program, says the process worked.
"We were able to have a much more robust, inclusive cohort in the second year of our fellowship, which better resembled the population that Erie serves," she says.
The AdvancingPractice fellowship is funded for four years through a $3.3 million grant from the U.S. Health Resources and Services Administration, allowing APRNs in a range of specialties to rotate through many of Erie's 13 Chicago-area locations during the one year program.
The fellows at the Erie system serve a community that is primarily (71%) Latinx, with 41% preferring to receive care in Spanish. Meanwhile, only about 6.3% of nurse practitioners in the U.S. identify as Latinx, according to the study.
"One of the goals of our fellowship was to increase the number of nurse practitioners that represent communities that we serve in our health center," says Natalie Raghu, DNP, AdvancingPractice program director and Erie medical director of advanced practice providers.
Adds McNamara: "We know that [racial concordance] is an important reason that people stick with their providers; it improves patient satisfaction to receive care from a provider with a similar cultural or racial background. It also promotes adherence to care."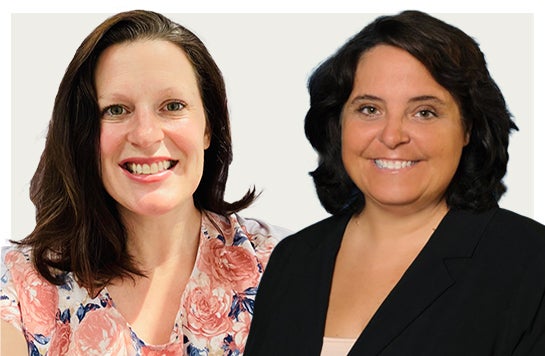 From the debut of the AdvancingPractice fellowship, program leaders selected fellows via a process called holistic review, which is a method of interviewing applicants to mitigate the effects of bias on race, ethnicity, gender and academic affiliation.
It's a well-established strategy used in nursing education – including at UIC Nursing – but the literature does not contain reports of its use in post-graduate nurse practitioner fellowship programs, says Raghu.
In its first year, the program admitted eight fellows. Among those, three identified as Hispanic or Latinx and one identified as Black, with the remaining four identifying as white.
"We took a very hard look at our intentions not matching our outcomes, and tried to do a deeper dive, using our fellowship advisory committee to help us revise our process," McNamara says.
In the second year, program leaders engaged diversity and inclusion specialists from both UIC Nursing and Erie and made four key changes.
The applicant's graduate program would need to be accredited, but the name would be blinded by the fellowship coordinator, to eliminate bias for or against certain institutions.
To mitigate the effect of gender bias, including bias against gender minorities, pronouns would be blinded.
To mitigate bias in the interview process, initials interviews would be conducted via phone and not video.
The applicant's GPA would need to meet a threshold of 3.0 (validated by the fellowship coordinator) but would not be shared with faculty reviewing the applications.
The program leaders also made deliberate outreach to students and recent graduates from underrepresented minority backgrounds, including recruiting from historically Black colleges and universities and affinity groups for Black and Latinx nurses. In addition, the interviewer pool was expanded to include a more racially and ethnically diverse group. Questions were revised to more closely align with the mission of the fellowship, according to the paper.
Of 10 fellows in the second cohort, three identified as having Hispanic ethnicity, three as White, two as Black, one as Asian and one as having multiple racial backgrounds, according to the paper.
The paper's authors note that, while more diverse, the second cohort still does necessarily reflect the population Erie serves.
"It's not perfectly reflective," McNamara says, "but we've certainly shown through our processes that we've gotten closer to a representative sample."
Raghu and McNamara say they are currently in the process of admitting the third cohort of fellows and are using virtually the same process as they used for the second cohort.
Co-authors include Emily Bettencourt, program administrative manager at Erie, and Charles Yingling, DNP '12, MS '05, FNP-BC, FAANP.
Modified on February 07, 2022